All Posts Tagged With: "Rachel Weisz"
Since its launch this summer, NARS Pure Sheer SPF Lip Treatment has been a hit with the celebrity world! They love how it hydrates and protects while giving a color boost to summer lips.
"NARS Pure Sheer SPF Lip Treatment is the softest of moisturizers for my lips. It also has this amazing light, sheer color that not only leaves my lips with a sexy tint but has sun protection built right into it. I simply slide it on for natural, silky lips."-Rachel Weisz
The stars were out at the annual Met Ball at New York's Metropolitan Museum of Art, to help celebrate and raise funds for the opening of the Museum's 2010 Costume Institute Exhibit. Between thunderstorms, the weather was humid and hair stylists were challenged to create glamorous looks that were not only beautiful but also frizz-free. Hairstylist Mark Townsend created Rachel Weisz' hairdo for the ball.
The Hairstyle & Inspiration: "The theme of this year's Met Ball was "American Woman," and after seeing Rachel's Oscar de la Renta dress I knew that we should keep her hair down and sexy.
How To: Hair Tutorial
I started by adding a few drops of Moroccanoil Treatment to her hair, to condition and strengthen it while reducing drying time. This helped ensure a shiny, healthy look. Then I blow-dried her hair with a medium-sized, round brush.
CHANEL Celebrity Makeup Artist Kara Yoshimoto Bua worked with Rachel Weisz for her premiere of  The Lovely Bones on Monday, December 7, 2009.
Thanks to CHANEL Beauté Talking Makeup has the scoop on how to get Rachel's makeup look!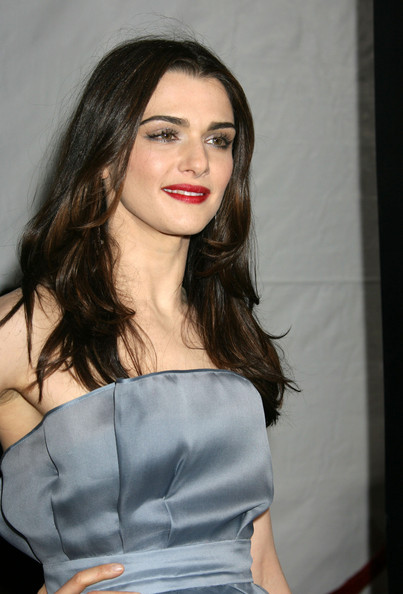 "I was inspired by the colour of Rachel's dress which was calling out for a perfectly red lip! I chose the semi-matte CHANEL Rouge Allure Laque in Dragon. I love this shade because it is a very pigmented blue true red, perfect with Rachel's fair skin, and can be worn very sheer yet give vivid colour. I wanted shimmery soft eyes to be tonal with the colour of the dress so a not to compete with the lips. CHANEL Quadra Eye Shadow in Murano has the most beautiful greenish-grey shimmers that accent Rachel's dark hair and brown eyes. CHANEL Blush Duo Tweed Effect in Tweed Rose gives her a soft hint of colour in the apples of her cheeks. Finally, CHANEL Inimitable Mascara in Noir-Black opens up her eyes by lengthening and separating her already thick lashes without any clumps!"