All Posts Tagged With: "Austin Powers"
Bree Turner is an actress who began her journey in Hollywood as a professional dancer. Bree was a background dancer in such hit films as The Big Lebowski (1998), She's All That (1999) and Mike Myers' Austin Powers: The Spy Who Shagged Me (1999). Bree's love for performing and being on stage makes acting a natural transition. Most recently, Bree Turner can be seen opposite Katherine Heigl and Gerard Butler in The Ugly Truth.
I caught up with Bree Turner via telephone from Los Angeles early in the morning few months ago, to talk about her beginnings in Hollywood, her role film The Ugly Truth opposite Katherine Heigl, future career plans and even some beauty secrets!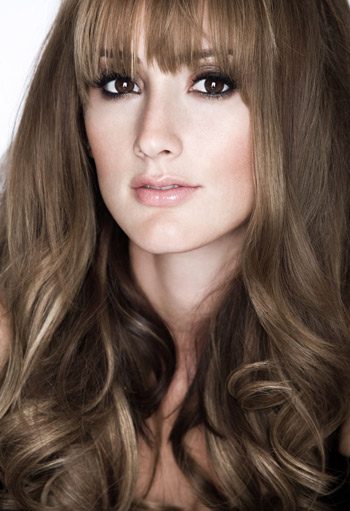 Actress Bree Turner
Marta Walsh: How did you decide on a career in acting, and what were some of your first breaks as an actress?
Bree Turner: I started out as a dancer which got me on stage. I was pretty shy as a kid so my mom decided to enroll me in a dance class, and I fell in love with being on stage and performing. I danced all through my teens and early 20's. Dancing brought me down to Los Angeles with a dance scholarship in UCLA. I heard that you can actually make money as dancer, so I got a dance agent and began working in commercials, music videos, and the Grammys. I did that for about 6 years. I then decided to pursue acting. I was so in love with being on set and movie making. I loved movies since I was a baby. It was the only thing that would calm me down. I was very colicky as a child so my mom would take me to watch movies. Grease was the movie that would stop me from crying. Dancing, performing, and being on stage is all I've done forever, it's all I really know.
On my recent trip to New York City I visited the Lancôme boutique on Upper West Side, which was a totally luxuriating (Marta just made this word up) experience. I love makeup and I love Lancôme so as you can tell it felt like heaven to me, lol. The icing on the cake was being introduced to Lancôme's top celebrity makeup artist Sandy Linter, an industry icon. She's worked on more celebrities and supermodels than any artist around. She was recently awarded an Elle Genius Award (check out the April 2009 issue of Elle!) and there's a great interview with her in the April Allure that's part of the gorgeous "Coming of Age" story featuring Cindy Crawford.
When chatting with Sandy, she told me she did makeup for Sigourney Weaver! Sandy also did the makeup charts for the Austin Powers movie. Yes, yes…cool stuff! 
I was thrilled when Sandy Linter offered to makeover my eye makeup, particularly my eye liner. She told me I almost got it right however with my eyes being a bit roundish she suggested I change my eye liner application technique. She recommended Lancôme Ink Artliner in Indigo Charm and to go for a softer eye makeup look. She took off my black eye liner and gave me the following tips on how to apply Lancôme Ink Artliner in Indigo Charm:

Lancôme Celebrity Makeup Artist Sand Linter & Marta Walsh at the Lancôme boutique Upper West side New York City.