Celebrity Hairstylist David Babaii created this "Beach Romantic" hairstyle for Nicole Kidman for the 2011 Film Independent Spirit Awards held on February 26th, 2011. The event was held at Santa Monica Beach serving as a perfect location for this look.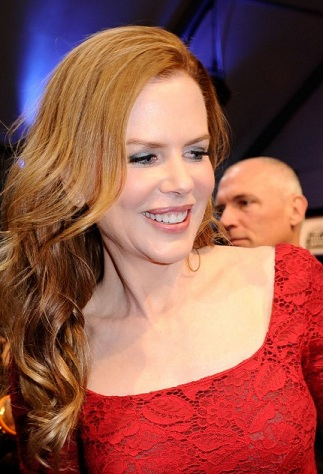 How To Get Nicole Kidman's Hairstyle:
After washing and gently towel drying, apply Couture Colour Pequi Oil Treatment (now available at www.sephora.com) to nourish and protect the hair against thermal styling. Next, dry the hair thoroughly, applying additional Couture Colour Pequi Oil Treatment to serve as a UV protector against the sun and drying winds.
After applying a small amount of the Pequi Oil to the hair, divide hair into 4 parts: top, sides and back leaving the nape area free. Starting at the nape area and taking small sections one at a time, comb the hair before starting. Depending on the size of the wave or curl you desire, wrap the bottom half of the section around 1-3 fingers creating a large pin-curl type curl. Using the IT&LY HAIRFASHION Digital Styling Iron, take the open flat iron and carefully place the curl inside and clamp down, holding for 10-15 seconds. Repeat if the curl is large or hair is thick so you have covered the entire diameter of the curl. Clip the curl and proceed to the next. If necessary apply additional Pequi Oil. It is light weight and will not weigh the hair down. After completing the entire head, remove the clips and allow the curls to relax and fall naturally into place. Apply additional Pequi Oil to your hands and use your fingers to brush waves into place. If you wish, spray with a light hold styling spray.