All Posts Tagged With: "Tom Brady"
In the February 2010 issue of GQ is naming the 25 Most Stylish Men in the World for 2010, and heading up the list is Johnny Depp. Also making the list: Robert Pattinson, David Beckham, Ed Westwick, Ryan Gosling, Jay-Z, Tom Brady, Anderson Cooper, LeBron James and more! The February issue of GQ hits news stands nationally on January 26 and is available on iTunes. GQ will be posting the complete list for people to vote on THE MOST stylish man, later today on GQ.com.
Read full article in GQ.com

Cover photo: Patrick DeMarchelier / GQ
Talking Makeup is excited to present the Tom Brady SIGNED All American Stetson Perfume Bottle GIVEAWAY!!! I mean, signed by Tom Brady. How cool is that?
HOW TO ENTER the Tom Brady SIGNED All American Stetson Fragrance Bottle GIVEAWAY:
1. Go to Talking Makeup's YouTube Channel & subscribe!
2. Leave a comment.
3. Giveaway EXPIRES Sunday May 24th, 2009.
Good luck everyone:)
Tom Brady is a handsome all American boy who also happens to be the spokesman for the latest All American Stetson fragrance for men.
Here is an interview with Tom Brady where he is talking about All American Stetson. He gives advice to women on how to buy cologne for their significant other. How he manages to stay grounded with all his amazing fame, and what is the best part of being Tom Brady!
How does All American Stetson differ from Stetson Original?
All American is a cologne that has a fresh and younger feel. It's very modern. All American is the next generation of Stetson, it's the NEW classic.
What makes this new Stetson cologne "All American?"
I think a lot of people would agree that being "American" is a state of mind that we all take pride in. It's being adventurous, being free-spirited and it's also about expressing a certain confidence. All American captures this kind of American ideal of "living free and living true."
Who do you think this fragrance will appeal to?
All American is for the guy who lives life to the fullest. It smells great and has a cool, modern edge.
All American Stetson is a fresh, modern, new addition to the Stetson fragrance family. Best described as an aromatic woody fragrance, All American Stetson features notes of black suede (spokesman Tom Brady's self-professed favorite), cedar leaf, ginger, musk, and fresh water ferns.
Tom Brady is supermodel Gisele Bundchen's husband and he is super cute. Aren't you curious how All American Stetson smells?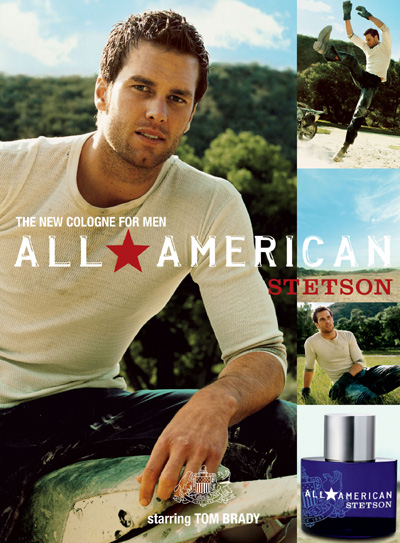 Developed by master perfumer Harry Fremont of Firmeniche, All American Stetson is for the fun-loving, athletic, adventurous and rugged "All American" guy. The fragrance is available now at mass retailers and retails for $14.50 – $26.00.