2011 Golden Globe Award Presenter Scarlett Johansson looked extraordinary on the red carpet tonight. Wearing a sparkling blush-colored Elie Saab gown, her dazzling, sculpted updo was softly glamourous in a new, very modern way.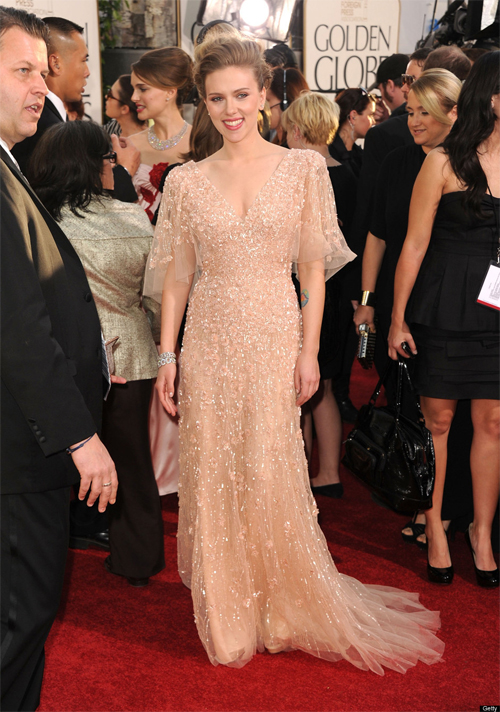 Scarlett Johansson Hairstyle at the 2011 Golden Globes hair products by Moroccanoil
Influenced by glamour of 40's Hollywood and the sophisticated photographs of 40's and 50's fashion photographer, Lillian Bassman, Vetica took red carpet hair to elegant new heights. Inspired by the flowing lightness of Scarlett Johansson's gown, Vetica created an updo that blended softness, movement, direction and a new sculptural shape.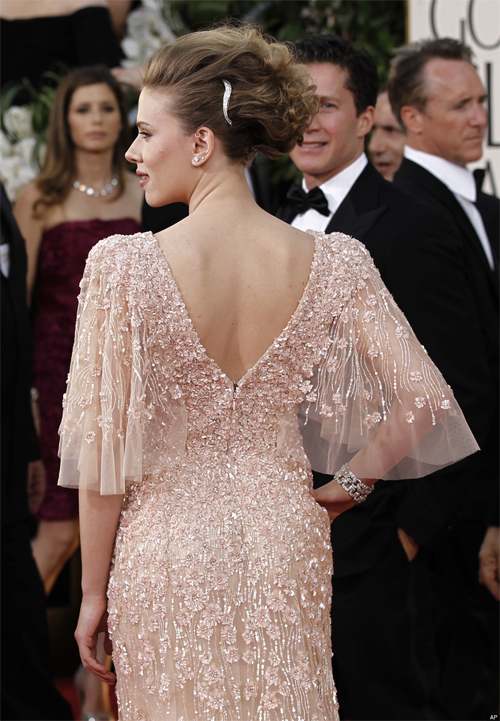 Attached on Scarlett Johansson's hair two 1934 Flammes brooches worn as hair clips (round and baguette diamonds set in platinum) from the Van Cleef& Arpels Private Collection
"To create a feeling of movement and volume at the back of the head and height at the crown I started by blowdrying her hair with Moroccanoil® Treatment to smooth her texture and ensure shine and flexibility. I directed the hair back and away from her face and brought it back to the nape of her neck, and then up and towards the crown.
Next, I curled small sections of hair starting at the nape of the neck and up towards the crown using a 1Ž2 inch curling iron. Once I reached the crown, I curled the hair back from her face.
When I finished, Scarlett had a tight set of curls throughout her hair, all directed up and towards the crown. I then gave thecurls a good spray of Moroccanoil® Luminous Hairspray to set.
To finish, I vigorously brushed the hair through, again directing it up and away from the face, up from the neck towards the crown.
I then gave the whole look a well-defined backcomb to create a directional shape –- again bringing the hair up and away. Then, I gave the entire look a spray of Moroccanoil® Luminous Hairspray. It not only holds the hair, it leaves it with a soft, movable hold which was essential to make this look work.
I then attached two 1934 Flammes brooches worn as hair clips (round and baguette diamonds set in platinum) from the Van Cleef& Arpels Private Collection to round off the look by keeping the sides of her hair close to her head and to pick up the 40's vibe of her dress.
Finally, I gently brushed through the top of the hair to smooth out the curls and gave it a wave. I finished by backcombing at the root of the crown for height.. I sprayed the hair with Moroccanoil® Luminous Hairspray again to set the look and finished with Moroccanoil® Glimmer Shine Spray for natural-looking shine.
Products used to achieve Scarlett Johannson's hairstyle:
Moroccanoil®Treatment. a proprietary argan oil-infused formula, is exclusively designed to give hair a natural-lookingsilky, lustrous shine and a frizz- and static-free finish. It strengthens, conditions and revitalizes hair while significantly reducing drying time by up to 40%. (MSRP:$39.00 / 3.4 fl. oz.)
Moroccanoil® Luminous Hairspray is argan oil-infused for lasting, healthy and natural-looking hold with shine. (MSRP$21.00 / 10 fl. oz.)
Moroccanoil® Glimmer Shine Spray createsan instant mist of long-lasting, incomparable shine while protecting hair from the damaging effects of UV light and free radicals. (MSRP: $25.80 / 3.4 fl.oz.)
The originator and industry leader of luxury, professional argan oil-infused styling, finishing and conditioning products for the hair, the Moroccanoil® brand is world renowned for its proprietary lightweight, instantly absorbed formulas and unparalleled results.
Moroccanoil's argan oil is harvested under a free trade program, which provides substantial socio-economic support to thousands of families in the Southwest region of Morocco. Moroccanoil® products are sold exclusively in fine salons. Consumers can find the nearest salon by visiting http://www.moroccanoil.com.