All Posts Tagged With: "Glamour"
Here some of the beautiful celebrities who attended the Glamour Magazine 2009 Women of the Year Honors last night.
Rihanna: wow look at the dress, and Rihanna's hair color is looking blonder by the second. Personally I'm not a huge fan of Rihanna's hairdo. Maybe her stylists try to position her as edgy and different, but I much prefer Rihanna in longer more feminine hair. But, this is just me.
Scarlett Johansson on Glamour Magazine November 2009 in red hair. Is red hair in? Jessica Alba just died her hair red too.
Scarlett talks on body image in the magazine: "There was this rumor mill cranking out stories that I had lost 14 pounds—I could never lose 14 pounds…I hate seeing these ridiculous articles where [tabloids] guess someone's weight…I can't look at somebody who is 6 feet tall and 120 pounds and say, I'm going to get that body. That's just never going to happen. You have to work with what you've got."
Scarlett on the red carpet: "I have a tumultuous relationship with it because I love to get ready for the red carpet, but being on it is very uncomfortable. It's so freakish and weird. I get flop sweats, dry mouth, heart palpitations, allover panic!"
The ladies from The Twilight Saga: New Moon show you how to go from daytime pretty to nighttime hot in "Twilight Beauty," as featured in Glamour's upcoming September 2009 issue, on newsstands August 11th. The gorgeous photo spread, shot by Matthias Vriens-McGrath, features Nikki Reed, Rachelle Lefevre, Ashley Greene and Noot Seear. The issue hits stands Tuesday, August 11.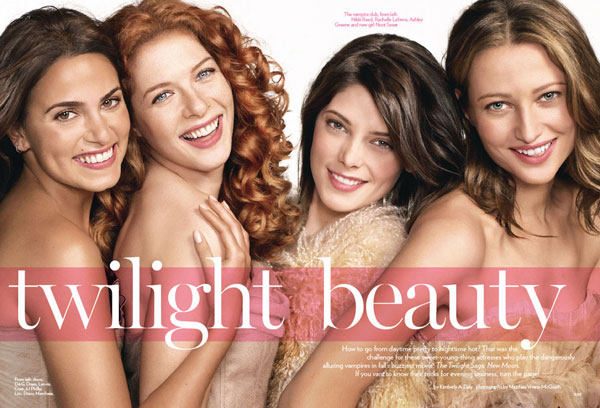 Click image above to enlarge
Twilight Beauty: How to Take Your Look from Day to Night: How to go from daytime pretty to nighttime hot? That was the challenge for these sweet-young-thing actresses who play the dangerously alluring vampires in fall's buzziest movie, The Twilight Saga: New Moon. If you vant to know their tricks for evening sexiness, turn the page!
And btw-Jessica Simpson graces the cover of Glamour September 2009 issue: