All Posts Tagged With: "Anna Paquin"
(May 27th, 2011) – Anna Paquin 'shows her true colors' in Zac Posen in the new True Blood advertisements. Paquin exudes sex appeal in a grenadine Zac Posen silk jersey bustier dress from the Spring/Summer 2011 Collection, enticing audiences to watch the upcoming June 26th, 2011, season 4 premiere.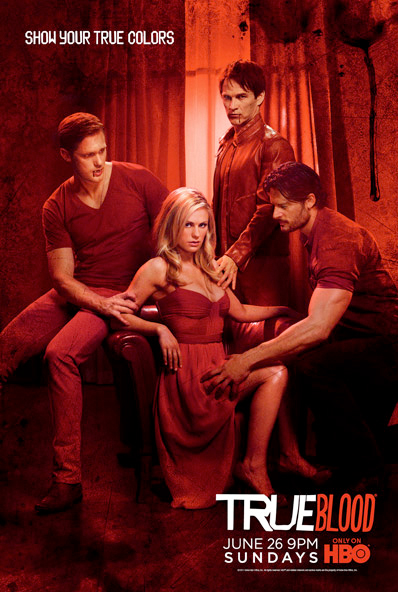 ANNA PAQUIN 'SHOWS HER TRUE COLORS' IN ZAC POSEN
Marta Walsh says: "Zac Posen is 'on fire'. He's designs are the red carpet darling."
Celebrity hair stylist Giannandrea worked with Anna Paquin for the Los Angeles premiere of Scream 4 on Monday, April 11th, 2011.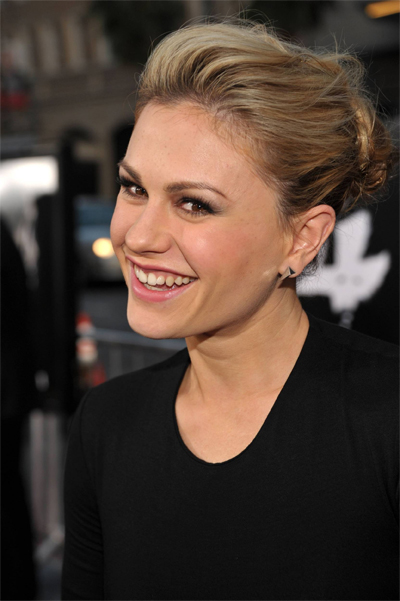 INSPIRATION:
"My inspiration for Anna's hair at the Scream 4 premiere was Grace Kelly rock chic. It was quite simple, but she felt very cool and beautiful."
Celebrity Makeup Artist Beau Nelson worked with Emma Roberts and Anna Paquin this week, using NARS Cosmetics to give their eyes show-stopping sophistication.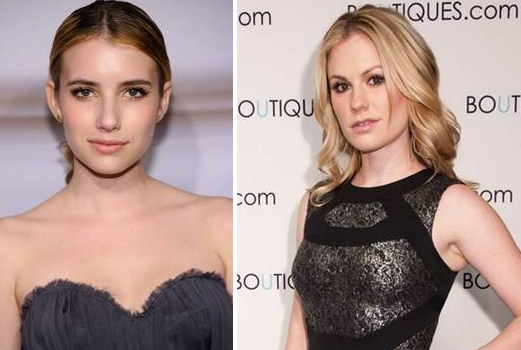 For Anna Paquin's chocolate-hued eyes, he used Cordura Duo Eyeshadow and Black Moon Eyeliner Pencil. The True Blood star attended the NYC launch event for Google's Boutiques.com.
Anna Paquin's Hairdo at the 2010 Emmy Awards. Frederic Fekkai Celebrity Stylist, Renato Campora, created a soft yet glamorous style for Anna Paquin. The Hairstyle & Inspiration: A soft yet glamorous look to compliment her dress by Alexander McQueen.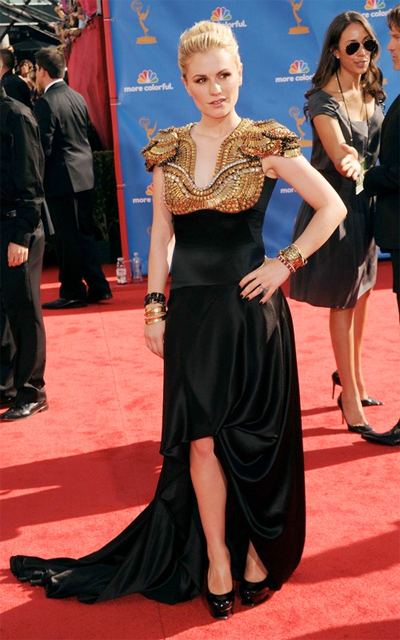 Here's how to get Anna Paquin's hairstyle at the 62nd annual Primetime Emmy Awards: Hair Tutorial
On wet hair, Renato Campora applied the Fekkai Full Blown Volume™ Styling Whip to the roots and the Fekkai Coiff™ Perfecteur Anti-Frizz Silkening Crème. Once dried, he used a ½ inch curling iron and set the hair in pin curls. After 15 minutes, Campora removed the curls and ran his fingers through the hair to loosen and create shape.
True Blood stars, Anna Paquin, Stephen Moyer, and Alexander Skarsgard, are featured on the cover of Rolling Stone Magazine September 2nd, 2010, looking like this!!! What do you think lovers: Beautiful and sexy or just pure scary and gross?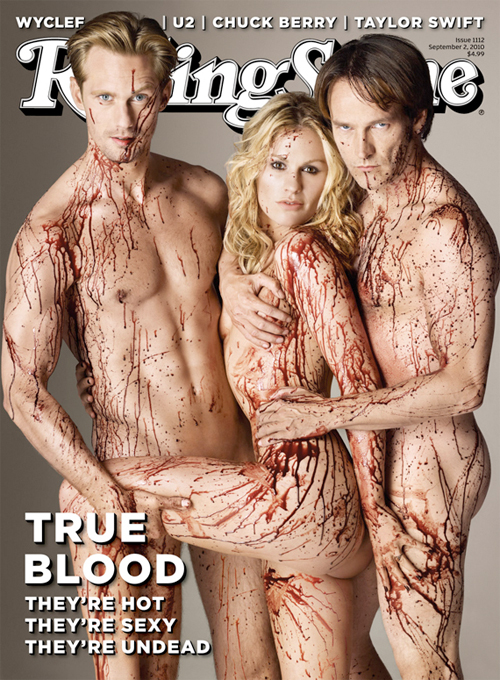 Photograph by Matthew Rolston for RollingStone.com
BEST DRESSED: I adored Anna Paquin's dress at the 2010 SAG Awards. The colors looked amazing on Anna. Loved the matching gold infused shoes, hair and makeup. Also, cute to see how Anna Paquin and her partner Stephen Moyer are inseparable on the red carpet. Must be love! BTW Anna Paquin is a New Zealand actress.
Anna Paquin's dress at the 2010 SAG Awards by British fashion designer Alexander McQueen from his Spring 2010 collection. No wonder I love it. McQueen is my style genius and hero:)
Anna Paquin at the 2010 SAG Awards: Do you love?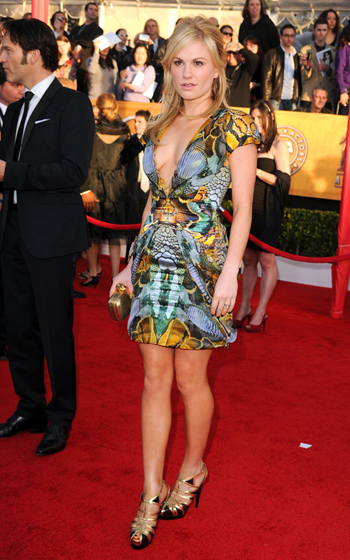 2010 Golden Globes Beauty Trends: Another big trend of the evening was long, dramatic lashes set against smoky eyes as seen on True Blood's Anna Paquin, actress Emily Blunt, and Glee's Lea Michele. BTW-I love Anna's Stella McCartney gown.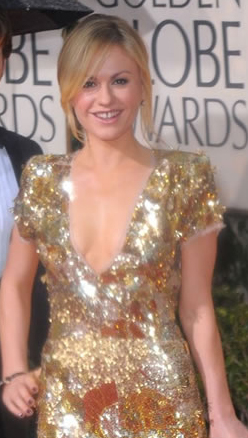 To get the look, try Dolce & Gabbana The Make Up Smooth Eye Color Quad in Champagne—the ideal palette to attain a smoky eye, along with the Crayon Intense Eyeliner in Black and Volumized Lashes Mascara in Black.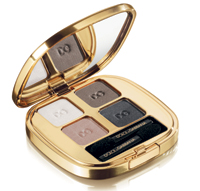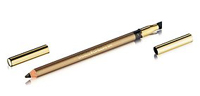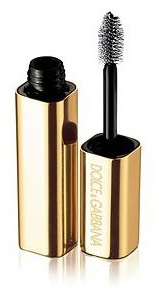 The Kate Somerville Skin Health experts have been very busy prepping the skin of celebs before their big night. Check out the list of stars who have visited the Kate Somerville Clinic in preparation for the 2010 Golden Globes and their favorite treatments before the red carpet event. Kate will also be featured LIVE tomorrow, Sunday January 17th, 2010, on the Red Carpet. Tune into the TV Guide Channel, Golden Globe pre-show at around 1:15pm PST and watch Kate's skin tips.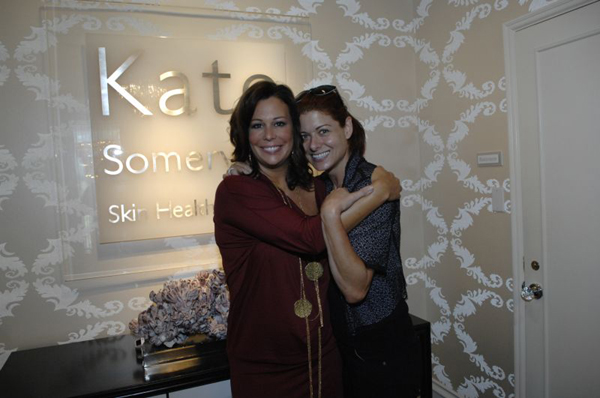 Debra Messing and Kate Somerville
Kate Somerville Golden Globes Clients include:
· Anna Paquin (Nominated for True Blood and Best Performance in a mini-series)
· Olivia Wilde (House is nominated)
· Kyra Sedgwick (Nominated for The Closer)
· Debra Messing (She'll be attending as husband's show, Damages, is nominated)|
· Lea Michele (Nominated for Glee)
· Jane Lynch (Nominated for Glee)
· Julie Benz and Jennifer Carpenter (on Dexter, which is nominated)
· Sophia Vergara (Modern Family is nominated)
· Perrey Reeves (Entourage is nominated) 
Few weeks ago I was given an incredible chance to chat with Tim Quinn over the phone. Tim Quinn is Giorgio Armani's Celebrity Face Designer National Director, Creative Artistry.
I met Tim in New York City during my trip with DailyMakeover.com this past July (2009). The meeting was in Pastis one of my favorite restaurants to hang out when I used to live in New York City. As soon as I was introduced to Tim during breakfast I knew I had to interview him and share with you his beauty insights and story of top celebrity makeup artist. As you can sense, I'm a huge fan. I remember telling him that I loved his style and that he looks "Very Armani": That very pale almost platinum blonde hair, and the chic eye glasses. Believe it or not, Mr. Giorgio Armani himself set a table next to me in Cipriani Downtown SOHO few years ago, so I got to know the look:)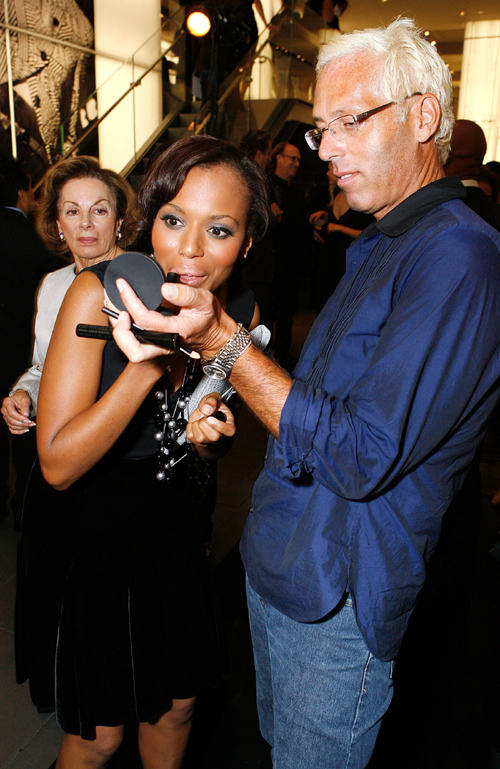 Tim Quinn and Kerry Washington
A little bit about Tim Quinn: After training in Milan alongside world-renowned makeup artist Pat McGrath, Tim Quinn joined the Giorgio Armani Beauty team with the launch of the brand in September 2001. His myriad experience as an artist includes work in TV, print, and film. Tim has been featured as one of the "25 Beauty Stars" in W Magazine and has worked backstage at several award shows including the Academy Awards and the Golden Globes. Tim has worked with a number of celebrities such as Glenn Close, Debra Messing, Victoria Beckham, Kim Cattrall, Gwen Stefani, Kate Bosworth, Minnie Driver, and Brooke Shields. He has designed faces for Helen Mirren, Julia Roberts, Naomi Campbell, Katie Holmes, Sarah Jessica Parker, Barbara Walters, Lucy Liu and Drew Barrymore.  I might even missed few names!
Marta Walsh: When did your fascination with beauty begin?
Tim Quinn: From as far back as I can remember I was drawn to the world of fashion and beauty. I was born and raised in the countryside of Connecticut and was always encouraged by my parents to go outside and play – TV was only for special occasions and the internet was still years away, so my siblings and friends would create our own worlds of entertainment. My paternal grandmother was widowed rather young and she remarried an attorney from New York. They lived in New York City during the week and at her country home in Litchfield, CT on the weekends. My visits and travels with them truly influenced my young mind – I thought of her life as my very own 'Green Acres'. I became a glamour addict – watching her dress for dinner in NY, DC and even Iceland – the whole idea of the hair, makeup, jewelry and furs created such a glamorous world that was so different then the life I knew in Connecticut.