Few weeks ago I was given an incredible chance to chat with Tim Quinn over the phone. Tim Quinn is Giorgio Armani's Celebrity Face Designer National Director, Creative Artistry.
I met Tim in New York City during my trip with DailyMakeover.com this past July (2009). The meeting was in Pastis one of my favorite restaurants to hang out when I used to live in New York City. As soon as I was introduced to Tim during breakfast I knew I had to interview him and share with you his beauty insights and story of top celebrity makeup artist. As you can sense, I'm a huge fan. I remember telling him that I loved his style and that he looks "Very Armani": That very pale almost platinum blonde hair, and the chic eye glasses. Believe it or not, Mr. Giorgio Armani himself set a table next to me in Cipriani Downtown SOHO few years ago, so I got to know the look:)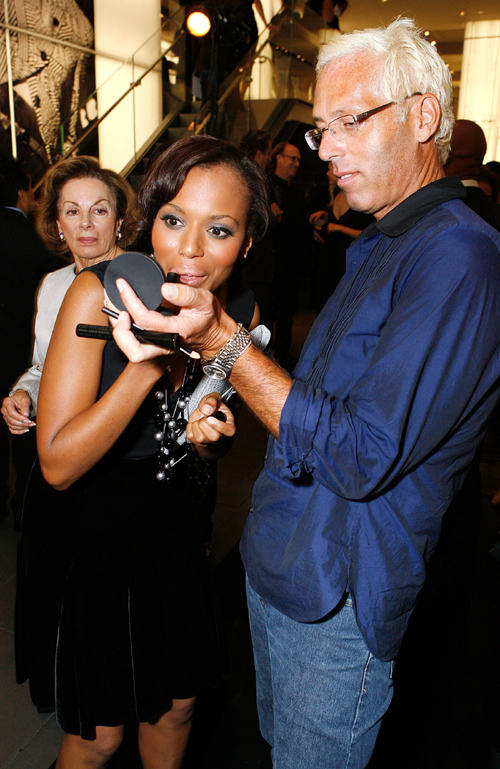 Tim Quinn and Kerry Washington
A little bit about Tim Quinn: After training in Milan alongside world-renowned makeup artist Pat McGrath, Tim Quinn joined the Giorgio Armani Beauty team with the launch of the brand in September 2001. His myriad experience as an artist includes work in TV, print, and film. Tim has been featured as one of the "25 Beauty Stars" in W Magazine and has worked backstage at several award shows including the Academy Awards and the Golden Globes. Tim has worked with a number of celebrities such as Glenn Close, Debra Messing, Victoria Beckham, Kim Cattrall, Gwen Stefani, Kate Bosworth, Minnie Driver, and Brooke Shields. He has designed faces for Helen Mirren, Julia Roberts, Naomi Campbell, Katie Holmes, Sarah Jessica Parker, Barbara Walters, Lucy Liu and Drew Barrymore.  I might even missed few names!
Marta Walsh: When did your fascination with beauty begin?
Tim Quinn: From as far back as I can remember I was drawn to the world of fashion and beauty. I was born and raised in the countryside of Connecticut and was always encouraged by my parents to go outside and play – TV was only for special occasions and the internet was still years away, so my siblings and friends would create our own worlds of entertainment. My paternal grandmother was widowed rather young and she remarried an attorney from New York. They lived in New York City during the week and at her country home in Litchfield, CT on the weekends. My visits and travels with them truly influenced my young mind – I thought of her life as my very own 'Green Acres'. I became a glamour addict – watching her dress for dinner in NY, DC and even Iceland – the whole idea of the hair, makeup, jewelry and furs created such a glamorous world that was so different then the life I knew in Connecticut.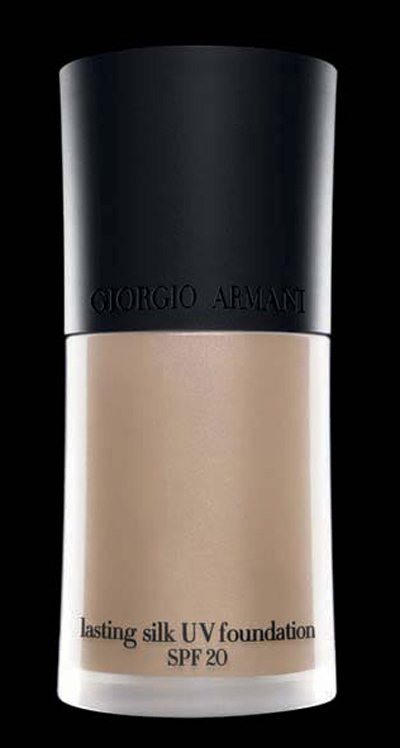 MW: What were some of your first big breaks in the beauty industry?
TQ: It wasn't until I was graduated college (Albertus Magnus College- BA in Economics) and moved to Florida to work with Merrill Lynch. South Beach was in its full swing – the whole clubs/models/Versace in South Beach scene was fully of allure. I knew it was time for a change and I went to Milan – that is when I discovered my passion for makeup. I was fortunate to be offered a position with Borghese and spent several years honing my skills and knowledge throughout the US, Europe and Asia. My world totally changed when I was recruited for a position with Helena Rubinstein – it wasn't for me, but the General Manager of Giorgio Armani Parfums, Serge Jureidini, was looking for someone to launch the brand in the US in August 2001. He promised to 'make me a star' – I signed on and never looked back. He is now the President of Lancome USA and a dear friend.
MW: Which other makeup artists inspired you at the time?
TQ: Pat McGrath, Kevin Aucoin, and Debi Mazar. Debi used to be makeup artist for Madonna at the time. I ended up working with Debi and Pat so it's an odd world that keeps going in circles.
MW: What is your philosophy about makeup & beauty?
TQ: For me beauty is all about what makes us shine – I've learned from Mr. Armani that "elegance isn't about being noticed, it's about being remembered." I apply this philosophy to my work. I've been so fortunate to work with some of the most amazing women in the world – not only in the celebrity arena but also as I continue to learn and grow as I encounter women of all ages and life paths.
MW: What have been some of your most memorable celebrity collaborations so far, and which celebrity you would like to do makeup for in the future?
TQ: I often go blank when the celebrity questions come up – I have vivid memories of my first meetings with Debra Messing, Glenn Close, Farrah Fawcett (an amazing spirit- gorgeous inside and out, and taken from us way too early) Kerry Washington, Andrea Mitchell (who has been an amazing friend – helping me when I was diagnosed with Cancer two years ago). As for the future – the Emmy's are soon and I've sent 'faces' out to many of the nominee's. True Blood is my favorite show, so I'd love to work with Anna Paquin.
MW: What was the nature of your working relations with Alana Stewart and Ferrah Fawcett?
TQ: I've known Alana Stewart for many years. I was very good friends with Alana and Farrah Fawcett. We've formed a mutual bond between the three of us. Doing someone's makeup is very intimate, so you can't help but to be drawn into their world.
MW: Which basic makeup tools should every woman's have in their makeup bag?
TQ: A lash curler, Yves Saint Laurent's Touche Eclat, Giorgio Armani's Eyes to Kill mascara, an eyebrow pencil, bronzer and a nude lip. I also think its best to carry eye cream (Crema Nera Eye Compact with the hidden mirror is my fave)
MW: Which Giorgio Armani Beauty makeup products are a must-have in every woman's makeup bag?
TQ: Without question – Giorgio Armani foundations. I advise my clients to have a few different types – Face Fabric for quick on the go makeup or weekend wear, Luminous Silk Foundation for everyday and Lasting Silk UV Foundation SPF20 when you know that you will have an especially harried day and especially if you are to be photographed. Fluid Sheers are a must have as well – I love #1 (a rose gold) – gorg on almost any complexion, #2 (a subtle champagne highlighter) and #10 when you need a little golden boost to your complexion. Eyes to Kill Mascara is our best mascara ever and Giorgio Armani's Smooth Silk Eye Pencils – in my opinion they are best on the market. As I mentioned earlier – the Crema Nera Eye Compact is fantastic- you can even lightly tap over your makeup at the outer corners of your eyes throughout the day to revitalize your look.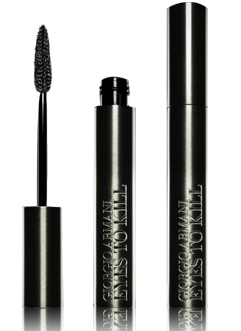 MW: Which makeup looks do we expect to see at Giorgio Armani in the upcoming seasons?
TQ: Taking an art deco inspiration from our latest fragrance launch, Idole d'Armani, our upcoming holiday collection is amazing – the palette has an art deco feel and the makeup look is so old Hollywood glamour.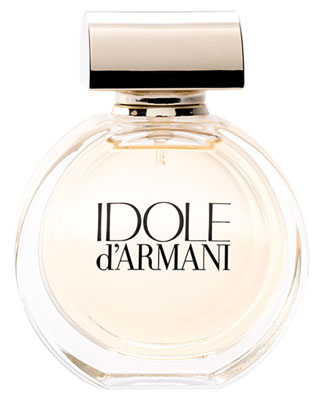 MW: How would you describe your own personal style?
TQ: As I've matured, I've taken clues from the Maestro – I prefer timeless, effortless fashion. A combination of Italian style meets Connecticut preppy and a dash of old Hollywood.
MW: What is your favorite city in the world?
TQ: I'm totally obsessed with Venice, Italy.
MW: What are some of your biggest inspirations in life?
TQ: I'm influenced by my friends and family, my spirituality, my travels throughout the US and the world. I do my best thinking at the beach, whether in Boca Raton or Forte de Marmi or even the rugged coast of Maine.
MW: Which projects are working on at this time and what's next for Tim Quinn?
TQ: I am gearing up for the Emmy's, also working with marketing on next years offerings with an eye towards Hollywood. I am working with Mass General Cancer Research as well as the NFCR (National Foundation for Cancer Research) on an ongoing basis. I'm gearing up for my role at the MORE Reinvention Convention in New York City on October 5 as well as Maria Shivers Womens Conference in Long Beach, CA on October 27. Both of these events are amazing and so inspiring. And of course, always working on my tan J
It was a pleasure interviwing Tim Quinn. Visit Giorgio Armani Beauty Official Website to learn more about products mentioned and to get beauty tips.
Read more about Tim Quinn for Giorgio Armani Beauty