GET THE LOOK: Looking camera ready, Giuliana Rancic and Toni Collette were glowing as they stepped on the red carpet with HDTV perfect skin for the 16th Annual Screen Actors Guild Awards. Once again, Hollywood's leading celebrities turned to the ultimate skin-finishing brand, St. Tropez, for an award winning look.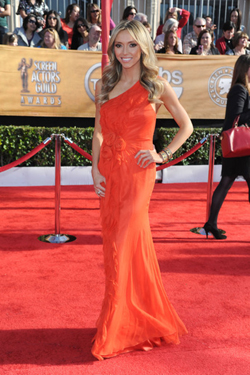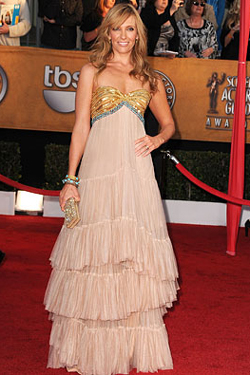 Giuliana Rancic says, "I can't live without my bi-monthly St. Tropez skin-finishing appointment. St. Tropez gives the most natural and gorgeous color on the market. I'm also obsessed with the products like the Bronzing Rocks and the Radiance Mousse. They give me a beautiful glow on the set of E! News everyday, as well as on the red carpet. I love St. Tropez!"
"Not even the rain will stop the stars skin from glowing radiantly at the16th Annual SAG Awards in Hollywood" says St. Tropez Skin Finishing Expert Fiona Locke. Rain or shine I will still be providing St. Tropez Skin Finishing treatments to some of Hollywood's hottest stars nominated for a SAG Award this weekend, providing a healthy, confident boost of color to the skin that will glow with pure radiance even under dark skies."
St. Tropez is Hollywood's best-kept beauty secret, but fans can recreate a bespoke look be it a golden glow like the No Tan, Tan or a darker Glamazonian Tan with St. Tropez's unique line of self tanning and skin finishing products. First, exfoliate with St. Tropez Tan Optimizer Body Polish before moisturizing dry areas thoroughly with St. Tropez Tan Optimizer Body Moisturizer. Then, spray St. Tropez Self Tan Bronzing Spray all over and stay dry for at least four hours. Finally, shower off to reveal a perfectly golden, natural looking result! To maintain, re-apply a couple of times a week, nourish daily with St. Tropez Tan Optimizer Body Moisturizer, and smooth skin with St. Tropez Tan Optimizer Body Polish for ultimate results.
For the latest news on St. Tropez, please visit www.sttropeztan.com  or St. Tropez's Facebook page at http://www.facebook.com/sttropeztan
Giuliana Rancic interviews with Marta Walsh