All Posts Tagged With: "Ke$ha"
Wow Ke$ha looks great at the VMA's tonight. The more platinum blonde shade looks clean and suspect a nose job (Hollywood's best kept secret)? Anyways, celebrity makeup artist Scott Barnes created the dramatic cat eye and bronze lips makeup look for Ke$ha. We have the scoop.
"I wanted to give her that 1940s Hollywood glamour – sophisticated chic – with a twist," he said. A definite departure from her usual look!
See K$ha BEFORE her makeover!
Spotted: Ke$ha backstage before her performance at Casio's Shock the World 2010 Event in New York City, August 2nd, 2010. At her performance Ke$ha announced that she is a new Brand Ambassador for Casio Watches. I love Casio watches but the question is what about Ke$ha's baby blue lipstick and stripes around her arm?? What do you think guys: cute or just waste of time?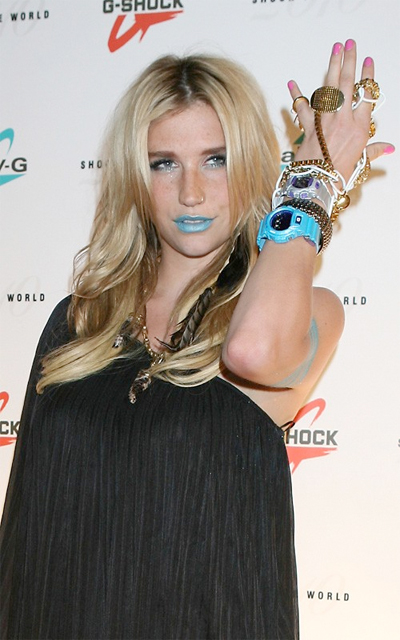 Pop music sensation, Ke$ha, made a serious statement at the Erin Wasson X RVCA Fashion Week Fall 2010 showing when she posed for paps wearing barely anything else but a What Goes Around Comes Around (WGACA) studded and patched vintage motorcycle jacket! This jacket inspired them to create their own line of exclusive Custom Vintage motorcycle jackets. Made in limited supply and all one-of-a-kind, these special pieces are sure to make any gal a unique crowd pleaser – pants or not!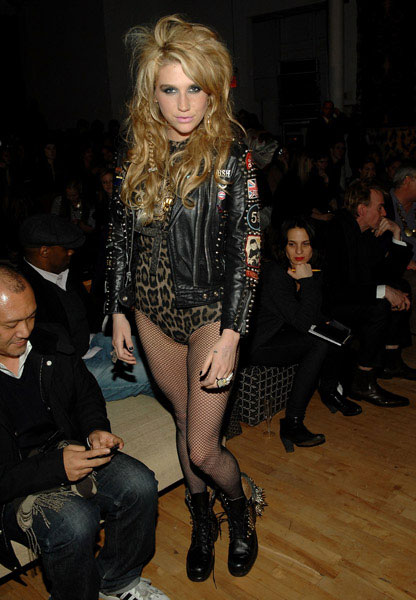 Ke$ha (in the background Creative Director of ELLE Joe Zee seems busy texting in the background:)
The store What Goes Around Comes Around takes me (Marta Walsh) back to my New York University (NYU) years as a business student. I once bought my very favorite vintage blue bell bottom cords which I wore till I had holes in my pockets. I remember thinking I'm going to wear them till I'm 80. LOL
Not Wow Factor: Just getting to know Ke$ha. I love her Tik Tok song and she is gorgeous. The dress, however, was OK it didn't wow me. Maybe the gold dress clashed too much with her blonde hair. Celebrities sometimes are like red wine, they get better with time.