All Posts Tagged With: "Brooklyn Decker"
Sports Illustrated cover model and actress Brooklyn Decker presents the Best Play Award with Mad Men's Jon Hamm at the 2010 ESPY Awards at Nokia Theater Los Angeles, Wednesday, July 14th, 2010. Brooklyn Decker's dress is by Herve Leger. Shoes by Valentino. Clutch and necklace by Sydney Evans.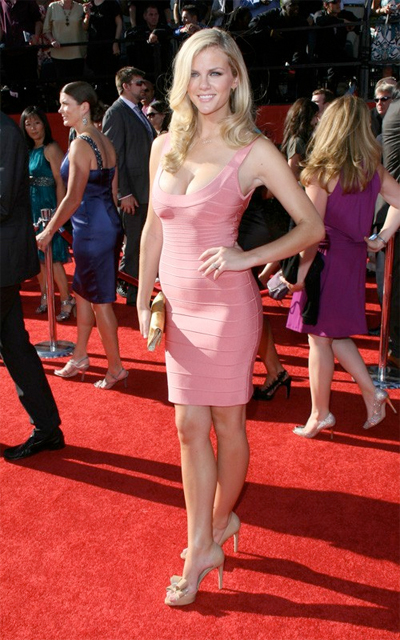 Sports Illustrated Swim Suit Cover model and actress Brooklyn Decker wears Grayce by Molly Sims for HSN necklace on the set of her upcoming film, Just Go With It in Hawaii, Tuesday, May 11, 2010. The movie also stars, Adam Sandler, Jennifer Aniston, and Nicole Kidman.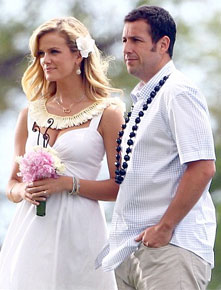 Brooklyn Decker's Necklace: Grayce by Molly Sims Faceted Stone -$24.95.
Available on HSN
Sydney Evan Jewelry is featured on the cover of Sports Illustrated Swim 2010 on Brooklyn Decker. The Supermodel loved the collection so much while shooting on location in Maldives, she requested the Sydney Evan double sided evil eye bracelet for her personal jewelry collection.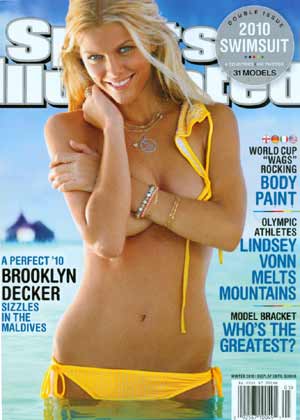 Blazing hot Brooklyn Decker is showing off more than a perfect body on the cover of 2010 Sports Illustrated Swimsuit Issue. Bronzed and beautiful, Decker covers up her goods with a wrist-full of Sydney Evan bracelets. Known for bohemian chic fashion-meets-fine jewelry, that layer perfectly creating the most fashionable statement for any style—pieces include stackable bracelets, diamond charms and bangles. Decker was the first to copy the cover's look, reaching out to the designer Rosanne Karmes and requesting pieces for her personal collection, including The Sydney Evan Double-Sided Diamond Evil Eye Bracelet. Although, by the way she's smiling, we have a good feeling there are no curses lurking around Brooklyn these days.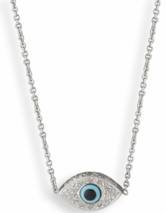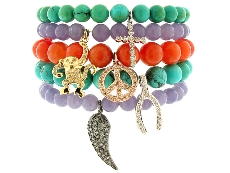 Visit the Sydney Evan Jewelry website at sydneyevan.com for more details.
Congrats Brooklyn Decker for making the 2010 Sports Illustrated Swimsuit Edition cover! You look smashing. Andy Roddick is one lucky guy. Is it just me but Brooklyn reminds me of Elin Nordegren Tiger Wood's wife. Both most beautiful women I've ever seen.
ELLE, the number one global fashion magazine, announces the ELLE Make Better Program and DVD Series. The Make Better program is a multiplatform initiative surrounding fitness, fashion and beauty content that includes a themed January issue, a dedicated website and a three-DVD set hosted by and starring model Brooklyn Decker.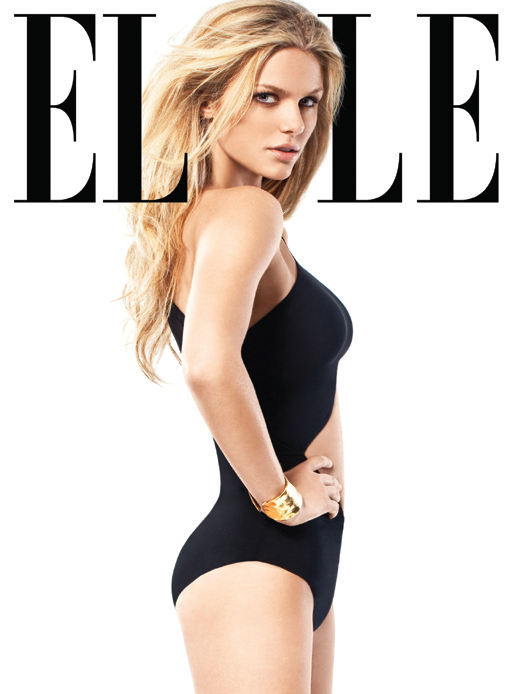 ELLE is turning the dated notion of the "makeover" on its head and instead focusing on new ways to look at fashion, beauty and fitness through simple, yet strategic adjustments to one's everyday life. Spending unnecessary time, money and energy on a new wardrobe, overhauling one's closet or engaging in expensive beauty and fitness regimes is out–so beginning with the January 2010 Make Better Issue, ELLE will demonstrate how to make small tweaks to readers' lifestyles that offer big results. ELLE will also feature Make Better edit in the beauty/fitness section throughout 2010, inspiring you to continue striving to improve your life. The program will be sponsored by Reebok, which will integrate its fitness apparel and Easy Tone technology into the DVDs and custom advertorials in the January issue.
Supermodel Brooklyn Deckr attended the 2009 Whitney Contemporaries Art Party and Auction at Skylight New York City, Wednesday, June 17, 2009.
Brooklyn Decker's style: Dress: Max Azria. Shoes: Zara. Clutch: Max Azria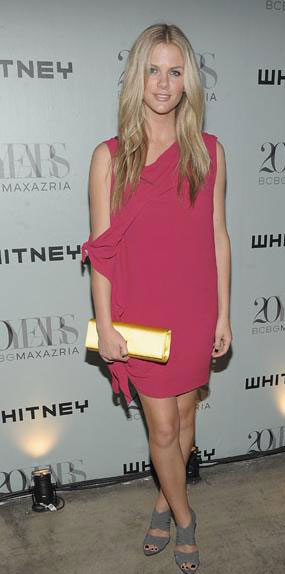 Supermodel Selita Ebanks attended the Whitney Contemporaries Art Party and Auction Skylight New York City, Wednesday, June 17, 2009.
Selita Ebanks' style: Pants and Vest: BCBG. Shoes: Balenciaga. Jewelry: Ofira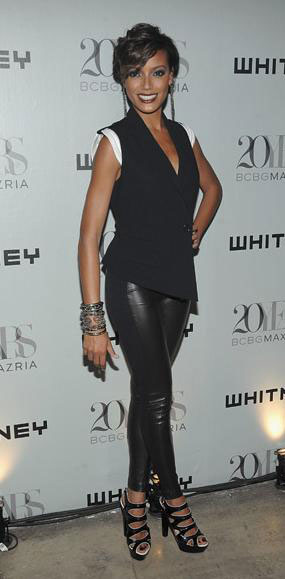 Heidi Klum what's in your beach bag this Memorial Day weekend?
This exactly the question Modelinia.com's asked upermodels, such as: Heidi Klum, Karolina Kurkova, Hilary Rhoda and Brooklyn Decker, just in time for Memorial Day weekend.
Ever wonder what's hiding inside supermodels beach bags for the long holiday weekend?? Or what are supermodels Memorial Day Beach Bag Essentials?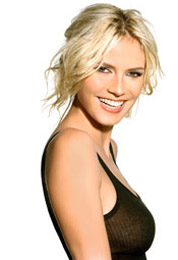 It's Memorial Day weekend, which means summer has officially arrived, complete with beach vacations, relaxing poolside, and barbecues with friends. But before the trips and celebrations begin, packing is the No. 1 priority. If you're stressing about just which suit to buy or what beauty products to pack, Supermodels Heidi Klum, Hilary Rhoda, Karolina Kurkova, and Brooklyn Decker opened up their beach bags to show off their SPF levels, what they're reading, and their iPod playlists, so you can strategize for the long weekend just like them!
WHO: Heidi Klum