All Posts Tagged With: "Max Azria"
New York Fashion Week. Max Azria Fall Winter Collection. Hair by Bob Recine for Moroccanoil. The Fashion: For Fall/Winter 2010, Max Azria embarks on a minimalist journey of clean lines and artful tailoring. Dusty mineral tones soften a base of stark black, giving the palette an air of cool sophistication. Disassembled shapes are pieced together, creating textured surfaces in crepe, leather, mesh and satin. A paired down silhouette outlines this season's vision of streamlined abstraction.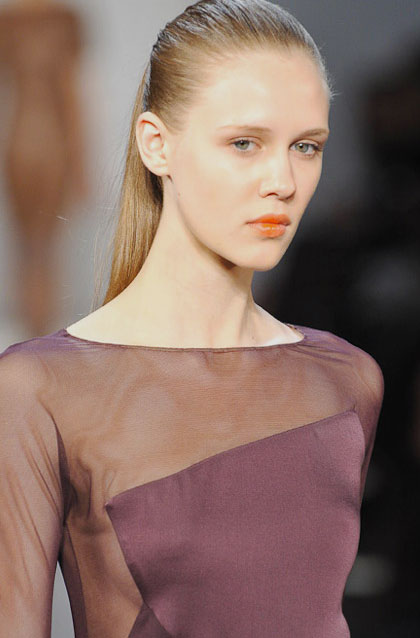 The Hairstyle: Bob Recine for Moroccanoil created a sophisticated flawlessly finished high-ponytail to complement the minimal vision of the 2010 Max Azria collection. "Smooth, well-conditioned, hair with beautiful shine is the essence of this streamlined look," said Recine. He used argan oil-based Moroccanoil Luminous Hair Spray to create a structure based on flexible, free-moving hold, and finished with Moroccanoil Glimmer Shine Spray to add an invisible veil of radiant, natural-looking frizz-free shine.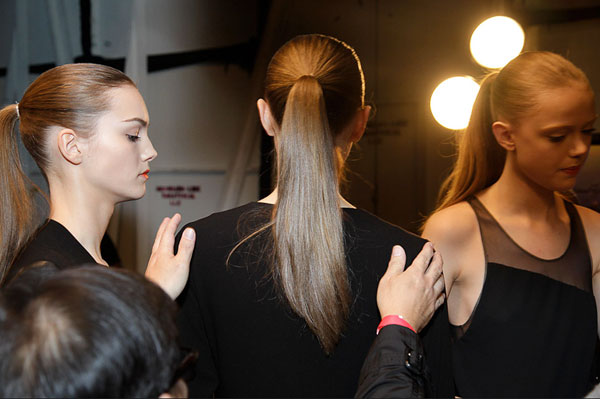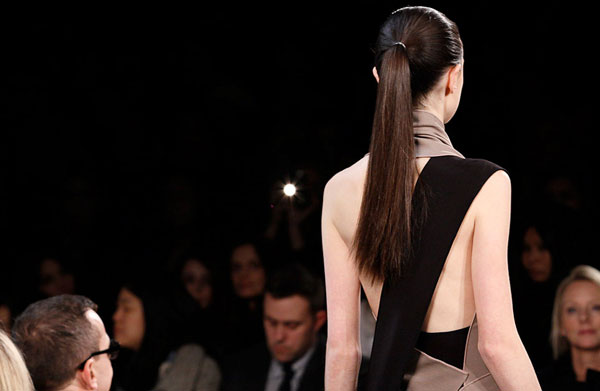 New York Fashion Week. Show: BCBG Max Azria AW 2010. Hairstyle by John Frieda.
The modern, asymmetrical ensembles that ruled the runway were completed with a contemporary, sleek hairstyle created by John Frieda International Creative Consultant Harry Josh.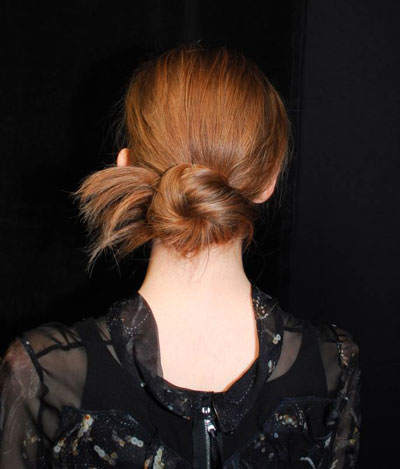 "The collection had a clean, modern feel," says Harry. "I wanted to complement that aesthetic with a very comfortable and effortlessly chic look. The inspiration came from the models themselves, who would come into casting and quickly pull their hair back into a bun. I really wanted to create a look that a woman wearing BCBG would sport herself, since the looks on the runway were also extremely wearable."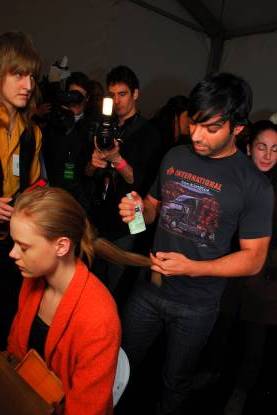 Hair Tutorial:
Harry began by applying John Frieda's Frizz-Ease Take Charge Mousse to dry hair and blow drying, using his fingers instead of a brush to separate the hair from the root and create texture. The technique was crucial to recreating the "pulled back" look any girl would get while styling her own hair.
Supermodel Brooklyn Deckr attended the 2009 Whitney Contemporaries Art Party and Auction at Skylight New York City, Wednesday, June 17, 2009.
Brooklyn Decker's style: Dress: Max Azria. Shoes: Zara. Clutch: Max Azria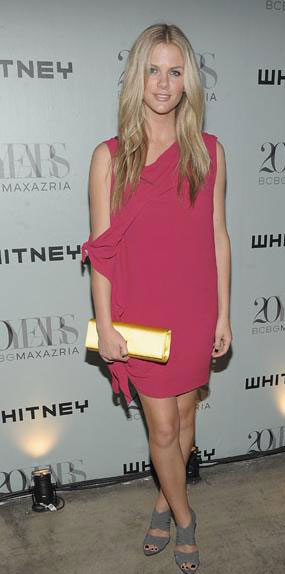 Supermodel Selita Ebanks attended the Whitney Contemporaries Art Party and Auction Skylight New York City, Wednesday, June 17, 2009.
Selita Ebanks' style: Pants and Vest: BCBG. Shoes: Balenciaga. Jewelry: Ofira