All Posts Tagged With: "Anna Wintour"
NEW YORK – Vogue Editor-in-Chief Anna Wintour appears in a video with the Human Rights Campaign – the nation's largest lesbian, gay, bisexual and transgender (LGBT) civil rights organization – for its "New Yorkers for Marriage Equality" campaign. In the video, Wintour is clear and straight-forward with her powerful message: "As far as I'm concerned, having the right to say 'I Do' is as fundamental as the right to vote." The campaign raises the public profile of marriage equality in New York. Watch:
"Ms. Wintour is a no-nonsense perfectionist who embraces basic fairness with her trademark elegance and humanity," said HRC Senior New York Strategist Brian Ellner. "As the preeminent voice in the global fashion industry and a publishing icon, Anna Wintour represents the best of New York. She knows the difference between a passing fad and an enduring brand. Equality is part of the New York brand."
Watch: Anna Wintour and Marc Jacobs on the Late Night With Jimmy Fallon from last night, Wednesday, September 1st, 2010. It is quite funny because Anna mentions Lady GaGa and how she kept her waiting for 45 minutes because she was talking to God! Classic. 🙂
On August 11th, 2010, Mayor Bloomberg along with Anna Wintour, retailers, and many CFDA designers met down at City Hall for a press conference to kick-off Fashion's Night Out this year.

L to R: Editor-in-chief of American Vogue Anna Wintour and designer Tommy Hilfiger
Each August, VOGUE profiles spectacular women at every age—from their 20s to their 80s—for our annual Age issue. This year is about transformation: A new career? A new love? A new direction? Why not?
As Anna Wintour notes in her Letter from the Editor, "Anyone's life can turn on a dime; and yet this seems especially true for women, who invariably inhabit numerous roles at the same time."

At 67, former first lady of Japan Miyuki Hayotama eagerly embraces change and transformation in the moments following her husband's abrupt resignation.
The following guests seen wearing CHANEL to the 2010 Metropolitan Museum of Art Costume Institute Benefit on Monday, May 3rd, 201, in New York City.

Kristen Stewart is wearing a long black taffeta and tulle embroidered dress from Spring/Summer Haute Couture Collection with CHANEL Fine Jewelry
Lily Collins is wearing a short olive embroidered dress from the Spring/Summer Haute Couture Collection with CHANEL Fine Jewelry
Anna Wintour is wearing a sequin jacket and silk dress from the Spring/Summer Haute Couture Collection
Sneak Peek: Lancôme will be working with ambassador Anne Hathaway and spokesmodel Elettra Wiedemann, as well as supermodel Veronica Webb, for the year's most celebrated event, the Met Ball, taking place tonight. The theme is "American Women: Fashioning a National Identity" and it'll be hosted by Gap creative director Patrick Robinson, Vogue's Anna Wintour and Oprah Winfrey. Talk about star power!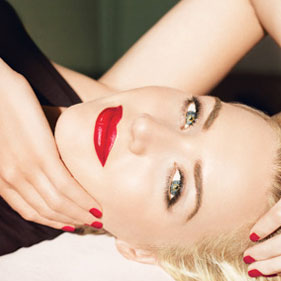 Makeup artist Gina Brooke will be making up Anne, Lancôme's Ewa Szwed is working with Elettra and Daniel Martin will make up Veronica.
Sarah Jessica Parker is gracing the cover of VOGUE Magazine May 2010: In a salute to the upcoming exhibition at the Metropolitan Museum of Art Costume Institute, "American Woman: Fashioning a National Identity," VOGUE's May 2010 issue offers a celebration of the same topic. To herald the cause and as the emblem of today's American woman, Sarah Jessica Parker is VOGUE's May cover star. VOGUE contributing editor Vicki Woods visits with Ms. Parker as she prepares for the upcoming release of the sequel to Sex and the City, begins her role as president and chief creative officer of Halston, and faces the challenges of being a mom to three small children. Styled by Tonne Goodman, Ms. Parker was photographed for the cover by Mario Testino.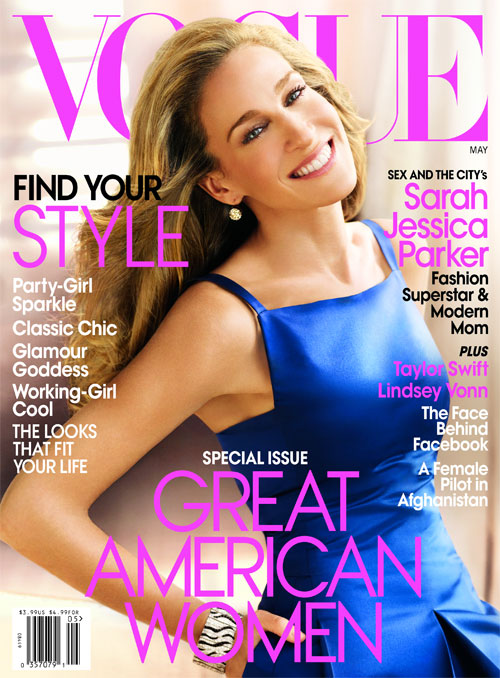 Photo Credit: Mario Testino/VOGUE
WATCH the behind the scenes of the Sarah Jessica Parker VOGUE May 2010 Photo Shoot (via: vogue.com):
Highlights From the Article:
For VOGUE's eighth annual March power issue, writer and actress Tina Fey is the magazine's standard-bearer. In a candid conversation with Jonathan Van Meter, Fey describes herself as a celebrity flying the flag for "normal." However, as Anna Wintour notes in her editor's letter, "there is nothing ordinary about her brilliance, her perceptiveness, or her beauty. Mario Testino and Tonne Goodman's portfolio of the star captures a woman who fully understands the power of style to elevate the everyday."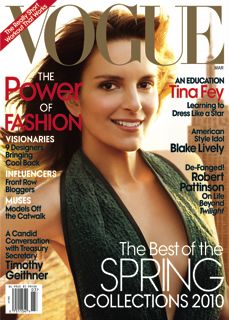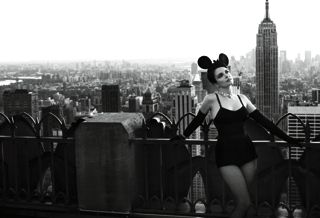 Highlights from the Article
Going Rogue: Ever since her devastatingly funny Sarah Palin impressions, she has for the first time in her life attracted unwanted attention—and hate mail. "People started projecting politics onto me," she says. "There are people who hate me now because of that."
Actress Jesica Biel is featured on the cover of Vogue Magazine February 2010, on national newsstands January 26, 2010. The Jessical Biel article  in Vogue is by Jonathan Van Meter and is titled: The Real Biel. Jessica is photographed by Mario Testino. For the Cover fashion Jessica is in: Ralph Lauren Collection and RRL Ralph Lauren.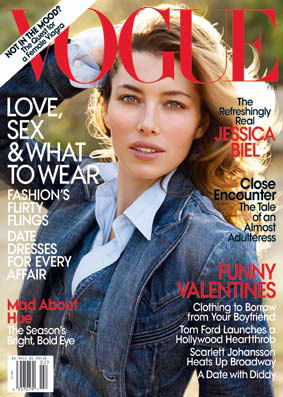 "I think my Valentine's wish would be that she be embraced by and play a larger role in the fashion world. She symbolizes everything American fashion stands for: health, beauty, fitness, and grace. She'd make a great partner for any designer" — Anna Wintour on Jessica Biel in this month's "Letter from the Editor"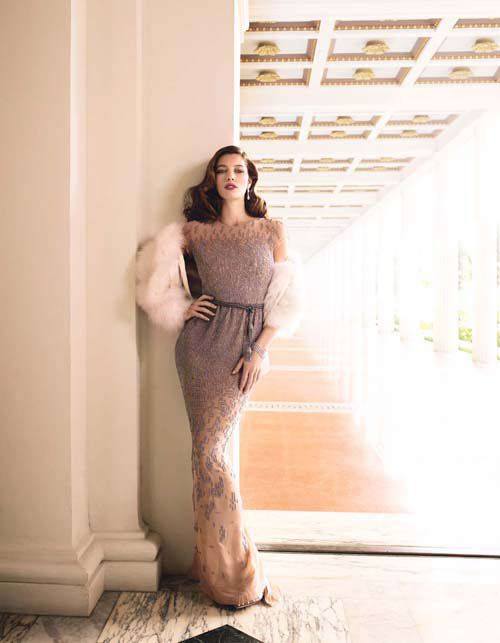 R.J. Cutler's, The September Issue, was released this past Friday. The September Issue had the highest grossing opening weekend for an A&E IndieFilms production as well as for Roadside Attractions and has the 2nd highest per screen opening weekend average from all films for this year.
"We're thrilled with the films opening. People are fascinated by Anna Wintour and wanted to see this revealing and funny film, the first real portrait of a legend who's reigned at Vogue for 20 years," said Howard Cohen, Co-President of Roadside Attractions.
The September Issue opens on September 11, 2009 in Los Angeles and select cities.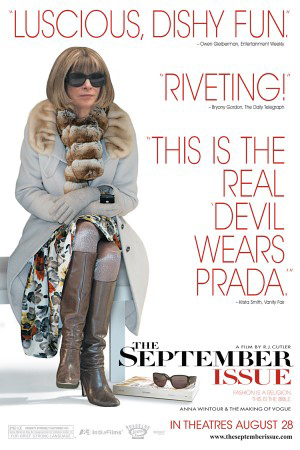 THE SEPTEMBER ISSUE, directed by R.J. Cutler and a Roadside Attractions release and A&E IndieFilms production, opened with the 5th highest all-time per screen average for a documentary this past weekend in New York – August 28, 2009. The film opened on 6 screens for a staggering $40,013 per screen average and an average total weekend gross at a remarkable $240,078.