All Posts Tagged With: "Lionsgate"
Eva Longoria Parker stuns in Marchesa at the Lionsgate's Pre Golden Globes party last night, Saturday January 16, 2010. Eva wears a chiffon long sleeve cocktail dress with all over beading.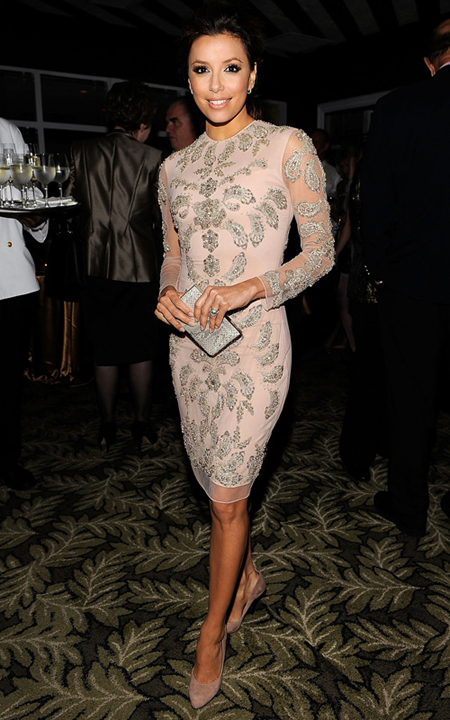 About Marchesa: Co-founded by Georgina Chapman and Keren Craig, the company's namesake and muse is the noted eccentric European style icon Marchesa Luisa Casati. The collection, designed by Georgina Chapman, is available in the United States at Bergdorf Goodman, Neiman Marcus, Saks Fifth Avenue and specialty stores nationwide. Internationally it can be found at Harrods in London, Holt Renfrew in Canada, Joyce in Hong Kong, Alothman in Kuwait and other prestigious stores worldwide.
R.J. Cutler's, The September Issue, was released this past Friday. The September Issue had the highest grossing opening weekend for an A&E IndieFilms production as well as for Roadside Attractions and has the 2nd highest per screen opening weekend average from all films for this year.
"We're thrilled with the films opening. People are fascinated by Anna Wintour and wanted to see this revealing and funny film, the first real portrait of a legend who's reigned at Vogue for 20 years," said Howard Cohen, Co-President of Roadside Attractions.
The September Issue opens on September 11, 2009 in Los Angeles and select cities.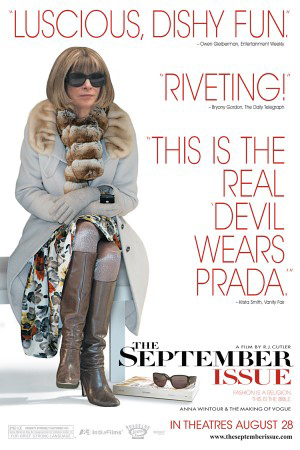 THE SEPTEMBER ISSUE, directed by R.J. Cutler and a Roadside Attractions release and A&E IndieFilms production, opened with the 5th highest all-time per screen average for a documentary this past weekend in New York – August 28, 2009. The film opened on 6 screens for a staggering $40,013 per screen average and an average total weekend gross at a remarkable $240,078.