All Posts Tagged With: "Max Factor"
MAC Fabulous Felines Burmese Beauty face chart. Makeup Tutorial. HOW-TO TIPS BY AMBER DREADON. This look is all about drawing attention to your eyes. Soft textures, and rich dark eye shadows blended and buffed with a few MAC brushes, can create the wild drama and soft allure of the feline.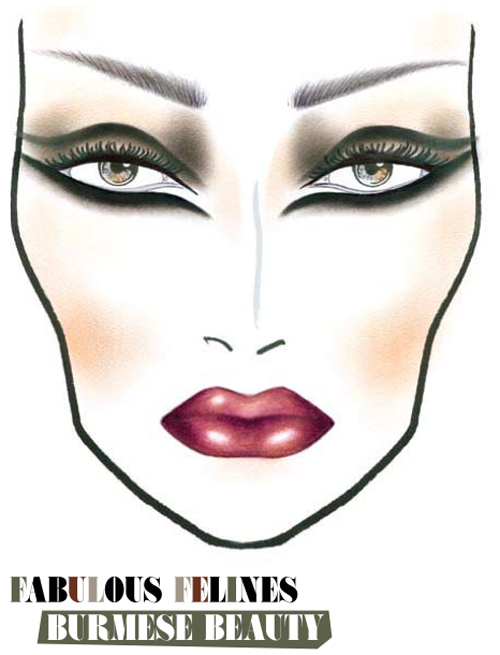 First, prep the skin with a generous spritz of Fix+ Spray; then gently massage Studio Moisture Cream over the entire face.
Max Factor is turning 100 in 2009 and to celebrate they've signed on brazilian supermodel (and girlfriend of NFL hottie Tom Brady) Gisele Bündchen as their newest spokesperson.
"MAX Factor is a brand that has touched some of the most glamorous faces in the world for the last 100 years," said Bündchen. "But more than that, I love that this was the original brand to make that professional artistry and glamour available to everyday women, and I'm honored to work with MAX Factor in continuing that great tradition."
via: Makeup Bag.
Accoriding to a Max Factor press relaese that was sent to Talking Makeup, red rules! We've seen bold, red lips on runway models all over the world this season. While some might say it's a tribute to Valentino's signature red-lip look and his 45 years of style celebration in Rome, we think it's because it keeps the guys guessing what we're up to. 
MAX Factor celebrity makeup artist Pat McGrath says that putting away the pensive pinks in favor of confident crimsons "makes you look so sexy and dangerous at the same time" (Cosmopolitan, September, 2007). To get your sexy/dangerous red vibe on, start with a visit to MAX Factor Lip Service at the link below and power up your pout with a sexy shade of scarlet. Then gloss it to the MAX. Fierce!
http://maxfactor.com/user/get/lip_main.do
Win a day of pampering!
Whether you're naughty or nice — or a little of both — a diva needs her downtime! Enter the MAX FACTOR GUILTY PLEASURES SWEEPSTAKES and let us lavish you with a full day of pampering at the spa and a $500 shopping spree.
Celebrate endless possibilities, naughty or nice, with the entire MAXalicious lip gloss collection. Finally, it's a box of deluxe chocolates to indulge your guilty pleasures. Enter to win today! Last day to enter: October 15, 2007.
http://www.maxfactor.com/user/get/news_offers/maxalicioussweeps.do
Source: via Max Factor press release.
You can now Maximize your eyes and get a year's supply of Max Factor new Lash Perfection Waterproof Mascara.  And maybe you too can get Carmen Electra's sexy look.   For more details to how to enter Max Factor's Maximize Your Eyes Sweepstakes visit Max Factor site today or click here! 
Max Factor Lash Perfection Waterproof Mascara is a volumizing mascara.  You can apply this mascara easily with its flexible iFX brush.  What you get is fabulously defined lashes from root to tip, including the hard–to–reach inner and outer corners of the eye.  Lashes that look long and full. Beautifully framed eyes.  Max Factor Lash Perfection Waterproof Mascara comes in two shades:  705 Rich Black, 706 Black Brown.  Cost:  Under $10.
In 2005 Carmen Electra became the new face of Max Factor makeup line.  The Max Factor brand was founded in 1909 by the makeup artist to the stars Max Factor.   Mr. Max Factor was linked with many celebrities and was a pioneer in developing the celebrity endorsement concept, beginning with Clara Bow in the 1920s. Since then, stars including Rita Hayworth, Marilyn Monroe, Jean Harlow, Jaclyn Smith and Denise Richards all represented the brand.  Max Factor was the one who decided to turn Jean Harlow to platinum blonde in the 1930's which revolutionized her career. 

 
The Max Factor makeup line is used by many Hollywood makeup artists on movie sets such as the: Aviator.  The makeup brand is known for its long lasting properties and is perfect for long movie shoots.  Max Factor Lasting Performance Liquid Makeup that stays on as long as 8 hours is a good example.  This amazing foundation creates a natural finish that won't streak, smudge, slip, or transfer to your clothes.  Max Factor Lasting Performance Liquid Makeup is specially formulated so it's light and non-greasy and it won't clog your pores.  It is also fragrance free and perfect for sensitive skins. And the price is right under $20. 
Carmen Electra who recently announced her divorce from husband Dave Navarro, is rumoured to launch her casual clothing and Lingerie line.  Carmen currently trying to decide on a name for the line. The Carmen Electra clothing and lingerie line will also include a perfume.  We can't wait!