All Posts Tagged With: "Hilary Swank"
Hilary Swank at the 17th Annual Screen Actors Guild Awards Hair by Robert Vetica and Moroccanoil. "Outstanding Performance by a Female Actor in a Leading Role" nominee and award presenter Hilary Swank wore her hair long, loose and sexy for the SAG Awards tonight. Wearing a soft, champagne-colored Versace gown, she looked red-carpet perfect.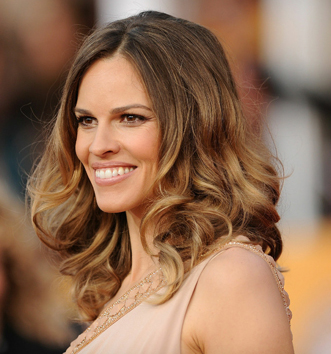 Hilary Swank hair by Robert Vetica and Moroccanoil
The "Conviction" actress' gorgeous hair was designed by leading Hollywood stylist, Robert Vetica, who was inspired by the sensual lines of her dress and the hairstyles of iconic 60's Hollywood siren and Bond girl, Ursula Andress.
Hilary Swank's makeup. CHANEL Celebrity Makeup Artist Kara Yoshimoto Bua worked with Hilary Swank at the Los Angeles premiere of Conviction on Tuesday, October 5th, 2010. Kara's shares with Marta Walsh her tips on how to get Hilary's fresh, modern red carpet makeup look.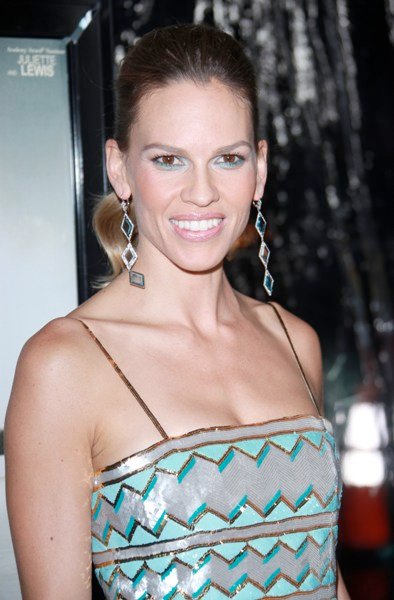 "Hilary's makeup for her premiere was inspired by a fresh modern deco direction, to contrast the rainy Hollywood evening! For her eyes, I blended CHANEL Long Lasting Eyeliner in Jade in and under the lower lashline, and in the inner eye for a turquoise glow. I used the CHANEL Quadra Eyeshadow in Murano to set the liner. Finally, I finished the eyes with CHANEL Inimitable Intense Mascara in Noir.
I love Eva Longoria's hair and makeup at the Women in Entertainment Breakfast today. I see bigger hair on the runway and on the red carpet lately. But the big hair is not the 80's frizzy big hair, but a more sleek with soft cascading waves. I do want to try this look at home:)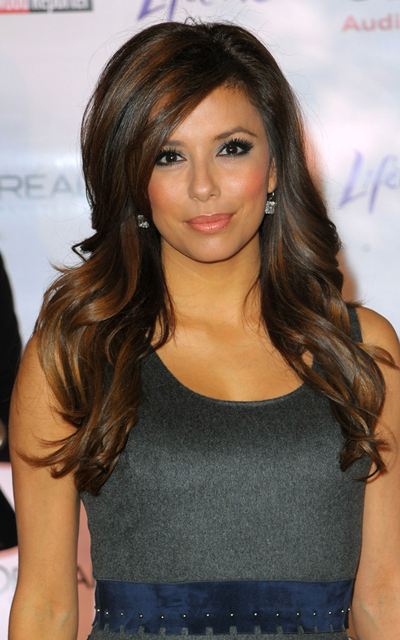 Eva Longoria
Other celebrities spotted at the Women in Entertainment Breakfast: Hilary Swank and Halle Berry. Hilary with a short wavy bob and Halle with a pixie short hair.
Which celebrity hairdo are you: Eva Longoria, Hilary Swank, or Halle Berry?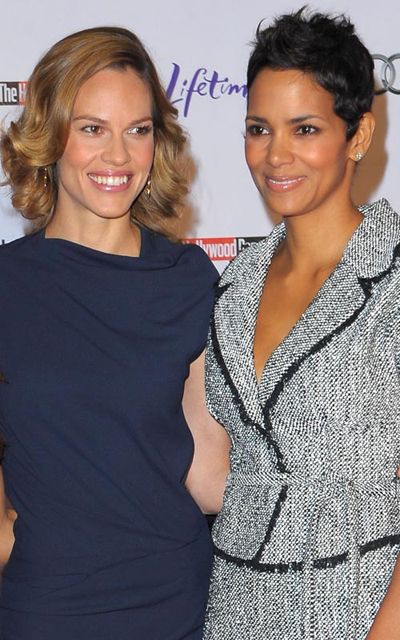 From left: Hilary Swank and Halle Berry
Monica Bellucci walked the red carpet in Cannes Film Festival 2009 on Saturday, May 16th 2009 for the premiere of "A Prophet" by Jacques Audiard. Monica Bellucci is a Dior beauty, Monica's makeup is all by Dior.
On Monday, May 18th 2009, Hilary Swank walked the red carpet in Cannes Film Festival 2009 for the premiere of "Looking For Eric" by Ken Loach. Hilary Swank is also a Dior beauty, Hilary's makeup is all by Dior.
Both Monica Bellucci & Hilary Swank were total Dior beauties wearing makeup by Dior.
Here is how to get Monica Bellucci's makeup look:
Since May, the John Frieda See for Yourself Salon Tour has been traveling around the country stopping in cities like Orlando, Atlanta, D.C. and Philadelphia giving hair transformations to women for free.
Flocks of local women lined up to get their hair styled and to learn tips and tricks from the top hair experts in the industry. The gorgeous salon has a glamorous photo studio for before and after pictures, five stylist stations, two hair washing stations, and lounge sofas for friends and family to sit and watch the transformations happen right before their very eyes! With music pumping and blow dryings blasting, it's definitely a fun place to be.
Celebrity stylist Harry Josh is making appearances on many stops throughout the summer.
Harry is sought after by A-listers such as Hilary Swank, Sarah Jessica Parker, and Gisele Bundchen, to name a few. He was also the master mind behind the gorgeous and popular up-do that Ellen Pompeo sported to the SAG Awards. Harry is offering his expert stylist touch to women this summer on the John Frieda See for Yourself Tour in cities such as Boston, Chicago, Seattle, Los Angeles and San Francisco. Can't make it to the tour? No worries! Check out Harry's tips on summer styling to make your hair frizz-free and fabulous, listed below!
"Summer is a time when heat and humidity can really take a toll on your style. Regardless of how you choose to style your hair – whether it's curly or straight – it's important to use the right products to keep your hair sleek and healthy," says Harry Josh, Creative Consultant for the John Frieda Collection. "Follow my below tips and you'll be able to get the same salon results at home this summer."
Start with a shampoo and conditioner that helps block out moisture and keeps your style in tact like the Weather Works by Frizz-Ease Weather-Proofing Shampoo and Conditioner from the John Frieda Collection. This shampoo and conditioner adds a protective barrier to the hair that will shield out unwanted moisture and lock in the needed moisture so that your hair stays healthy and shiny. It also protects from UV rays that can damage hair. From there, you can style your hair as you choose and feel confident that your style will last throughout your summer activities.
HOW TO STYLE TIPS FOR CURLY HAIR:
1. Once hair is toweled dry, I applied a dime size amount of the Weather Works by Frizz-Ease Weather-Proofing Style Sealent Crème from root to end to help control the frizz and make hair more manageable.
2. Next, I blow-dried her hair, wrapping pieces around my fingers to give it a natural curl.
3. Now that her hair is completely dry, I'm going to rub a small amount of John Frieda Frizz-Ease Thermal Protection Serum between my palms and apply it to the ends. This product is perfect to add instant shine and a finishing touch to your style. The result is healthy looking with an ultra shiny finish.
4. Also, if you're a blonde, try spraying a bit of the John Frieda Sheer Blonde Tousled Tresses Fine Mist Wax for the perfect undone look.
5. If you're a brunette wearing this style, add a small amount of John Frieda Brilliant Brunette Shine Shock Perfecting Glosser to add extra shine and illuminate the brown tones.
HOW  TO STYLE TIPS FOR STRAIGHT HAIR:
1. For this style, I applied a small amount of the John Frieda Frizz-Ease Thermal Protection Serum onto the hair when it was wet to protect hair from damage caused by blow dryer and using a flat iron. Then I blow-dried the hair dry with a large round brush.
2. Especially during the summer, hair can really lack luster and become dry. Applying a bit of the John Frieda Frizz-Ease Secret Weapon Crème is the key to instantly transforming puffy, parched hair into ultra shiny, soft hair. Take a dime sized amount and run it through the hair from root to end for a smooth, supple look.
3. If you're a brunette, try the John Frieda Satin Shine Finishing Crème. It leaves hair silky without making it greasy.
4. If you're a blonde, try substituting the John Frieda Frizz-Ease Thermal Serum for the John Frieda Sheer Blonde Spotlight Sleek & Shine Detangler, concentrating on the ends of hair. This will add a layer of shimmer and illuminate the highlights.
To find an upcoming salon tour stop, you can go to www.johnfrieda.com. The tour will be traveling until the beginning of August. Women can book a coveted 30-minute consultation with a top stylist online in advance.