All Posts Tagged With: "Cannes film Festival 2009"
Talking Makeup, thanks Lancôme, has the scoop on how to Angelina Jolie's makeup look at Cannes Film Festival 2009!
Celebrity makeup artist Mary Burton created the glamorous red carpet makeup look for Angelina Jolie at Cannes.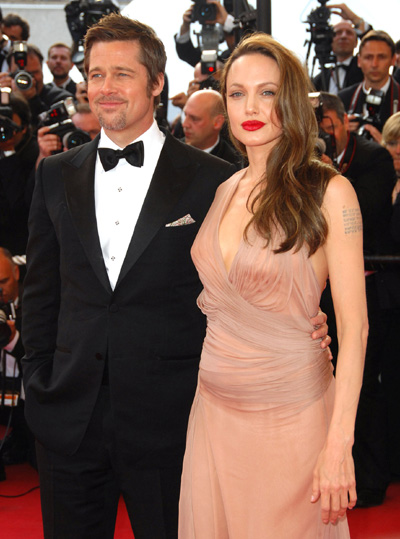 To define Angelina's lashes Mary used two different mascaras, Lancôme Hypnôse in Black and Lancôme Ôscillation in Black and applied a few coats of both to add volume and length.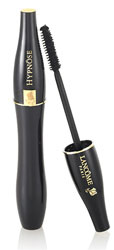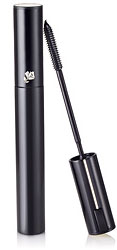 Mary used Lancôme Color Design Lipstick in Candy Apple to create her voluptuous red pout.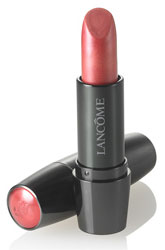 Angelina Jolie looked stunning in Versace as she walked the red carpet for the premiere of Brad Pitt's new movie Inglourious Basterds directed by Quentin Tarantino.
All Lancôme products are available at www.lancome-usa.com .
Monica Bellucci walked the red carpet in Cannes Film Festival 2009 on Saturday, May 16th 2009 for the premiere of "A Prophet" by Jacques Audiard. Monica Bellucci is a Dior beauty, Monica's makeup is all by Dior.
On Monday, May 18th 2009, Hilary Swank walked the red carpet in Cannes Film Festival 2009 for the premiere of "Looking For Eric" by Ken Loach. Hilary Swank is also a Dior beauty, Hilary's makeup is all by Dior.
Both Monica Bellucci & Hilary Swank were total Dior beauties wearing makeup by Dior.
Here is how to get Monica Bellucci's makeup look:
Angelina Jolie arrived the Inglourious Basterds premiere at the Cannes Film Festival 2009 wearing red lips.
Angelina Jolie and Brad Pitt are very exciting and an intriguing couple to watch. Seeing them make an appearance in Cannes on the red carpet is a moment I didn't want to miss. I know, I'm a sucker:)
Every woman should have a red lipstick in their makeup bag. Red lips are classic, timeless, and super glamorous. Red lips are in!

Image via: www.hollywoodtuna.com
Angelina Jolie's makeup look, particularly the red lips, is taken straight from the runways of New York Fashion Week Fall 2009. It reminds me of a MAC makeup look created by artist James Kaliardos for the Ruffian fashion show. "The look is inspired by Carolyn Bessette, it's young and confident." James kaliardos.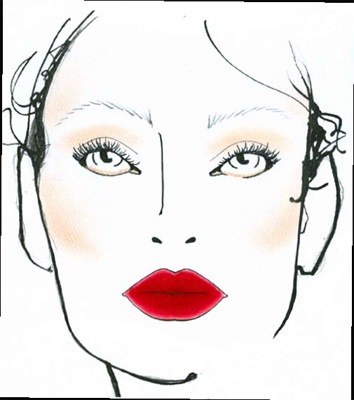 Hadyen Panetierre is looking smashing in France at Cannes Film Festival 2009. I love Hayden's outfit, it is SO me! I like the mix of a simple white tank top with super sparkly short skirt, the clutch to match, and somewhat oversized white jacket.
Hadyen Panetierre is definitely a Cannes Film Festival 2009 summer beauty! Hayden's skin is glowing and sunkissed, her eye lashes are touching the sky and go really well with her baby pink lipstick. Hayden's hair is pulled back and seems effortless. Who needs all this hair when you glow like this!

Image via: www.hollywoodtuna.com
On Monday, May 18th, Paris Hilton was spotted at Cannes Film Festival 2009 by the pool at Hotel Du Cap in France looking very summery!
See how Paris Hilton is tuned in to the latest summer hair trends wearing a headband. In my recent interview with Harry Josh, Gisele's colorist for years, and John Frieda's International Creative Director, he told me that hair accessories are a big summer hair trend!
"We are seeing a lot of loose waves, natural tousled hair, nothing too styled because the summer heat makes hairstyles staying looking good for long difficult. We are also seeing a lot of hair accessories such as: headbands, hair clips, and hair combs."-Harry Josh.
Hair accessories look chic and yet almost very functional in keeping your hair away from your face. Paris is also wearing a light aqua blue bathing suit and shorts which blend beautifully into the Mediterranean background.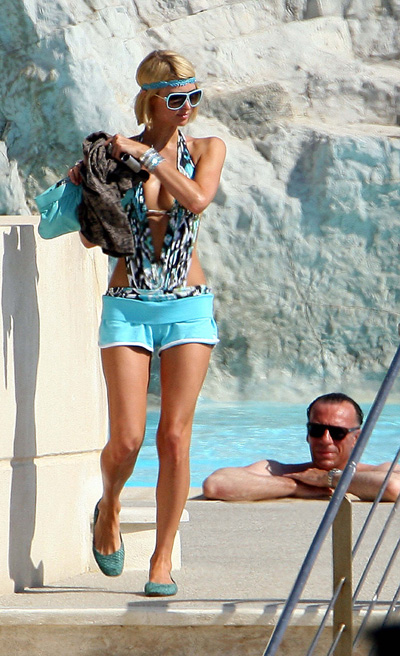 Image via: Celebrity Gossip
Cannes Film Festival 2009 is on its way and many Hollywood celebrities took off to Cannes France. 
Hayden Panettiere was spotted on a yacht this weekend looking very summery. Hayden is wearing a bright coral beach dress. Light Nail polish. And Hayden's hair is super relaxed, pulled back in a ponytail. Hayden is not wearing too much makeup or any makeup, which is also part of summer beauty. 
This summer, if you are planning to spend some time by the ocean with tons of humidity look for low maintenance hairstyles and makeup. Hayden Panettiere got it right!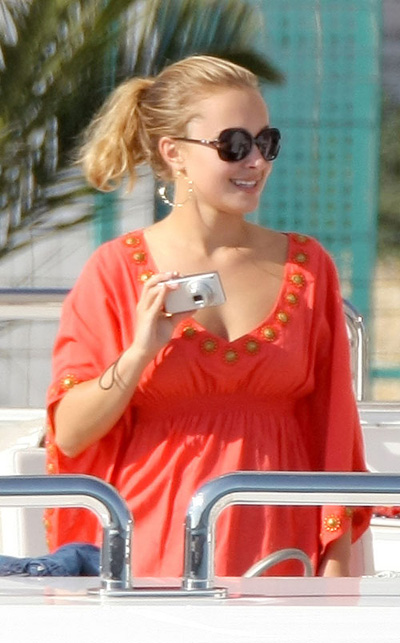 Image via: Celebrity Gossip