All Posts Tagged With: "Ruffian"
CND introduces Fall's limited edition Colour & Effect: "Texture adds to the strength of the look – and autumn is all about dimensional manicures," says CND Co-founder Jan Arnold. Nails take their cue from striking blue-greens, effervescent reds, and offbeat beige, camels and grays this season.

Steely Dan: Extravagant midnight manicures and tonal shades of heathered mushroom and gray nails complement this Fall's masculine palette of mossy greens, black leather and textured fabrics. To achieve Ruffian's (seen in image above) "Lunar Eclipse" manicure, pair deep blue Inkwell with Gold Chrome around the cuticle edge for a metropolitan look.
Here is a sneak peek to some of the nail trends seen on the runway during New York Fashion Week Spring 2010 created by CND!
Show: Gottex
Nail Trend: Custom sheer metallic wash that combined Bicycle Yellow and Gold Chrome for a shimmery, subtle finish to compliment gold accessories in the collection.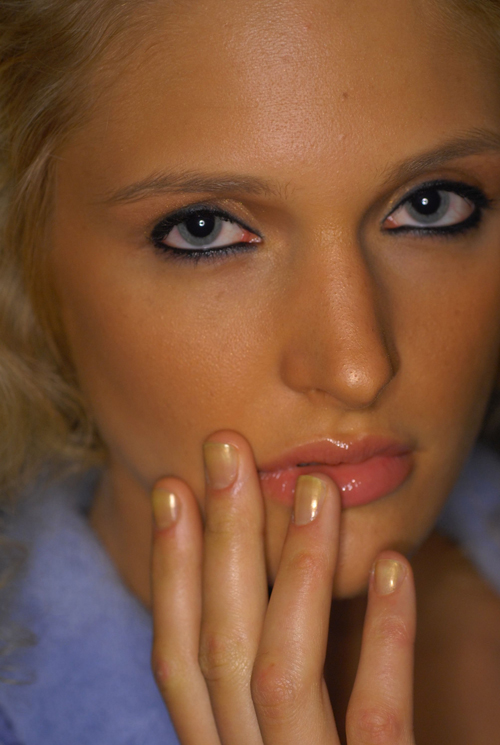 Show: Ruffian
Nail Trend: Modern take on '40s inspired bare moon manicures with Plumville, edged with Blackjack on a pointed nail to mimic piping in the shoes and clothes.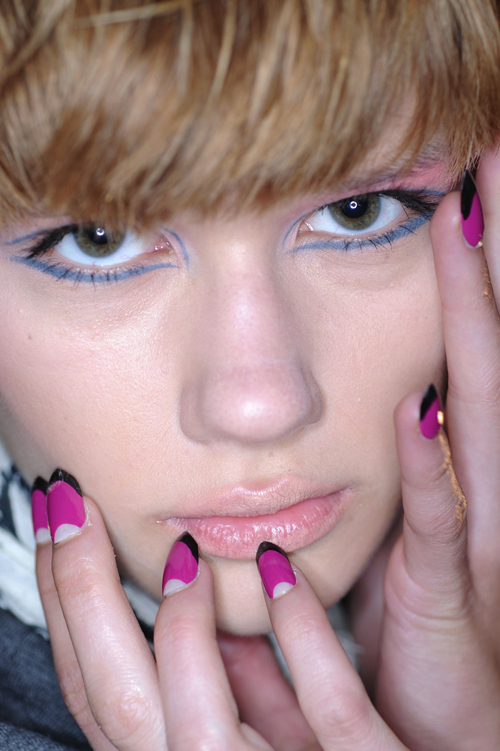 Angelina Jolie arrived the Inglourious Basterds premiere at the Cannes Film Festival 2009 wearing red lips.
Angelina Jolie and Brad Pitt are very exciting and an intriguing couple to watch. Seeing them make an appearance in Cannes on the red carpet is a moment I didn't want to miss. I know, I'm a sucker:)
Every woman should have a red lipstick in their makeup bag. Red lips are classic, timeless, and super glamorous. Red lips are in!

Image via: www.hollywoodtuna.com
Angelina Jolie's makeup look, particularly the red lips, is taken straight from the runways of New York Fashion Week Fall 2009. It reminds me of a MAC makeup look created by artist James Kaliardos for the Ruffian fashion show. "The look is inspired by Carolyn Bessette, it's young and confident." James kaliardos.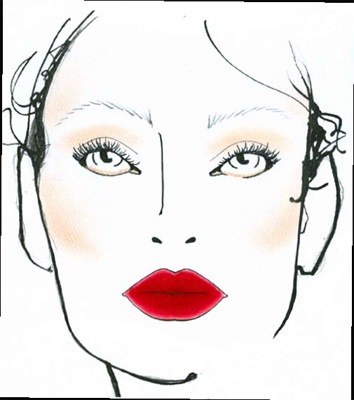 New York Fashion Week Fall 2009 Report: MAC makeup face charts from Ruffian fashion show by artist James Kaliardos.
The look is inspired by Carolyn Bessette, it's young and confident." James kaliardos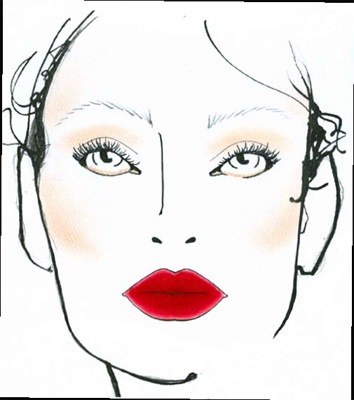 Eyes: Light sweep sculpting powder – blended down from the Crease over the eyelids. Dazzleblack mascara delicately swept onto the top lashes.
Face: Studio Sculpt SPF15 Foundation – applied to the face as a base.Light sweep and accentuate sculpting powder – countouring the Cheek bones and temples in an angular shape. Emphasize sculpting powder –  blended into cheek bones for highlight. Loose prep+prime powder – brushed on to set the face.
Lip: Cherry lip pencil – applied first to fill in the lips. Ruffian Red Lipstick – created by MAC in celebration of Ruffian's fall/winter 09 collection. This lipstick was painted onto The lips with a soft diffused edge.