All Posts Tagged With: "CND"
At Naeem Khan Fall 2012 fashion show, CND's Angi Wingle created a pure blood-red nail with CND Colour in Bloodline. This seductive manicure popped against the black, white, cream, and gold color scheme in the collection. Do you love?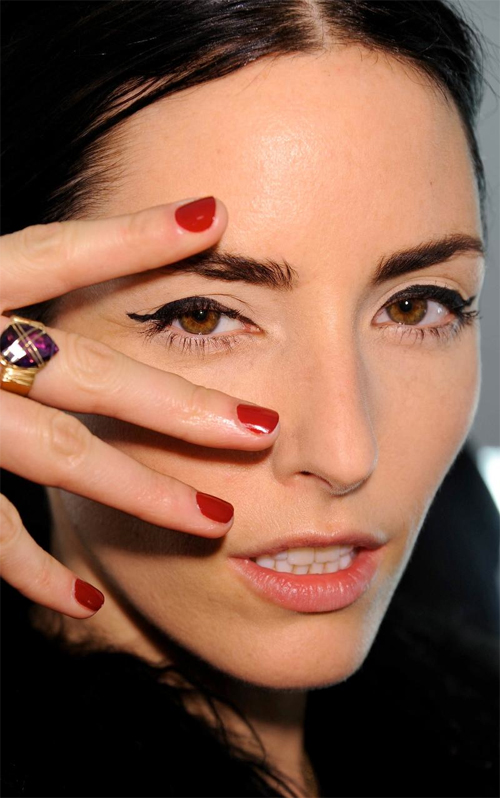 Naeem Khan New York Fashion Week Fall 2012
These are the hottest nail polish shades for Fall 2010 & Marta Walsh's absolute favorites!
CND The Look Night Factory colour & effects Urban Oasis #567 (left) Cool Opeque and Teal Sparkle #568 (right) Cool O Sheer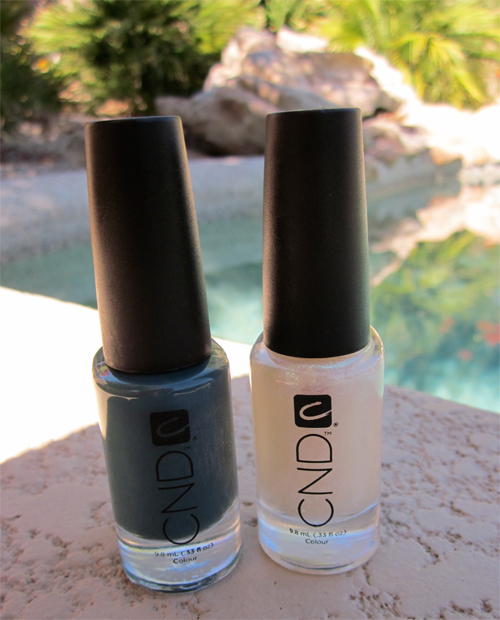 New York Fashion SS 2011. Nail Trends. Jason Wu's show marked the debut of the exclusive Jason Wu Colour & Effect Collection in collaboration with CND. To complement his vivid color palette and 40's/70's silhouettes, Jason Wu chose classic oxblood red Veronica Colour from his new collection for manicures.
Pedicures were done in peachy nude Perfectly Bare Colour from CND's limited edition Spring Colour & Effect duo (available in March 2011). The show introduced Jason Wu's first foray into nails and CND's first product designer partnership. All show guests received the Jason Wu Collection, which will be available worldwide in May 2011.
Fashion designer Jason Wu is collaborating with runway manicure leader CND to introduce a limited edition Jason Wu Collection that honors iconic women through wearable, timeless shades. The set will come with 4 Colours and 1 Effect that can be layered to achieve the designer's effortless yet elegant nail styles.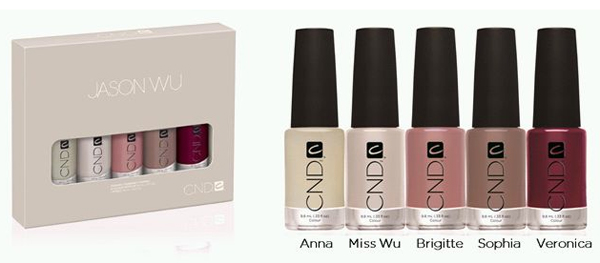 "Every season I play with different ways of using color in my collection, so it was a natural choice to collaborate with CND on a capsule of nail colors that reflects my aesthetics. Included in the set is my signature gray color," says Jason Wu.
New York Fashion Week S/S 2011. Nail Trends. 20 of America's top designers, including Marc Jacobs and Jason Wu, partner with CND to tap into trend-setting manicure talent.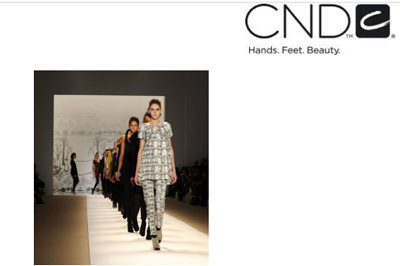 CND Nail Professionals Roxanne Valinoti, Angi Wingle, Amanda Fontanarrosa, Kristina Estabrooks and Wanda Ruiz are leading the manicure looks for the following designers:
· Behnaz Sarafpour
Talking Makeup has just found out that popstar Katy Perry will be on an upcoming cover of Cosmopolitan magazine wearing CND Colour in Desert Suede. Perry's nails were painted by Kimmie Kyees.
Introducing Shellac The First Hybrid Nail Color: CND (Creative Nail Design), the leader in professional nail, hand and foot beauty, is proud to introduce the first hybrid nail color after nearly five years of development in its state-of-the-art laboratory. Now you can say good-bye to chips, smudges, and dry time and say hello to Shellac Hybrid Nail Color! This game-changing product applies like polish, wears flawlessly for 14 days of high gloss shine, and is removed in minutes.
CND introduces Fall's limited edition Colour & Effect: "Texture adds to the strength of the look – and autumn is all about dimensional manicures," says CND Co-founder Jan Arnold. Nails take their cue from striking blue-greens, effervescent reds, and offbeat beige, camels and grays this season.

Steely Dan: Extravagant midnight manicures and tonal shades of heathered mushroom and gray nails complement this Fall's masculine palette of mossy greens, black leather and textured fabrics. To achieve Ruffian's (seen in image above) "Lunar Eclipse" manicure, pair deep blue Inkwell with Gold Chrome around the cuticle edge for a metropolitan look.
Nail Trends: French Nude Colony by CND: While the runways have been filled with prim clothing, nails are going nudist! Not bare-naked, but perfected flesh tones. Just as airbrushing makes skin appear flawless, these gorgeous Colours hide imperfections and make for an elongated, natural-looking nail. At Sonia Rykiel, CND used warm, opaque neutral Desert Suede for a creamy finish. At Giambattista Valli and Jasmine di Milo, CND used semi-sheer neutral Putty for gorgeous, chic manicures.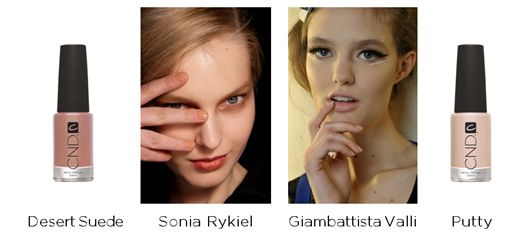 Nail Trends: Introducing CND Sugar Buzz  The Look for Spring/Summer 2010. CND's limited edition Spring Colour & Effects combo of Sweet nail polish, a poppy-pink pastel Colour and Sugar Sparkle, a crushed diamond Effect are available for March and April 2010.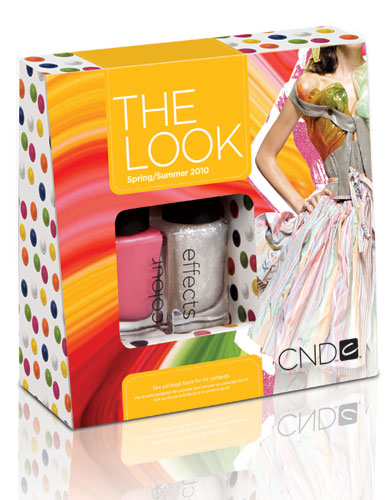 BENEFITS
3-Free – no toluene, formaldehyde, or DBP (Dibutyl Phthalate)
Rich and creamy two-coat, fast-drying formula
Ergonomically designed bottle with rubberized cap for no slip-grip and easy opening
State-of-the-art brush with clear, triangular-shaped nylon bristles for flawless application