It's almost that time of the year: Valentine's Day. Have you decided how are you going to wear your hair on that very romantic day? Here are some hairdo tips by celebrity stylist and Nexxus Creative Director Kevin Mancuso:
Voluminous Curls: "Whether structured or loose, voluminous curls are always in style, and work with many hair types and lengths, for an irresistible look and unforgettable night."– Kevin Mancuso, Nexxus Creative Director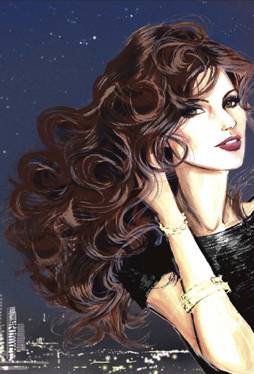 Valentine's Day Hair Tutorial by celebrity stylist and Nexxus Creative Director Kevin Mancuso:
Prep
· Start your hairstyle in the shower by using a volumizing shampoo and conditioner, like Nexxus Diametress Luscious Volumizing Shampoo and Sublime Volume Luscious Volumizing Conditioner. 
Style
· While hair is wet, apply a curl enhancing foam, like Nexxus Gorgeous Curls Curl Enhancing Foam Styler, to help build the structure of the style. Use the nozzle to help apply product directly to the roots and then work down to tips with fingers.
· Turn head up-side-down and blow-dry using a diffuser attachment. Scrunch hair with fingers to help accentuate the natural texture.
· Once dry, comb fingers through hair to smooth out the natural curls.
Finish
· Use a medium barrel curling iron to add additional curls and texture to the front sections of hair. Finish look with a lightweight hairspray, such as Nexxus Comb Thru Natural Hold Design & Finishing Mist, to set the style.