All Posts Tagged With: "Vanity Fair"
Iconic hairstylist Oribe styled, coiffed and groomed 15 of Hollywood's brightest stars from Oscar hosts Anne Hathway and James Franco to first time nominees Jennifer Lawrence and Jesse Eisenberg for the March 2011 Hollywood issue of Vanity Fair. Oribe found inspiration from the '30's with polished, classic movie star styles for this star‐studded cover shoot.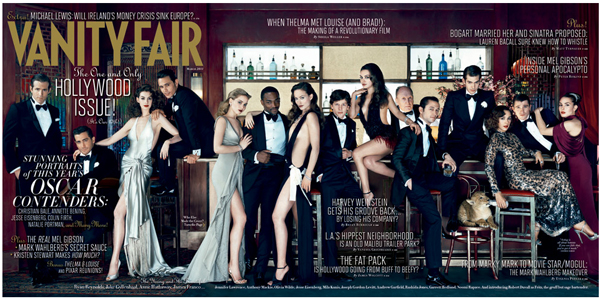 The 2011 Hollywood Issue cover for Vanity Fair. Photographed by Norman Jean Roy. Click on the image for a larger version.
Oribe noted that for women of the cover, it was all about waves, curls and old Hollywood glamour. Oribe styled most of the actresses with a similar type of pincurl set then tweaked each look to complement their individual style, personality and features. The men wore their hair in side parts for a groomed, Clark Gable inspired style.
Oribe on How To Get the Look:
Loving Lady Gaga on the cover of Vanity Fair UK September Issue 2010. I'm a sucker for originality and Lady Gaga sends this amazing message of freedom when it comes to one's own style. If you feel to wear your hair gray today, just go for it, why not! Have you seen the gray-beige nail polish, love love love. Lady Gaga was photographed by Nick Knight.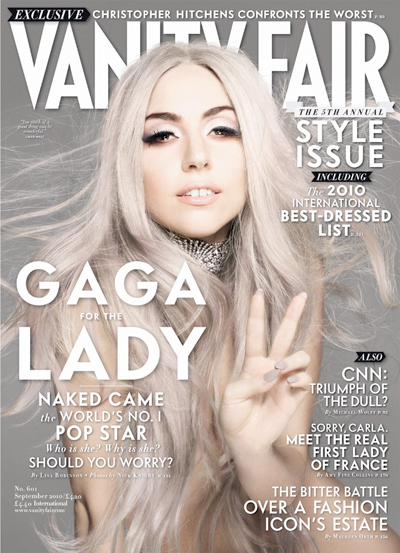 Listen to this: Lady Gaga tells Vanity Fair contributing editor Lisa Robinson that she tries to avoid having sex because she is afraid of depleting her creative energy—"I have this weird thing that if I sleep with someone they're going to take my creativity from me through my vagina." Read full article in vanityfair.com/online
For the July 2010 issue of Vanity Fair, Norman Jean Roy photographed the spooky beauties of The Twilight Saga: Eclipse—five vampires (Dakota Fanning, Nikki Reed, Ashley Greene, Elizabeth Reaser, Bryce Dallas Howard) and one lone lady werewolf (Julia Jones). Nancy Jo Sales was on set, where, between takes, the girls mused on the gothic romance that has everyone palpitating. Read full article in vanityfair.com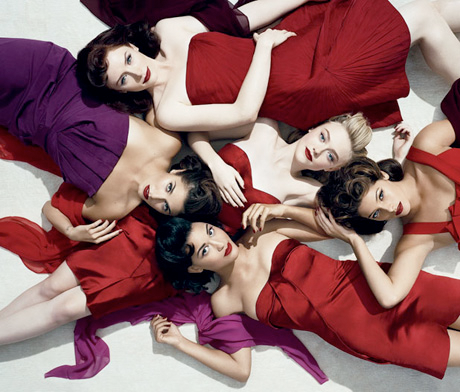 Watch: behind the scenes of the Twilight Saga Eclipse Vampires photo shoot in Vanity Fair:
Jennifer Lopez aka JLO is officially my style icon. I love every one of Jennifer's red carpet looks. Her Armani Prive gown for Oscars 2010 made her simply the best dressed in Hollywood. But did you know that Jennifer changed her gown for the Vanity Fair Oscar Party to this super glamorous black Gucci gown? Jennifer stole the show and I want her dress! 🙂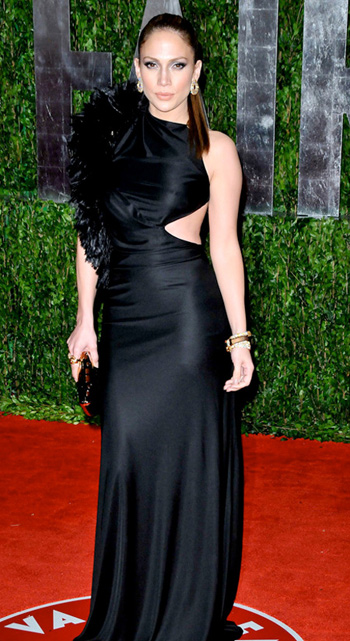 Natalie Portman at the Vanity Fair 2010 Academy Awards party: The Hairstyle
For a second year in a row, red-carpet darling Natalie Portman has tapped celebrity stylist and Nexxus Creative Director Kevin Mancuso to create her award season hairstyles. Last night, Kevin gave Natalie Portman a flawless updo for the exclusive and star-studded Vanity Fair party.
"I really wanted to give her a Bridget Bardot meets Audrey Hepburn style," said Mancuso, "there's nothing like an old Hollywood style for a young Hollywood actress!"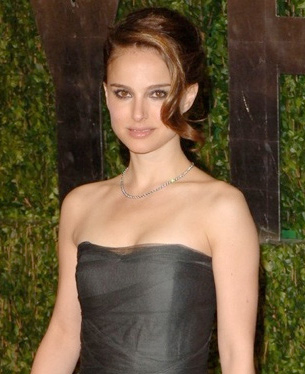 How to get Natalie Portman's Vanity Fair 2010 Academy Awards party hairdo:
Kevin Mancuso – who brought you the celebrity hair bible, The Mane Thing, and worked on such a-list names as Sienna Miller, Blake Lively, Naomi Watts and Taylor Swift – offers his tips for recreating Natalie's red carpet style at home:
PREP:
· Shampoo and condition hair with body building products, such as Nexxus Diametress and Sublime Volume, to help give hair lift.
Last night, Vanity Fair, L'Oreal and Demi Moore celebrated Helena Rubinstein's launch of the century–All You've Ever WANTED, the new fragrance inspired by Demi.
Demi was joined by Ashton Kutcher, Zac Posen and an elite group of V.I.P.s to toast the debut of the fragrance at Monkey Bar in N.Y.C.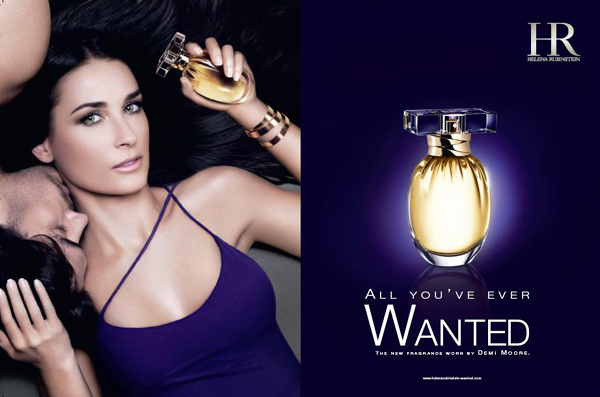 Reflecting her modern love story and captivating allure, All You've Ever WANTED is a contemporary expression of Demi Moore's daring appeal. The intoxicating fragrance blends an enveloping sensuality of magnolia with iris-cream, magnified by a charismatic touch of cedar extract for an irresistibly feminine and intense potion.
The new fragrance will be available exclusively at Macy's starting November 5th.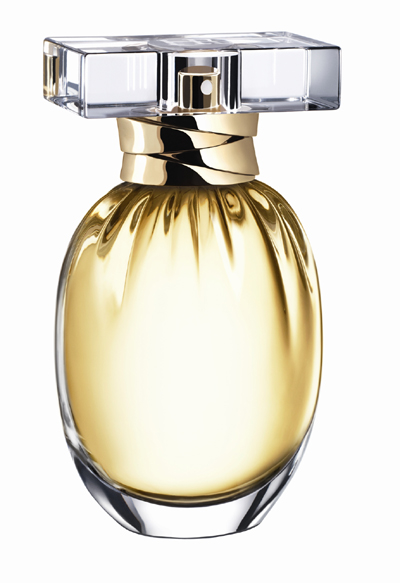 Go behind-the-scenes with Harley-Davidson & Vanity Fair June 2009 issue in their Women Riders Month Photo Shoot!
To complement the printed piece for the Women Riders Month , Vanity Fair also has commissioned behind-the-scenes video of the section's photo shoot that provides in-depth interviews and never-before-seen images.
Watch interviews with The Biggest Loser Trainer Jillian Michaels; Grammy-Winning Singer-Songwriter Jewel; Actor Tricia Helfer; and Los Angeles Rider Deborah DiMiceli!

Go behind-The-Scenes With Harley-Davidson & Vanity Fair Photo Shoot video is featured on Talking Makeup's style & beauty video sharing website: www.misslush.com
For more information go to: www.harley-davidson.com/vfwomen
Harley-Davidson celebrates Women Riders Month through the pages of Vanity Fair June 2009 issue!
The Biggest Loser Trainer Jillian Michaels; Grammy-Winning Singer-Songwriter Jewel; Actor Tricia Helfer; and Los Angeles Rider Deborah DiMiceli Featured in the June Issue.
In celebration of Women Riders Month this May, Harley-Davidson is unveiling a new print campaign exclusively in the pages of Vanity Fair magazine. The June issue of the magazine-available in New York and Los Angeles on May 6, 2009, and nationwide on May 12, 2009-will feature a custom advertising section created by the Vanity Fair in-house creative development team for the Motor Company.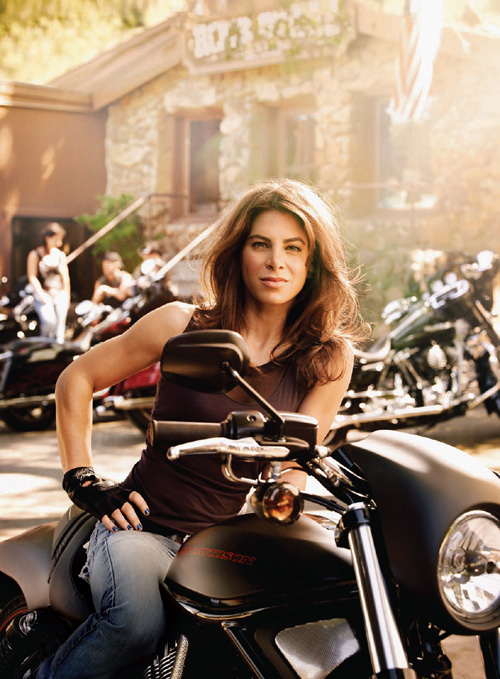 The Biggest Loser Trainer Jillian Michaels.
The custom section salutes women who embody the Harley-Davidson spirit of authenticity and adventure, and encourages females who have not yet hit the road on two wheels to "experience life with no regrets." The women featured in the section include health and wellness expert and NBC's The Biggest Loser trainer Jillian Michaels; Grammy®-winning singer-songwriter Jewel; television and film actor Tricia Helfer; and Los Angeles rider Deborah DiMiceli. Each woman tells her own story of her history with riding and/or aspiring to ride.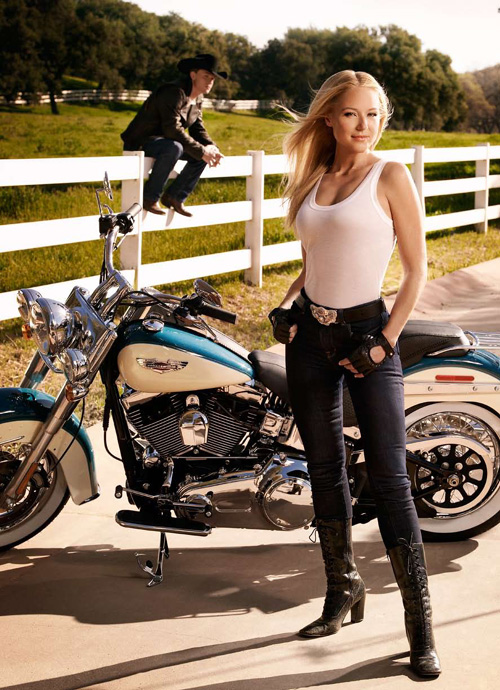 Grammy-Winning Singer-Songwriter Jewel.