Natalie Portman at the Vanity Fair 2010 Academy Awards party: The Hairstyle
For a second year in a row, red-carpet darling Natalie Portman has tapped celebrity stylist and Nexxus Creative Director Kevin Mancuso to create her award season hairstyles. Last night, Kevin gave Natalie Portman a flawless updo for the exclusive and star-studded Vanity Fair party.
"I really wanted to give her a Bridget Bardot meets Audrey Hepburn style," said Mancuso, "there's nothing like an old Hollywood style for a young Hollywood actress!"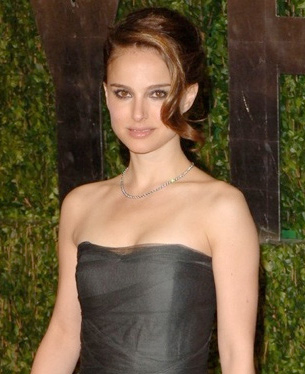 How to get Natalie Portman's Vanity Fair 2010 Academy Awards party hairdo:
Kevin Mancuso – who brought you the celebrity hair bible, The Mane Thing, and worked on such a-list names as Sienna Miller, Blake Lively, Naomi Watts and Taylor Swift – offers his tips for recreating Natalie's red carpet style at home:
PREP:
· Shampoo and condition hair with body building products, such as Nexxus Diametress and Sublime Volume, to help give hair lift.
STYLE:
· Apply a volumizing spray gel, like Nexxus Lavish Body, from roots to ends, then blow-dry with a paddle brush, directing hair up and away from face and lifting at the root.
· When roots are almost dry, switch to a round brush and blow-dry ends, smoothing as you go.
· While hair is still warm, transfer one-inch sections to Velcro rollers and let completely cool, then remove and tousle hair with a bit of smoothing lotion, such as Nexxus Sleek Finish.
· Remove a one-inch front section of hair and then pull the rest gently back into a mid-level ponytail, securing with an elastic.
· Use bobbi pins to artfully sculpt loose ends into a soft updo.
FINISH:
· Use a flat iron to smooth front curl and help position hair around face, then finish look with a light misting of a hairspray, like Nexxus Comb Thru.