All Posts Tagged With: "legs"
I'm voting for Jennifer Lopez as Best Dressed at the 2011 Grammys last night. Jennifer is absolutely beautiful and ahead of everyone with her style. I loved her Pucci short mini dress it's so Marta:)
Jennifer Lopez is also Global Brand Ambassador for Venus, no wonder, have you seen her fabulous legs? Marta Walsh has the scoop from Venus on how to get Jennifer Lopez's goddess legs!
Start your prep in the shower with Venus ProSkin MoistureRich razor. It's dermatologist tested as suitable for women with dry skin, and helps protect the skin from the side effects of shaving. Feeling confident in your own skin brings out your inner and outer goddess—necessary to flaunt your gorgeous gams in a short mini!
I'm all about smooth skin: smooth arms, smooth legs, and smooth feet. My secret to getting my legs smooth in the summer, or year-round, is Schick Quattro for Women. Best thing about Schick Quattro for Women is that it never pulls my skin or irritates it. It glides on skin smoothly & effortlessly. No pain, just smooth legs!:) 
Visit  www.quattroforwomen.com for additional product details.
My recent purchase at Nordstrom shoe department just before I took off to NYC this week was MICHAEL Michael Kors Jamesport Sandal. I'm in love with these shoes! Total runway material!! But walking with these shoes 2 long blocks in New York City, and trying to party like a rock star after dinner took a toll on my feet and legs. As soon as I got back to ACE Hotel to finally unwind, I applied PAYOT Paris Cooling Relaxing Light Legs Gel on my very tried feet, legs, and thighs. And voila: Marta is feeling much better:)
Watch Marta's video blog for the 'evidence' lol:)
PAYOT Cooling Relaxing Light Legs Gel made parting with my MICHAEL Michael Kors Jamesport Sandals all WORTH it!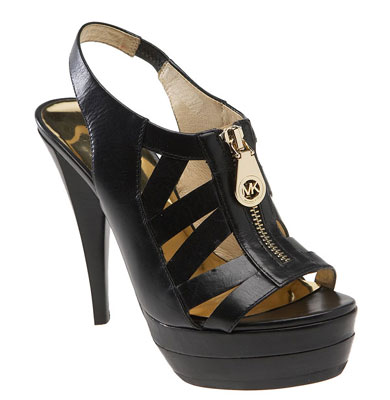 Where to buy: PAYOT Cooling Relaxing Light Legs Gel is available at www.3graces.com , $48.
Also, visit  www.payot.com for additional details about PAYOT Cooling Relaxing Legs Gel.
MICHAEL Michael Kors Jamesport Sandal is available at Nordstrom and www.nordstrom.com