All Posts Tagged With: "Arlenis Sosa"
Lancôme spokesmodel Elettra Wiedemann hosted a lovely night of beauty this past Friday, November 12th, 2010, at Christie's in New York City.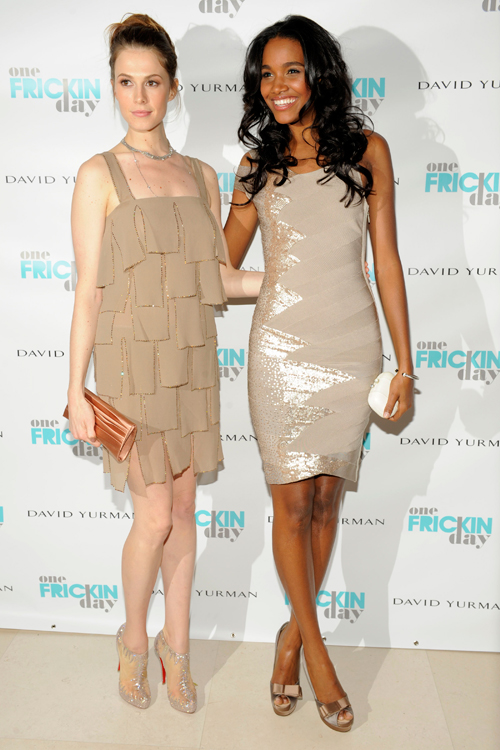 Don't Elettra Wiedemann and Arlenis Sosa look so gorgeous together? Doing good certainly does look good on these Lancôme spokesmodels.
Supermodel, Arlenis Sosa, 21, current face of Lancome made lots of heart's happy Saturday as she volunteered alongside the New Yorkers For Children's Youth Advisory Board (YAB) helping to run the face painting booth for children with severe disabilities at the 5th Annual New Alternatives for Children (NAC) Kids Olympics. Over 600 NAC children and family members participated in activities including relay races (with and without wheelchairs), rock-climbing, soccer and gymnastics at Chelsea Piers on Saturday, June 19th, 2010.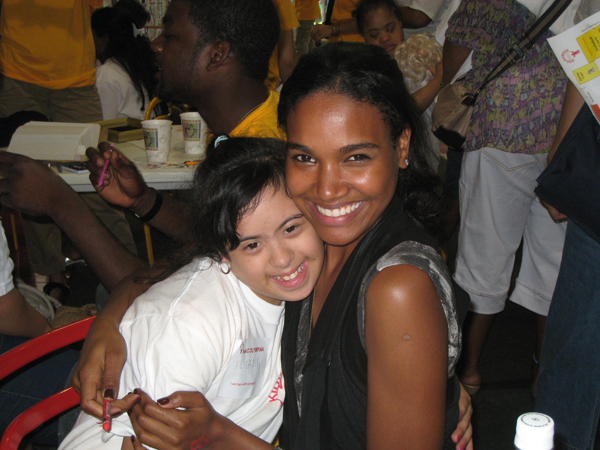 "I am so thrilled to have been part of such a great cause, said Arlenis." "It brought joy to my heart to see the happiness this event brought to the children there."
Arlenis Sosa Latina magazine March 2010 Cover and Lancôme: The radiant Arlenis Sosa, one of Lancôme's favorite spokesmodels, was feted by Lancôme and Latina magazine on Monday night, Feburary 22nd, 2010. The party celebrated Arlenis's cover story in the March 2010 issue of Latina (image below).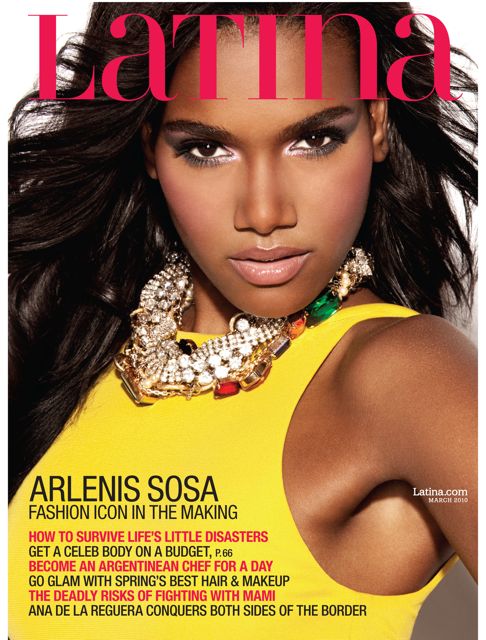 The fun party, which was held at The Lancôme Boutique on NYC's Upper West Side, attracted quite a crowd. Makeup artist Scott Barnes was there, as were pop star Kat DeLuna and MTV's Julissa Bermudez—fellow Dominicanas there to cheer on Arlenis. (We were especially loving Kat's dramatic black eyeliner and glossy lips, which was done by Scott himself.) The team behind the cover—photographer Marc Baptiste and makeup artist Rene Garnes—also dropped by. Arlenis was thrilled to see designer Luis Menieur there, too. After all, he did launch her modeling career after discovering her in Santo Domingo!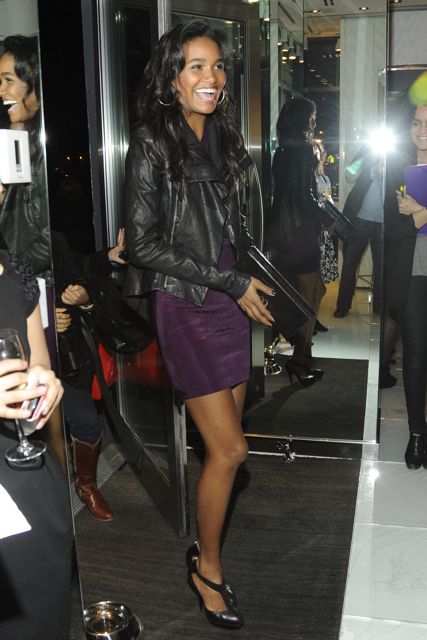 Arlenis looked radiantly chic in a Bordeaux-colored Alexander Wang mini-dress. The Lancôme Boutique's Ewa Szwed did Arlenis's makeup for the party here are the Lancôme products used:
Congratulations to Lancôme's spokesmodel Arlenis Sosa who was honored at The Latin Pride National Awards last Thursday night in Boston. These awards recognize the most successful representatives of the Latino community in sports, film, music, education—and of course, fashion.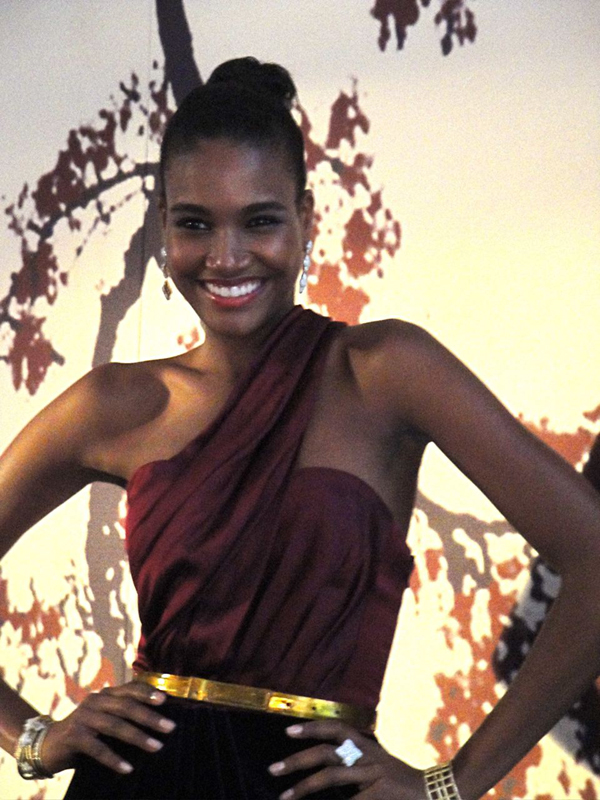 The annual celebration takes place in the middle of Hispanic Heritage Month to commemorate and celebrate the positive contributions of the Latino community to the American culture. As many of you know, Arlenis hails from the Dominican Republic and is quite proud to represent her culture whether she's in New York or on a runway in Paris.
Arlenis wore a gown by fellow Dominican Oscar de la Renta, a designer who has supported her every season that she's been a model. Arlenis told Lancôme that she was quite nervous, especially when she looked out at the audience filled with Latinos, and was overcome with pride and gratitude.
Arlenis just shot a major Lancôme makeup ad in Paris with a photographer Talking Makeup is yet to find out. We will keep you posted! She's also hard at work on a special charity project to benefit the underprivileged in her country. Stay tuned for details! Arlenis is currently in Europe taking part in the Spring 2010 collections. To see what shows she's walked in, click on the link below from Style.com.
Join Lancôme on Fashion's Night Out Thursday, September 10th, 2009! Not a New Yorker, or not visiting New York that day? Not to worry! Lancôme is doing giveaways every day between now and Fashion's Night Out on The Lancôme Blog!
Bloomingdale's SoHo
Lancôme Counter
6 to 7 p.m.
Stop by our beauty blogger bash! Mingle with your favorite beauty bloggers and meet them in person. The first 100 people to stop at the counter and give the password "Paris" gets a full-sized product as a little thank you.
And, Arlenis Sosa will be joining them at Bloomingdale's SoHo, September 10th, from 6-7pm
Saks Fifth Avenue
Lancôme Counter
6 to 7 p.m.
Come meet Daria Werbowy, the Lancôme spokesmodel and international supermodel, at her very first U.S. personal appearance. Daria is the face of Lancôme's newest fragrance, Hypnôse Senses, which debuts in mid-October. But we'll have 30 bottles for sale that night for those fragrance aficionados eager to get the first bottles. (First come, first serve.) Make sure to stop by, say hi and try our new scent.
Bergdorf Goodman
Lancôme Counter
6 to 7 p.m.
Lancôme national makeup artist Tarek Abbas is Arlenis Sosa's go-to makeup artist so it's no surprise that he created the look for Arlenis on Monday evening.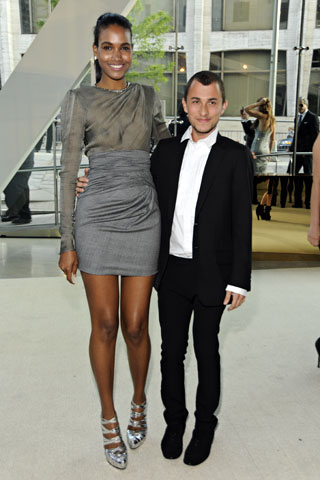 Arlenis Sosa (left)
To create a polished complexion, Tarek applied Arlenis Sosa's and then added a touch of color to her cheeks using Color Design Cream Blush in Chic Cassis. To define her eyes, he used Le Crayon Khôl in Black Ebony on the lower lash line and applied Artliner in Noir to the upper lash line starting at the outer corner. Tarek wanted to give Arlenis a soft, shiny pout so he lined her lips with Le Lipstique in Sheer Chocolate, applied Le Rouge Absolu in Bordeaux and finished with a touch of Juicy Tubes in Dreamsicle.
Celebrity makeup artist Dara Klein created the look for actress Lake Bell.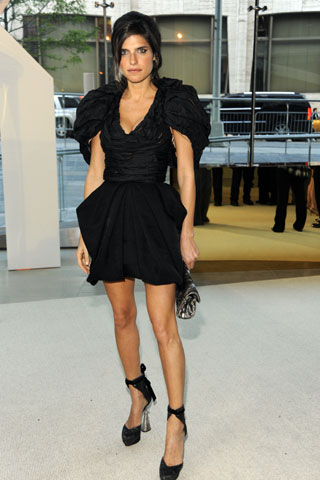 Lake Bell
Summer is finally here and that means it's time to update your look! Are you in need of a few makeup tips to kick-off the season?
Lancôme National Makeup Artist Tarek Abbas is hosting one-on-one appointments at Nordstrom Chicago on 5/29 and 5/30. Space is limited so book your appointment now to get an inside look at the season's hottest beauty tips and how to create a flawless finish for summer.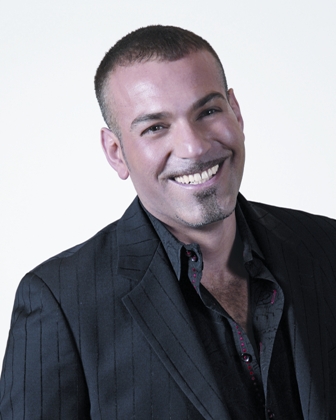 Tarek has been creating glamorous looks throughout the years and has touched the faces of the most beautiful celebrities and models including Elettra Wiedemann, Juliette Binoche, Selena Breed, Eva Longoria, Goldie Hawn and many more.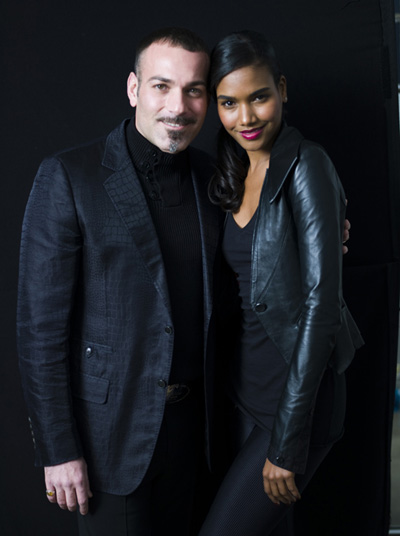 Arlenis Sosa and Tarek Abbas.
Tarek Abbas is one of Lancôme's go-to makeup artists and has become Lancôme spokesmodel Arlenis Sosa's favorite artist. Tarek created Arlenis' fabulous look for the Met Ball this May.
WHEN & WHERE:
Thanks to Lancôme Talking Makeup has more details on the looks created for the Met Ball 2009. Read on to get the inside scoop straight from the makeup artists who worked with Lancôme ambassador Anne Hathaway, Lancôme spokesmodel Arlenis Sosa and supermodel Du Juan.
Celebrity makeup artist Leslie Lopez gave Hathaway her ultra-glamorous, ultra-dramatic look, with smokey eyes as the focal point. Leslie swept Lancôme Color Design Eyeshadow in Statuesque over the entire eyelid, dabbed Color Design Eyeshadow in Daylight on the brow bone and finished with several coats of Lancôme L'Extreme Mascara in Black. Anne's sheer, neutral colored lipstick- Lancôme L'Absolu Rouge Lipstick in Couture Suede-was the perfect finishing touch.
Lancôme makeup artist Tarek Abbas was the mastermind behind Lancôme spokesmodel Arlenis Sosa's soft, polished makeup.
Celebrities, supermodels and fashion designers flocked to The Metropolitan Museum of Art on Monday for Vogue's annual, star-studded Costume Institute gala. Hosted by Marc Jacobs, Kate Moss and Justin Timberlake, this was New York's party of the year!
There was no shortage of glamour on Monday and Lancôme provided the makeup for a bevy of beauties including Lancôme ambassador Anne Hathaway, Lancôme spokesmodel Daria Werbowy and Arlenis Sosa, Alek Wek, Du Juan, Michelle Alves and Vanessa Traina. Thanks to Lancôme, Talking Makeup has the scoop straight from the makeup artists who created the looks for these gorgeous ladies.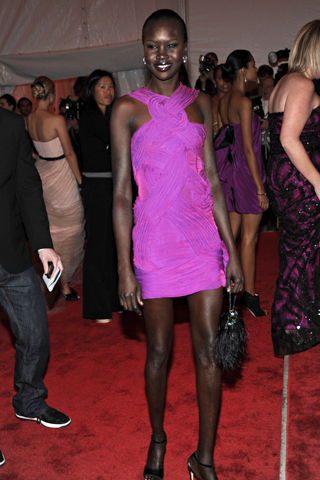 Alek Wek a supermodel.