All Posts Tagged With: "vitaminwater"
The Please Give film pre-party was sponsored by smartwater at the Tribeca Film Festival on Tuesday April 27th, 2010. They had a great turnout including: Catherine Keener, Oliver Platt, Rebecca Hall, Ron Livingston, Rosemarie Dewitt, Mark Ruffalo, Josh Hamilton, Thomas Ian Nicholas and Sarah Steele. Costar Amanda Peet, who gave birth to a daughter last Thursday, didn't stop by the pre-party but stopped by the premiere.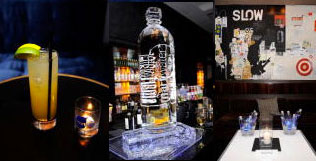 While smartwater was on hand, the bar at 60 Thompson also served the "scene stealer" a delicious vitaminwatwer zero and Stoli specialty cocktail.
This past Saturday, December 5th, 2009, David Ortiz hosted the second annual David Ortiz Celebrity Golf Classic sponsored by vitaminwater, jetblue, Reebok, and Sharp, in his native country, Dominican Republic. Celebrities and professional athletes joined David at the Sanctuary Cap Cana for this celebrity fund-raising event. All proceeds from the golf classic benefited the David Ortiz Children's Fund, raising money for children in need of critical care throughout New England as well as Ortiz's native country, the Dominican Republic. (www.davidortizchildrensfund.org ).

In image above: Sam Page, Jo Jo and Jeffrey Donovan
Photo credit: John Gillooly
The vitaminwater house was the place to get fit, get pampered, get connected and get hydrated at the 2009 sundance film festival. The mega-mansion hosted screenings, yoga sessions with russell simmons, workouts with 50 cent, celebrity dinners, an exclusive midnight performance by 50 cent and g-unit with surprise appearances by Jim Carrey, Robin Thicke, dj AM and Chris Rock and star-studded after parties throughout the weekend.

Rapper 50 Cent attends the 50 Cent dinner held at the vitaminwater house during the 2009 Sundance Film Festival on January 17, 2009 in Park City Utah.
With continuous fires burning, beats spinning, food passed, drinks flowing, celebs chilling and good conversation (unlike the cluster*&% out on main street), the vitaminwater house was the ultimate destination at sundance this year.
Here are the celebrity guests who enjoyed color light therapy treatments at Green Valley's revive spa at the vitaminwater house.
Russell Simmons — After Russell Simmons led a yoga class at the vitaminwater house with his New York yoga guru, he enjoyed a Green Valley Spa rubdown and said the therapist was "The Shit!" He loved the natural products so much that he came back and grabbed an armful of Green Valley's Dinosaur Sea Salts that are wild-crafted from pure, fossilized minerals in the red rock canyon country of St. George, Utah (known as one of the country's top locations for dinosaur fossils).
Kim Kardashian — Kim toured the Green Valley Spa room after watching the football game with 50 Cent on Sunday. She oohed and awed over the lavish orange touches in the "Essential" Green Valley Suite — bouquets of flowers, a tub surrounded by orange slices and orange hydrangeas and beeswax candles scented with orange essence and a tub filled with Orange Fairy Dust from the spa. She loved her goodie bag filled with Green Valley's Good Medicine skincare products that are created at the spa using desert plants and flowers.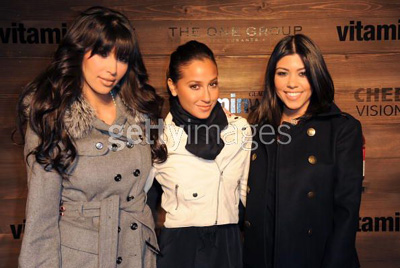 Kimberly Kardashian, Cheetah Girl Adrienne Ballion, and TV personality Kourtney Kardashian attend the 50 Cent dinner held at the vitaminwater house during the 2009 Sundance Film Festival on January 17, 2009 in Park City Utah.