All Posts Tagged With: "Blue & Cream"
Looks like Blue & Cream attracts the hottest celebs to their store parties in NYC, and I can't wait to finally make it to one of them. It's gonna happen. I have a feeling:)
Talking Makeup is excited to share with you the recap from the VPL's Fall '09 debut by fabulous Laura Katzenberg:
It was a hot and humid Saturday on July 25th and as the sun began to set, Blue & Cream East Hampton's Friends+Family turned up for VPL's Fall '09 debut. Creator of VPL and well known stylist Victoria Bartlett was on hand with her best friend, socialite, Arden Wohl to show off her infamous layered looks and explain to fans including Sonja Von Bebber and model Anette Griffell her concept of bringing inner wear out.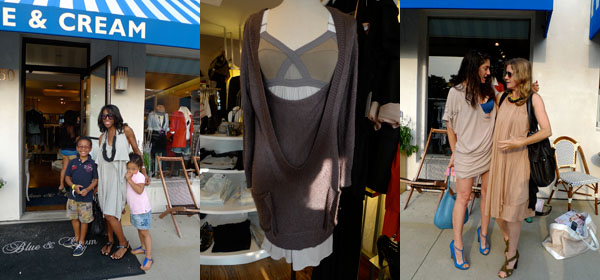 Russell Simmons and his on-again-off-again girlfriend, Victoria Secret Model, Julie Henderson were first on the scene. Julie got a head start checking out VPL's summer items on sale as well as what's new for Fall but it only lasted briefly until Russell came inside and grabbed her to head to Bridgehampton Polo.
For a night out in the Hamptons, Lindsay Lohan rocks her Lamptons Hoody to AXE lounge!
Available at Blue & Cream and  Blue&Cream.com