All Posts Tagged With: "Betsey Johnson"
Betsey Johnson Fall 2013 Fashion Week, The Studio, Lincoln Center. Lead Hair Stylist: Rodney Cutler for Cutler/Redken Salons.
Inspiration: "Fantasy meets active wear is the inspiration for the hair at Betsey Johnson. It's wacky and fun with lots of movement and is a look that shouldn't be taken too seriously. It's a quintessential Betsey look and everything she does exudes excitement and energy."
HOW TO Step by Step
Trying on a Betsey Johnson dress today and of course getting it. Now I need to find an excuse to wear it ha!
I can tell you my loves that I didn't want to miss this invitation to celebrate Betsey Johnson's Too Too the new fragrance launch in New York City. As a former New Yorker I have a soft sopt for Betsey. I remember window shopping there a lot as NYU student back in the days. Sadly, I couldn't make it there in a short notice. But, I have all the scoop & I am very excited to share. BTW I'm wearing pink sunglasses today channeling Betsey Johnson or maybe even because it's my Birthday. ha!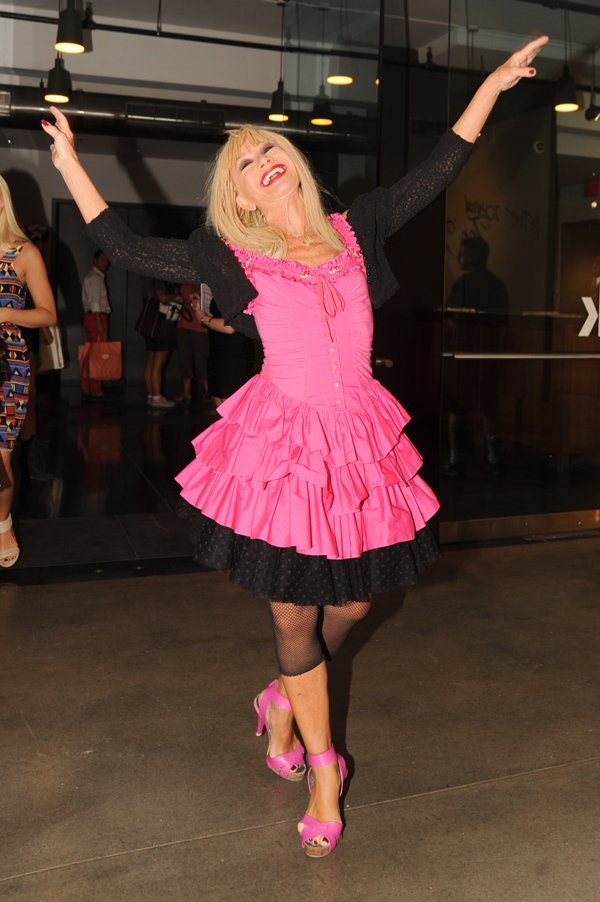 Betsey Johnson Unvails Too Too The Fragrance
NEW YORK- August 9, 2011- American designer and renowned fashion icon Betsey Johnson previewed her new fragrance, Too Too, at MILK Studios on August 9, 2011 from 9am to 11am. The event included a special dance performance from the Stephen Petronio Company and DJ sets from 'it' girls Becka Diamond and Chelsea Leyland.  The event also featured dancers from the Bolshoi Ballet Academy, presented by the Russian American Foundation.
Katy Perry's hairdo for the 2011 People's Choice Awards. Marta Walsh as the Katy Perry hair how-to from Danilo, Pantene Celebrity Stylist who styled Katy's hair for the 2011 People's Choice Awards. BTW congrats Katy for winning Favorite Female Artist and Favorite Online Sensation last night. You are a total wow factor.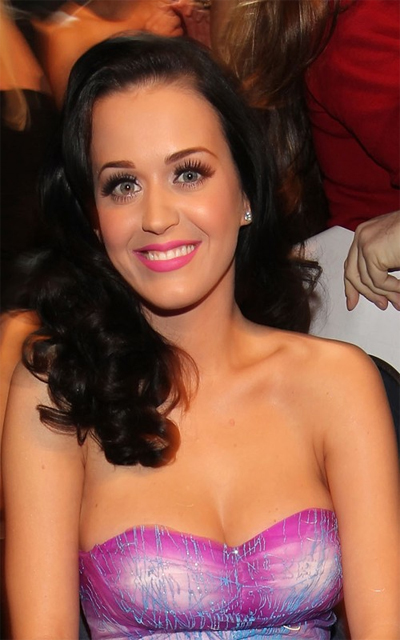 Danilo created a beautiful classic body set on Katy, a style that "she always loves so much." They decided on full waves to complement her strapless Betsey Johnson dress for a "sophisticated, cutie-pie" style for the evening. Katy arrived on the scene with freshly washed, towel-dried hair so Danilo had a clean base for styling.
On Tuesday, August 11, 2010, the legendary fashion designer Betsey Johnson celebrated her 68th Birthday at her boutique in SOHO New York City. From Talking Makeup and Marta Walsh HAPPY BIRTHDAY Betsey!! We love you:)
Here are the sneak peek photos!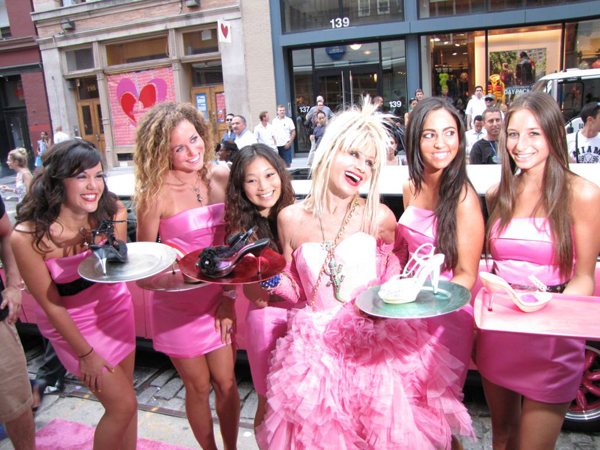 The heat was on in Miami both outdoors and on the runway at Mercedes-Benz Fashion Week Swim 2011. Rodney Cutler and his team of top-notch stylists from Cutler once again provided the hottest trends to be seen at six of the shows, including Betsey Johnson and White Sands Australia.
Show: Betsey Johnson. The Hairstyle: Edgy and editorial Braids. "The punchy, bright swimwear needed a fun and editorial up-do to go with it," says Cutler/Redken Stylist Ryan Suhr, the lead stylist for the show.
How To: Hair Tutorial
New York Fashion Week Fall Winter 2010. Shows: BCBG, Rebecca Minkoff and Betsey Johnson. Makeup and face charts by Stila Pro Artist, Sarah Lucero.
BCBG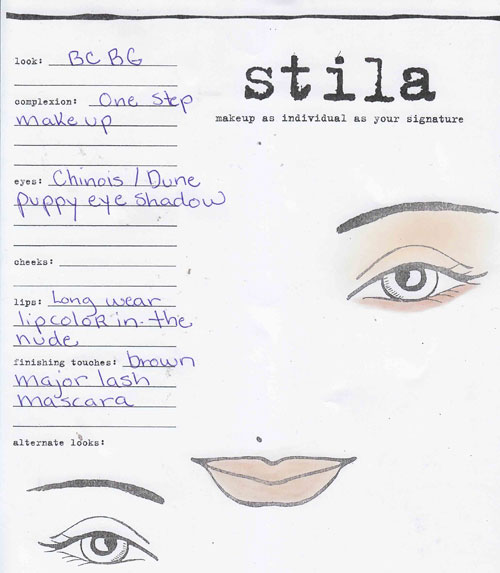 Makeup inspiration: Fresh-faced, low maintenance beauty. Sarah Lucero designed a look to show off healthy-looking skin, keeping eyes and lips neutral.
· Stila Eye Shadow in Puppy
· Stila Eye Shadow in Chinois
· Stila Long Wear Lip Color in In the Nude
· Stila Major Lash Mascara in Black
· Stila One Step Makeup
New York Fashion Week. Show: Betsey Johnson Fall 2010. Hair by Sebastian Professional.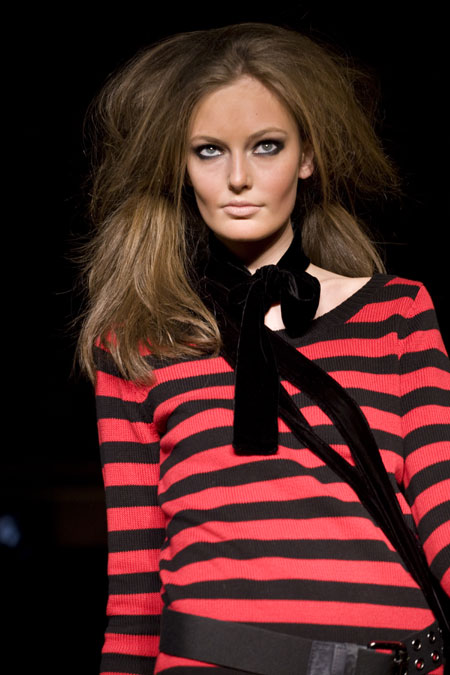 Inspiration: Betsey Johnson's Fall 2010 beauty look was inspired by the sexy, superstar actresses in the cowgirl "French" western film, Las Petroleras (1971). Betsey's own gang of bad girls channel Brigitte Bardot's lust for adventure, exhibiting unassuming sexiness that's as captivating as it is liberating.
Hair Tutorial:
For a windblown, cowgirl look that's playful and sexy, Sebastian Professional lead stylist Thomas Dunkin suggests the following steps:
1. Generously spray Sebastian Professional Volupt Spray throughout damp hair for workable volume and texture.
I had the luxury to discover the butter London nail polish collection backstage at Betsey Johnson Spring 2009 Collection. I was in love with the funky shades, particularly the super sparkly butter London in Rosie Lee. What I also noticed that Rosie Lee was layered with other shades, such as: British Racing Green. The overall effect complimented Betsey Johnson's super funky and playful collection. Other shades include: Minger. Scoundrel. Pearly Queen.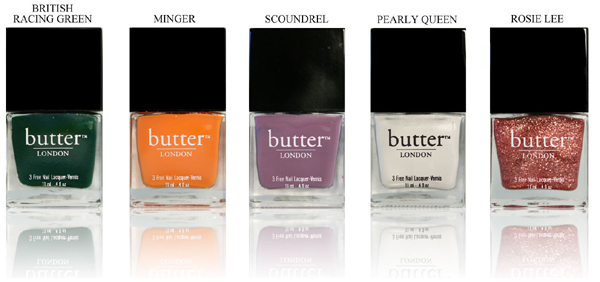 What else: butter LONDON stormed NYC Fashion Week this season (SS 2010), with the introduction of British Racing Green. Hand mixed by their Creative Director Nonie Creme for the Vena Cava show, this shade has already been noticed by Vogue, W Magazine, Lucky, Ladies Home Journal, and Redbook.
butter London is free of harsh chemicals nail collection.
New York Fashion Week Report: Watch Marta's interview with Stila's lead makeup artist Sarah Lucero talking about the makeup look and inspiration backstage at Betsey Johnson Spring/Summer 2010.
All makeup applied in this video are by Stila Cosmetics and it will be available Spring 2010.
And, here is the final (somewhat:) hair & makeup look at Betsey Johnson Spring/Summer 2010 Collection: