New York Fashion Week. Show: Betsey Johnson Fall 2010. Hair by Sebastian Professional.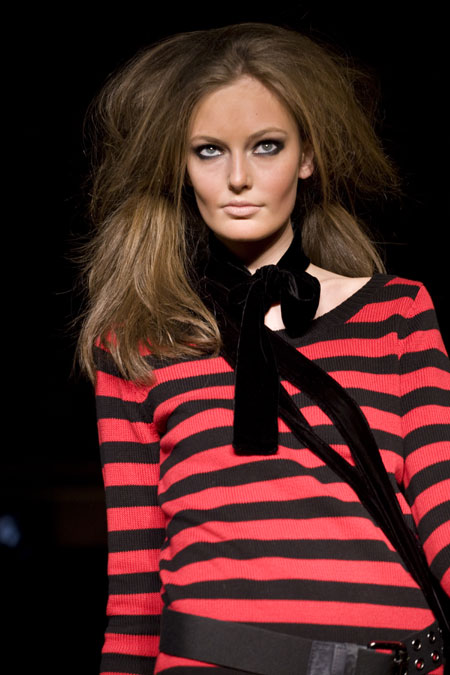 Inspiration: Betsey Johnson's Fall 2010 beauty look was inspired by the sexy, superstar actresses in the cowgirl "French" western film, Las Petroleras (1971). Betsey's own gang of bad girls channel Brigitte Bardot's lust for adventure, exhibiting unassuming sexiness that's as captivating as it is liberating.
Hair Tutorial:
For a windblown, cowgirl look that's playful and sexy, Sebastian Professional lead stylist Thomas Dunkin suggests the following steps:
1. Generously spray Sebastian Professional Volupt Spray throughout damp hair for workable volume and texture.
2. Blow dry hair and set it with medium and large-sized Velcro rollers for height and body.
3. Once the hair has cooled, remove the rollers and lightly cover hair with Shaper Zero Gravity to create added texture and separation.
4. Create authentic cowgirl flair by separating hair into two loose, tousled pigtails and decorate them with torn fabric or thin leather ties. Finish with Re-Shaper.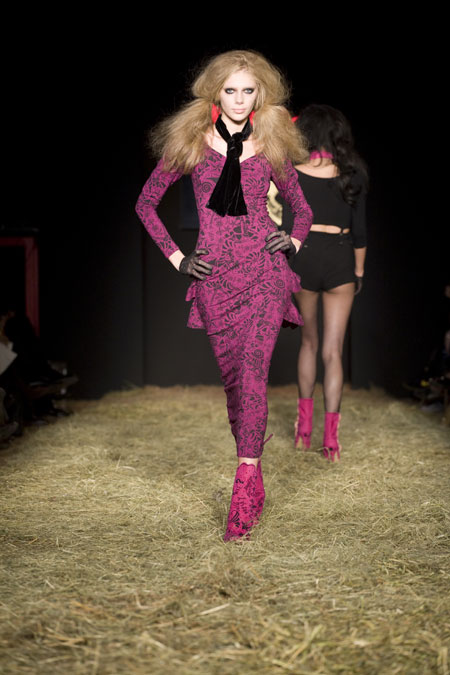 How to Get the Look with Sebastian Professional:
Thomas Dunkin suggests combining stylers that work together to create volume and texture. Try:
• Volupt Spray – Volume-Building Spray-Gel ($19.95)
• Shaper Zero Gravity – Dry, Brushable, Lightweight Control Hairspray ($15.95)
• Re-Shaper – Brushable Humidity-Resistant Strong Hold Hairspray($16.50)
For more information, please visit www.sebastianprofessional.com