All Posts Tagged With: "Nonie Creme"
I had the luxury to discover the butter London nail polish collection backstage at Betsey Johnson Spring 2009 Collection. I was in love with the funky shades, particularly the super sparkly butter London in Rosie Lee. What I also noticed that Rosie Lee was layered with other shades, such as: British Racing Green. The overall effect complimented Betsey Johnson's super funky and playful collection. Other shades include: Minger. Scoundrel. Pearly Queen.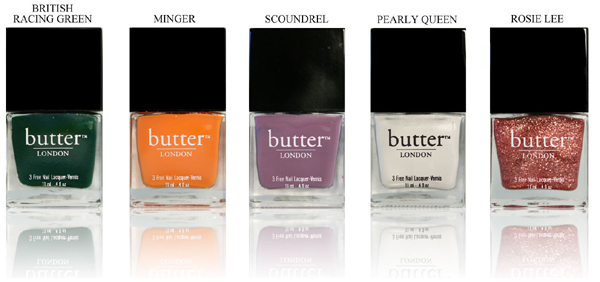 What else: butter LONDON stormed NYC Fashion Week this season (SS 2010), with the introduction of British Racing Green. Hand mixed by their Creative Director Nonie Creme for the Vena Cava show, this shade has already been noticed by Vogue, W Magazine, Lucky, Ladies Home Journal, and Redbook.
butter London is free of harsh chemicals nail collection.