Betsey Johnson Fall 2013 Fashion Week, The Studio, Lincoln Center. Lead Hair Stylist: Rodney Cutler for Cutler/Redken Salons.
Inspiration: "Fantasy meets active wear is the inspiration for the hair at Betsey Johnson. It's wacky and fun with lots of movement and is a look that shouldn't be taken too seriously. It's a quintessential Betsey look and everything she does exudes excitement and energy."
HOW TO Step by Step
1. Blow dry hair straight with a paddle brush.
2. Pull hair into a low ponytail while brushing hair back and spraying the crown with Redken
Control Addict 28 High Control Hairspray, making sure to slick back any loose hairs from the
crown and nape of the neck. Secure with a hair tie.
3. If the ponytail is too short, add tape in extensions to lengthen the hair, such as Easihair.
4. Choose a short, fun, colorful wig to have a short blunt choppy cut.
5. Cut a hole in the back of the wig cap and pull the ponytail through the cap while putting the
cap on.
6. Cut a hole in the back of the wig and pull the ponytail through the hole and put the wig on.
7. Flat iron the ponytail and spray with Redken All Soft Argan 6 Oil and Cutler Specialist Shine
Tattoo Spray.
8. Fluff the wig up and give it volume and texture with Redken Powder Grip 03.
9. Follow with Redken Wool Shake 08 to give it an unrefined finish.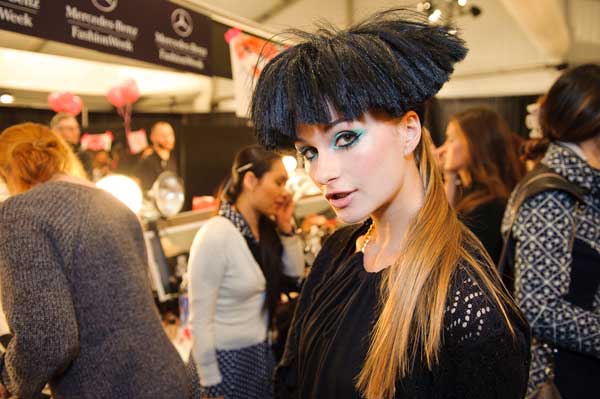 Products Used:
• Redken Control Addict 28 High Control Hairspray: $18.00
• Redken All Soft Argan 6 Oil: $29.00 – www.redken.com
• Cutler Specialist Shine Tattoo Spray: $23.00
• Redken Powder Grip 03: $14.50
• Redken Wool Shake 08: $15.00
Available at www.cutlersalon.com and www.redken.com