All Posts Tagged With: "Heat Styling"
This season, Redken Global Creative Director Guido capitalized on classic femininity at Tory Burch's FW 2017 Show.
"This season at Tory Burch, both Tory and I were inspired by Katharine Hepburn from the movie "Philadelphia Story". I've prepped the hair with Diamond Oil Shampoo and Conditioner to give it a lot of shine. To me, very clean hair can enhance individual texture. I've pulled the hair back into a low ponytail, and added this thick black velvet ribbon from Tory to evoke a romantic, sophisticated, soft, pretty look. I've kept the hair at a center part vs. a side part, to give a more girly, feminine touch that very much speaks to the Tory Burch brand." – Guido
GET THE LOOK
Show: J. Mendel Sprong 2010 Collection
Lead Hair Stylist: Odile Gilbert for Moroccanoil 
Hair Trend: Volume, tons of volume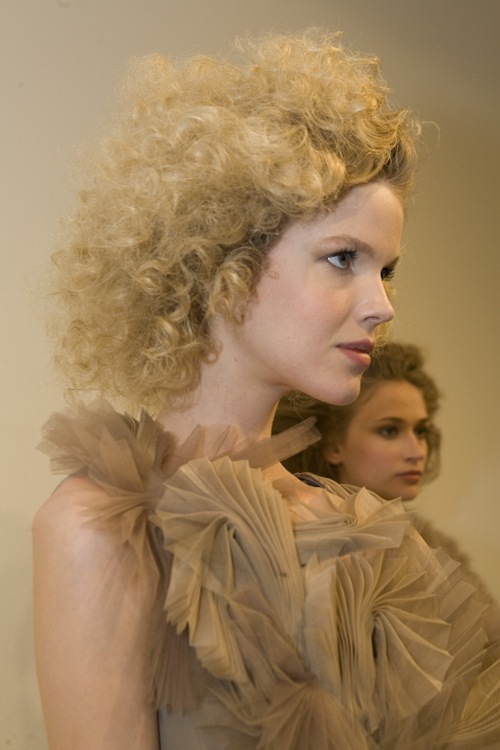 © David Webber for Moroccanoil
Inspiration: The swooping stacked cut lines of artist Noriko Ambe. The organic splendor of artist Tara Donovan. Citing these two biomorphic artists as his springboard for the season, J. Mendel designer Gilles Mendel cultivates a collection seeded in elegant technicality and fluid emotion. "It's the idea of using structured fabrics and adding an element of softness by using curved seams and intricate cut work," says Mendel. "Each piece is an emotion."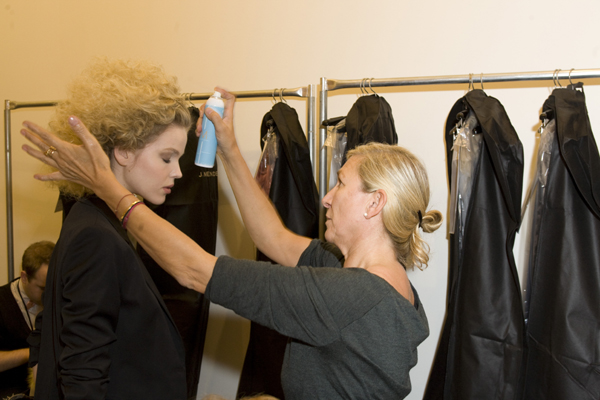 Odile Gilbert for Moroccanoil spraying the Moroccanoil Luminous Hair Spray, previewed at Fashion Week 7 available in December, 2009
© David Webber for Moroccanoil
Hair:  To mirror this dance between tailored precision and soft, sloping curves, and to evoke a feeling of ethereal airiness, stylist Odile Gilbert fashions a voluminous hairstyle that revels in the organic, chaotic nature of mussed curls. "It's all about volume — tons of volume — and a round, fluid shape. This look is very feminine." says Gilbert, adding "It's not feminine-frilly; rather it's femininity with a modern twist."
Thanks to ghd, Talking Makeup is excited to give you a sneak peek to Mercedes-Benz Fashion Week Swim 2010!  
MARA HOFFMAN: Hair lead: Omar Lopez for ghd
"The Modern Hippie"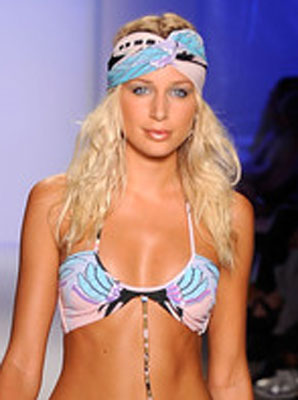 The Look: For her Resort 2010 Swim collection, Mara Hoffman drew inspiration from a spiritual exploration in the desert, which translated into a variety of unique silhouettes and colorful psychedelic prints, ranging from bold and bright to softer and more feminine
The ghd Way: Clean, bouncy waves for a modern take on the classic hippie coif. Lopez prepped the hair with ghd creation spray to protect models' hair and provide a flexible hold for styling. He used a variation of ghd's summer wave technique to create the clean, textured waves which was done by placing the ghd IV styler near the roots of hair and turning it 180 degrees upward and away from the scalp.
The ghd IV styler was slowing pulled down until it reached the midpoint between the roots and the ends, then flipped 180 degrees the opposite way and pulled all the way through the remaining half. Once the waves were created, Lopez misted ghd sea spray throughout to give the look definition and its overall beachy, matte texture.
WHITE SANDS AUSTRALIA: Hair lead: Andy Bodine for ghd
"The Ethereal Goddess"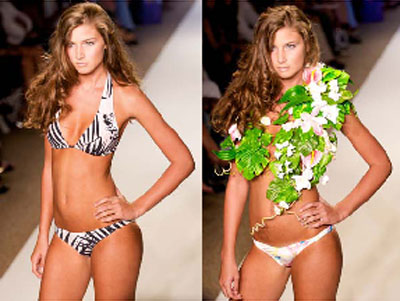 Here are some tips about heat styling by GUIDO Redken's Creative Consultant: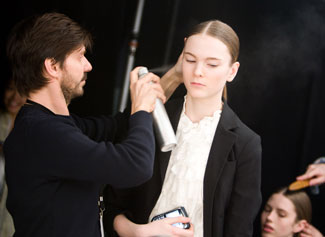 There are so many different sized curling irons-how do I know which one to choose?
It depends on two things. First, you need to decide what size curl you want to create. Second, you have to account for the fact that the curl will loosen throughout the day-you should choose a barrel that's slightly smaller than the size of the curl you want. For loose waves, I find 1-inch curling iron works best. At first the curls might appear a bit too tight, but they'll loosen up perfectly.
How can I prevent flat-ironed hair from looking lifeless?
Apply a heat protectant product like iron silk 07 ultra straightening spray to each section before you flat-iron. Hair that's continually exposed to heat without any protection will end up looking dull, damaged and lifeless. The other trick is to kick the ends out. Just turn your wrist slightly as you're bringing the iron down to the end of the section. It gives you movement and texture, so hair doesn't look so severe.