All Posts Tagged With: "MARA HOFFMAN"
Runway Hairstyles. TRESemmé once again made a splash this past Saturday night as the haircare sponsor for the Mara Hoffman Swim show during Mercedes-Benz Fashion Week Swim 2012 in Miami.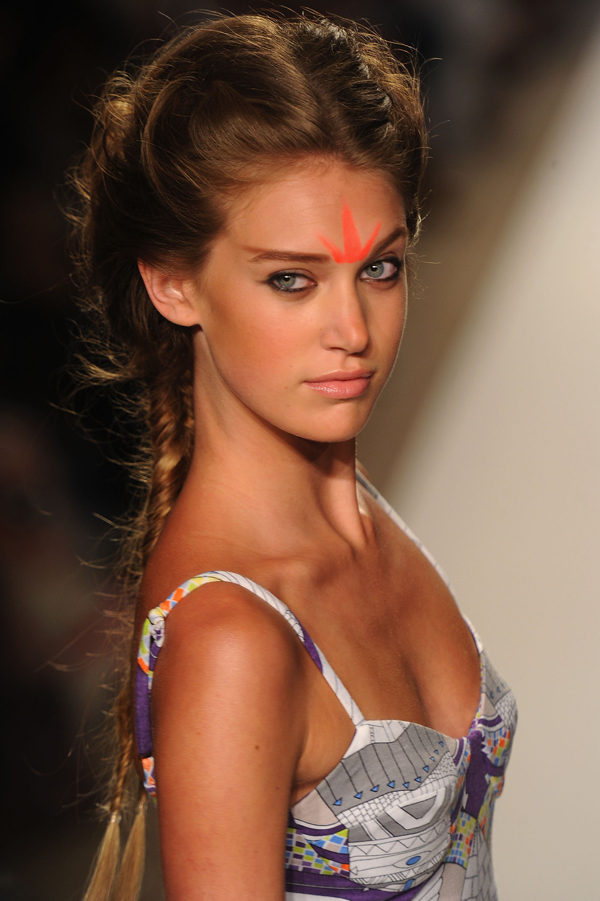 Mara Hoffman Swim Show at Mercedes-Benz Fashion Week Swim hair by TRESemmé
Mara's gorgeous prints and designs evoked a very spiritual, ethnic feel. TRESemmé Stylist Elsa Canedo, the lead stylist for the show, created earthy fishtail braids to match the inspiration. The overall style is meant to have lots of texture and to look effortless without being too polished. See below for steps on how to recreate the look:
Mercedes-Benz Fashion Week Swim 2010 was sizzling in Miami this past weekend, where TRESemmé served as the official hair care sponsor. Here's a sneak peek straight off the runway from the Mara Hoffman and CIA.MARITIMA shows. Both looks were created by the TRESemmé Styling Team.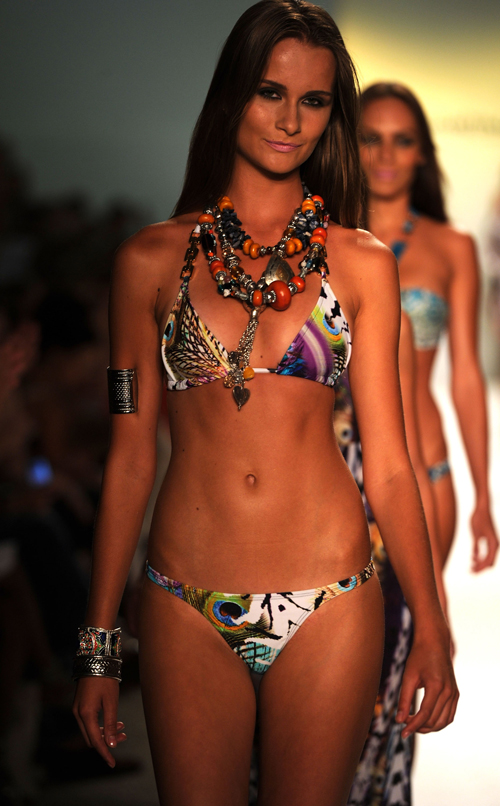 How to recreate these beachy styles at home: Hair Tutorial
TRESemmé Lead Stylist Elsa Canedo created a simple beach blow out for the Cia.Maritima Show. Get the look in a few short steps:
TRESemmé created three chic looks for Mercedes-Benz Fashion Week Spring 2010 in NYC.
The Show: Whitney Eve. The Hairstyle: Fun and Flirty Textured Pony.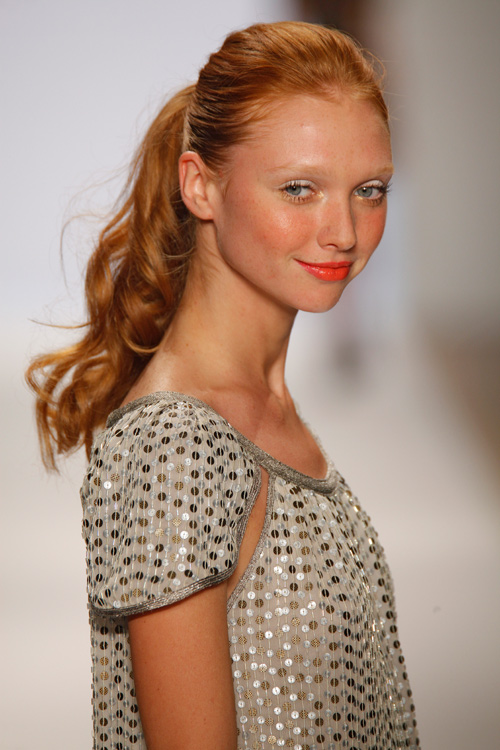 Hair Tutorial: How to get this hairdo: To coincide with the laid-back, fun-loving feel of the Whitney Eve collection, TRESemmé created a girly, textured pony. Using the right products, this playful look is easy to achieve at home:
1. Apply TRESemmé 24 Hour Body Foaming Mousse to damp hair, and blow dry upside down using a round brush.
2. Spray hair with TRESemmé Thermal Creations Curl Activator Spray, and lightly curl with a 1" curling iron for texture.
3. Gently tease the top of the head towards the front of the hairline for volume.  Using fingers, pull hair back into a ponytail towards the crown, and fasten with an elastic.
4. Create texture throughout the ponytail using hands, and finish with TRESemmé TRES Two Ultra Fine Mist Hairspray.
This month marks the 60th anniversary of the bikini in America. When the first bikini was launched it caused an explosion on the fashion scene, and through the years that little piece of fabric has gone through quite an evolution in length, fabrics, colors and cuts. Today, the bikini is a defining force in summer style.
To help celebrate the bikini's debut in America, Venus has prepared a timeline of 20th century swimsuit fashions and has worked with country star and dancer Julianne Hough to develop a "how to look your bikini best" tip sheet.
When it comes to donning a bikini, confidence is key. And, smooth skin can help! According to a recent survey, almost 75% of women said that they felt more confident after shaving. Research also shows that shaving makes women feel more feminine, polished and beautiful.
Thanks to ghd, Talking Makeup is excited to give you a sneak peek to Mercedes-Benz Fashion Week Swim 2010!  
MARA HOFFMAN: Hair lead: Omar Lopez for ghd
"The Modern Hippie"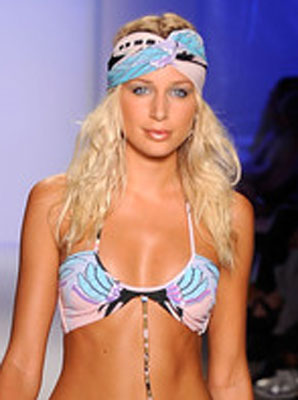 The Look: For her Resort 2010 Swim collection, Mara Hoffman drew inspiration from a spiritual exploration in the desert, which translated into a variety of unique silhouettes and colorful psychedelic prints, ranging from bold and bright to softer and more feminine
The ghd Way: Clean, bouncy waves for a modern take on the classic hippie coif. Lopez prepped the hair with ghd creation spray to protect models' hair and provide a flexible hold for styling. He used a variation of ghd's summer wave technique to create the clean, textured waves which was done by placing the ghd IV styler near the roots of hair and turning it 180 degrees upward and away from the scalp.
The ghd IV styler was slowing pulled down until it reached the midpoint between the roots and the ends, then flipped 180 degrees the opposite way and pulled all the way through the remaining half. Once the waves were created, Lopez misted ghd sea spray throughout to give the look definition and its overall beachy, matte texture.
WHITE SANDS AUSTRALIA: Hair lead: Andy Bodine for ghd
"The Ethereal Goddess"