Mercedes-Benz Fashion Week Swim 2010 was sizzling in Miami this past weekend, where TRESemmé served as the official hair care sponsor. Here's a sneak peek straight off the runway from the Mara Hoffman and CIA.MARITIMA shows. Both looks were created by the TRESemmé Styling Team.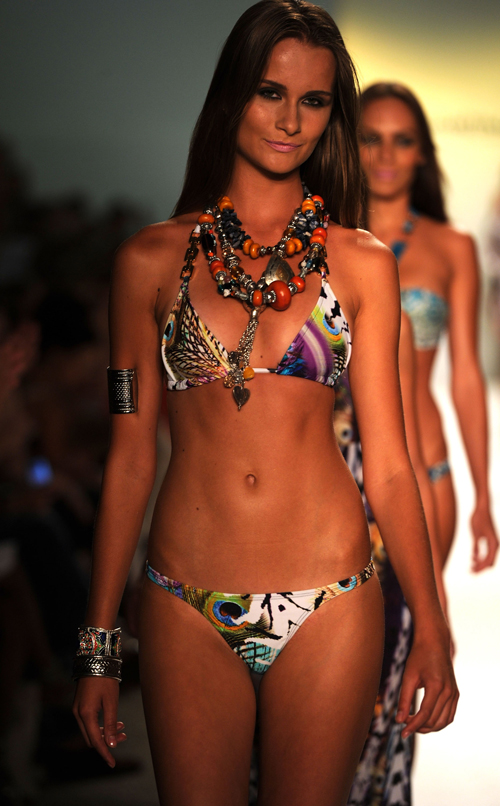 How to recreate these beachy styles at home: Hair Tutorial
TRESemmé Lead Stylist Elsa Canedo created a simple beach blow out for the Cia.Maritima Show. Get the look in a few short steps:
1. Apply TRESemmé Thermal Creations Heat Tamer Spray to damp hair and blow dry straight using a paddle brush.
2. Spray TRESemmé Fresh Start Dry Shampoo lightly on dry hair to absorb excess oil.
3. Add a small drop of TRESemmé Anti-Frizz Secret Smoothing Crème onto palms of hands and apply to the ends and the roots to tame flyaways
TRESemmé Lead Stylist Elsa Canedo created a fishtail braid with texture at the Mara Hoffman Swim Show to complement the tribal-inspired collection. Here is how to get the look:
1. Apply TRESemmé 24 Hour Body Foaming Mousse to damp hair and blow dry. The mousse helps to create a beachy texture at the base.
2. Curl hair with 1/2" barrel curling iron and pin in place. Set style with TRESemmé Naturals Finishing Spray.
3. Once curls are cool, take out the clips. Flip hair over and use your fingers to lightly to break up the curls for a beachy texture. Take a styling brush to backcomb, loosening curls even more.
4. Begin at the nape of the neck and fishtail braid the hair down the back. To create a fishtail braid, start off by sectioning hair into two. Take a skinny strand from the outside of the left side and add to the right side. Take a skinny strand from the right side and add to the left side. Pull tightly and repeat until you reach the end of the braid and secure with a hair tie.
5. Using a styling brush, brush braid upwards loosening up random bits on the completed braid for a more natural look.