Show: J. Mendel Sprong 2010 Collection
Lead Hair Stylist: Odile Gilbert for Moroccanoil 
Hair Trend: Volume, tons of volume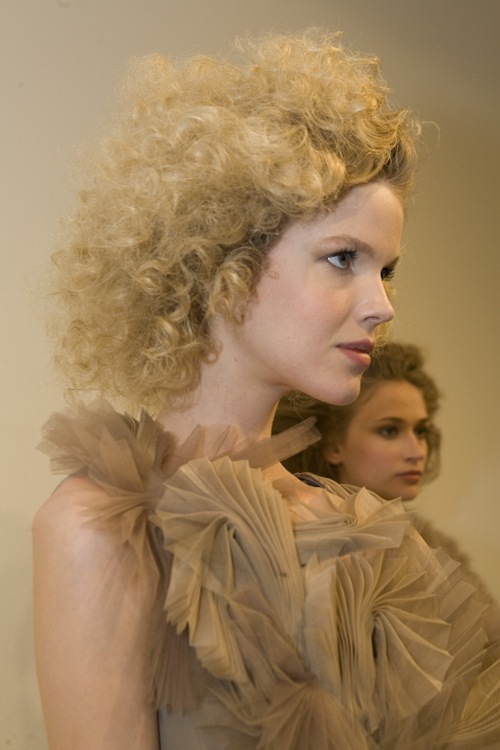 © David Webber for Moroccanoil
Inspiration: The swooping stacked cut lines of artist Noriko Ambe. The organic splendor of artist Tara Donovan. Citing these two biomorphic artists as his springboard for the season, J. Mendel designer Gilles Mendel cultivates a collection seeded in elegant technicality and fluid emotion. "It's the idea of using structured fabrics and adding an element of softness by using curved seams and intricate cut work," says Mendel. "Each piece is an emotion."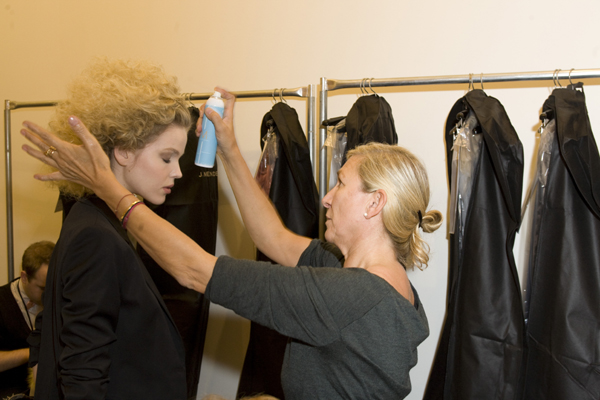 Odile Gilbert for Moroccanoil spraying the Moroccanoil Luminous Hair Spray, previewed at Fashion Week 7 available in December, 2009
© David Webber for Moroccanoil
Hair:  To mirror this dance between tailored precision and soft, sloping curves, and to evoke a feeling of ethereal airiness, stylist Odile Gilbert fashions a voluminous hairstyle that revels in the organic, chaotic nature of mussed curls. "It's all about volume — tons of volume — and a round, fluid shape. This look is very feminine." says Gilbert, adding "It's not feminine-frilly; rather it's femininity with a modern twist."
How To Get The Look:
* First, take one to two-inch sections, and mist on new Moroccanoil Luminous Hair Spray (previewed at Fashion Week and available in December, 2009) to increase holding power, enhance the coil of each curl and provide protection against heat-styling.
* Apply Moroccanoil Intense Curl Cream and curl each section from roots to ends using a 1/2″ curling iron. Gently release the barrel and allow each curl to fall like a spiral.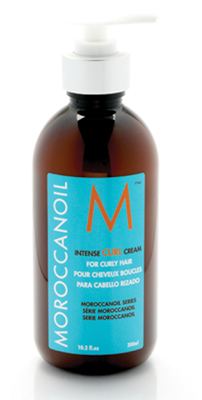 * After curls cool, run Moroccanoil Intense Curl Cream through the curls as you gently separate them with your fingers. (Tip: When used as a finishing product, Moroccanoil Intense Curl Cream not only adds a sensual definition without crispiness, it also gives silky shine and soft hold while eliminating unwanted frizz.
* Flip head upside-down, fluff the curls, and spray with Moroccanoil Luminous Hair Spray for lasting, touchable hold.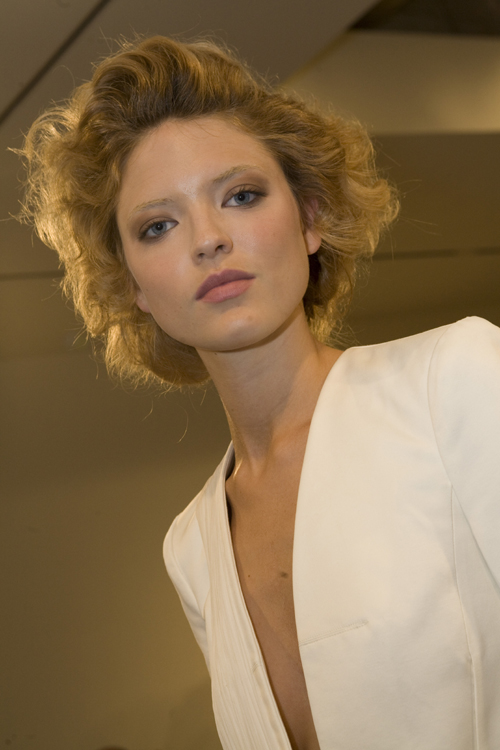 © David Webber for Moroccanoil
* Finally, arrange curls to ensure the perfect amount of airy texture, and finish with another mist of Moroccanoil Luminous Hair Spray to seal in the style while increasing hair's shine.
The Products:
 is an argan-oil infused leave-in styling cream for beautiful, bouncy, naturally-shiny curls. Repeated use provides extraordinary shine, hold and protection. (MSRP: $30.00 / 10.2 fl. oz.)
New Moroccanoil Luminous Hair Spray is being previewed backstage during Spring 2010 Fashion Week and will be available in December 2009. It contains Moroccanoil®'s renowned proprietary argan oil infused formula and fragrance, provides natural looking hold, brushable memory, and enhances the condition of hair.
Moroccanoil® is sold exclusively in salons. www.moroccanoil.com .