All Posts Tagged With: "Alberta Ferretti"
ALBERTA FERRETTI. "BEAUTIFUL GIRLS". DIANE KENDAL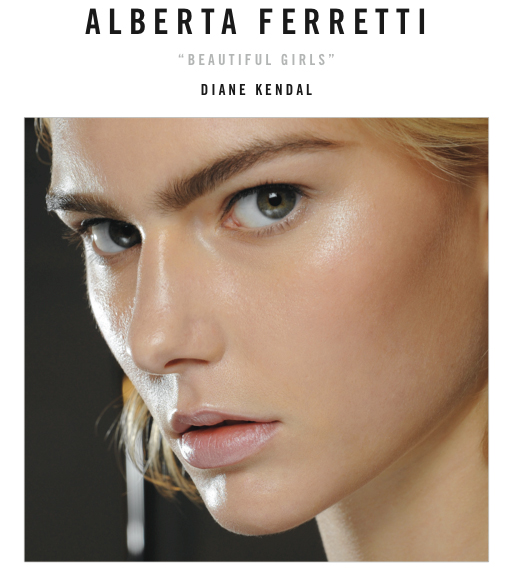 Alberta Ferretti Spring 2012: Milan Fashion Week
How to with MAC makeup…
Milan Fashion Week SS 2011. Designer: Alberta Ferretti. Hairstyle by Guido, Redken Creative Consultant.
"Alberta Ferretti is a show that women always look forward to because the fashion is very feminine – the kind of clothes any woman would want to wear. To complement the easiness on the runway, I created natural bohemian hair, yet still keeping each woman unique by simply enhancing her natural texture." – Guido, Redken Creative Consultant
Milan Fashion Week. Show: Alberta Ferretti. Makeup by MAC Cosmetics.
The look and inspiration: "Its a monochromatic palette of beige, nude and gray Inspired by nakedness and nature, the girls are ethereal but not too fairy-like They've got an edge A 1950's/Jennifer Connelly inspired brow takes the focus." – LUCIA PIERONI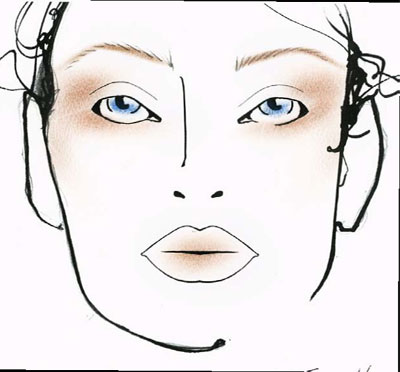 The makeup breakdown: Products are all by MAC.
Eyes:
CopperPlate eye shadow– blended along the outer corners of upper lids and from the middle of the lash line outwards on bottom – very faded
Eye Shadows in Copperplate and Typographic – brushed up and through the top line of the brow to elongate and exaggerate
No mascara, lashes curled
Redken's Runway Report from Milan: At today's Versace and Alberta Ferretti shows in Milan, Redken Creative Consultant Guido created the hair styles to compliment the designers' Fall/Winter collection.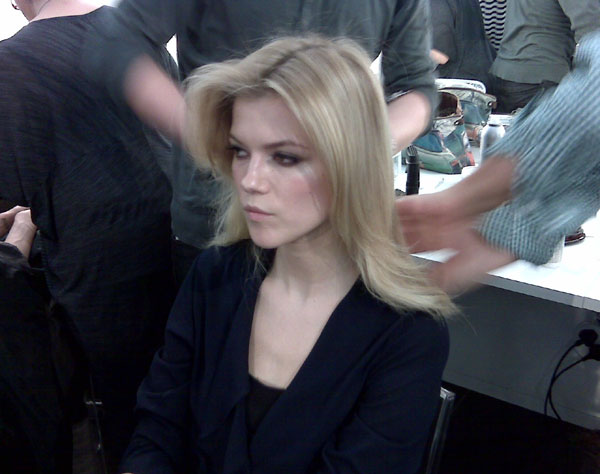 Versace Fall 2010 Milan: hair with Redken
Versace
Guido created a sexy, natural blow – an easy style for the modern looking Versace woman. "The style is ultra sexy but natural, like you can run your hands through it. Kind of a relaxed, style that doesn't look too done, that gives an extra sense of lax sexiness to the Versace woman." – Guido, Redken Creative Consultant
Products all by Redken:
thickening lotion 06 body builder
forceful 23 super strength finishing spray
Here are MAC Makeup Face Charts from Milan Fashion Week Spring 2010. Get a sneak peek to the makeup looks created backstage in Milan for fashion designers: Just Cavalli, Moschino Cheap & Chic, CNC Costume National, Alberta Ferretti, and Bluemarine.

Designer: Just Cavalli
MAC Lead artist: Maxine Leonard
Inspiration: "The look is Rock 'n' Roll to reflect the connection. The girls look a bit like they did their makeup themselves and had a great night out."-Maxine Leonard
Designer: Moschino Cheap & Chic
MAC Lead Artist: Sam Bryant
Inspiration: "The look is super pretty rosy pink girls on acid." – Sam Bryant