GET THE LOOK: Love Fergie's brows at the 67th Golden Globe Awards? Well, the secret to Fergie's perfect brows is Beverly Hills' most sought-after brow expert, Anastasia Soare, who is a must for any A-Lister walking the red carpet. BTW-Fergie's lilac chiffon gown was by Elie Saab.
This year, Anastasia perfected the brows of Golden Globe winner Julianna Margulies, as well as nominees Penelope Cruz, Jane Adams, presenter Jennifer Garner. Other regular clients of Anastasia's who were also at the Golden Globes include Nine star Fergie and Mad Men's Elisabeth Moss.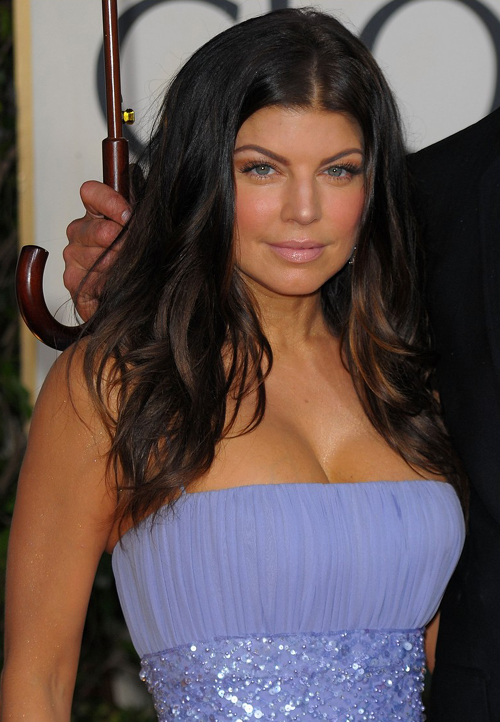 Anastasia's tips on how to get your brows red carpet ready:
How many days/weeks before a big event should you have eyebrows done? Why this period of time? 
"We never want to schedule brow shaping's for actresses the day before or the actual day of an event because there is too much running around between fittings, hair and makeup and your skin can become very sensitive to wax after a facial or with the application of makeup right after a shaping. I prefer 3-6 days before as this gives the skin enough time to be even with the skin tone of the face. When we remove hair with wax the dead skin is "exfoliated" off and can be slightly lighter in pigment for a day or two. In addition, in the event that there is any redness at all we want to be cautious and avoid this by shaping ahead."
Should brows be natural-looking for a big event?
"Award Shows and red carpet events are really the perfect time to vamp up with a glam look. The stars will be very glamorous and not in everyday clothes so their brows should embody the glamour of Hollywood."
What will the red carpet trend be for brows during the Golden Globes?
"Brows will follow closely with hair and I have the feeling that the ultra feminine is back thanks to all the Vampire trilogies and True Blood, the starlets will make smoldering choices with clothes, hair and makeup. Brows will be high arched and of a medium to thick shape. We will use pencil and powder to highlight where the brow corners as well as the beginning and end of a "power shape". Think of Dita Von Teese as a modern example of your ideal Golden Globes brow at this time. It is a little much for day to day but for this event, it will work perfectly in tune with the style I am going for. I have been looking over lots of Erte's work to get inspired for the right brow and as I mentioned it's all about glamour."
Along with her signature brow shaping techniques, Anastasia also has a new line of versatile products that go beyond the brow, providing stars with the perfect total eye area. Using her Highlighting Brow Kit and Lash Lifting Mascara, Anastasia's signature eyebrows give her clients instant face lifts by creating what she has coined the "Perfect Triangle" in the eye area.