All Posts Tagged With: "Swarovski"
(Las Vegas, NV – June 19th, 2011) – Co-host of the evening Giuliana Rancic is equisitely elegant in Georges Hobeika at the 2011 Miss USA Pageant. Rancic looked simply stunning on the stage, crowning Miss California, Alyssa Campanella, with the Miss USA title while wearing a bronze Georges Hobeika sheer crepe georgette gown. Rancic illuminated the stage in the couture gown which featured cap shoulders embroidered with bronze pearls and Swarovski stones in addition to an embroidered necklace illusion.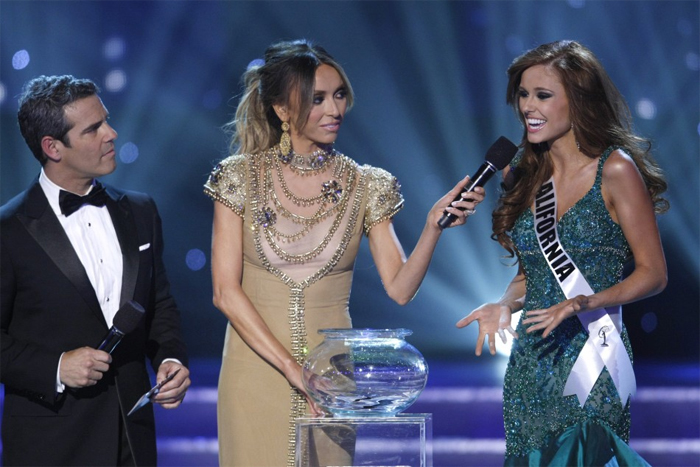 GIULIANA RANCIC IS EQUISITELY ELEGANT IN GEORGES HOBEIKA COUTURE AT THE 2011 MISS USA PAGEANT
See Giuliana Rancic's Dress by Georges Hobeika on the runway:
Jennifer Lopez, Tina Fey, Carrie Underwood, Jane Lynch, and more select Swarovski for the 68th Annual Golden Globe Awards.
LOS ANGELES, CA— With all eyes on the red carpet at the 68th Annual Golden Globe Awards, the following actresses selected exquisite handbags by Swarovski:
Jennifer Lopez, a presenter at tonight's awards, accessorized with Swarovski's silver crystal Kiosque clutch.
Angelina Jolie wore Atelier Versace to the Madrid premiere of her movie "The Tourist" on December 16, 2010. Jolie wore a Swarovski encrusted top with a full black pleated velvet skirt and a velvet shawl, all from Atelier Versace.
Red Carpet Style: True Blood's Mariana Klaveno looked chic last night, August 27, 2010, at the Academy of Television Arts & Sciences' Performers Nominee Reception wearing a dress from designer Gabriela Cadena. Mariana wore a pleated one shoulder brocade dress from the Fall 2010 collection. Mariana completed her look with a Swarovski black crystal Kiosque clutch. Do you love?
Red Carpet Style: Brooke Burke and Jayma Mays select Swarovski for the 2010 Entertainment Weekly and Women In Film Pre-Emmy Party. "Glee" star Jayma Mays carried the silver crystal Dream Box clutch from Daniel Swarovski's 20th Anniversary collection. Brooke Burke accessorized with the Power Immage clutch. Do you love?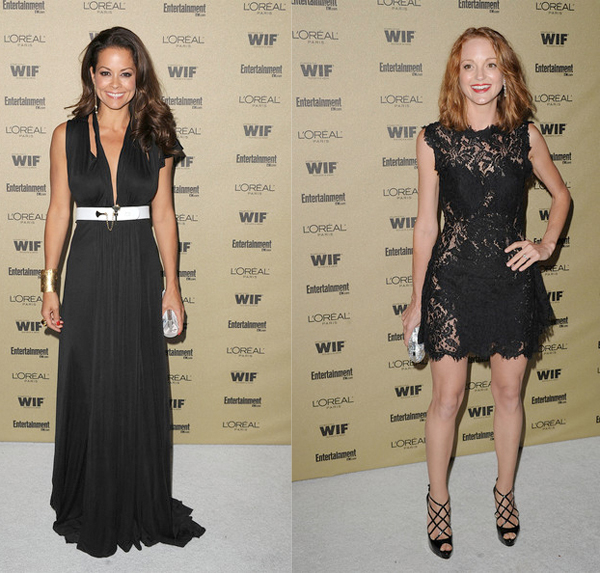 Melanie Brown's Style: Melanie Brown, aka "Mel B", carried the Fresh clutch by Swarovski on the red carpet at the 62nd Primetime Creative Arts Emmy Awards, Sunday August 22nd, 2010. Do you love?
Nolan LA is an exquisite jewelry line by designer Stacy Nolan. Her jewelry line is offered at 14k
gold,
 14k 
rose
 gold,
 or
 sterling
 silver 
finish
 (with
 or
 without
 Swarovski crystals), 
and are 
inspired by 
a
 multi
-cultural
 mix 
of
 Southern 
roots
 and
 refined
 society 
elegance. The flower designs are truly unique and not expected. The Nolan bracelets, rings, or earrings will complete any outfit and will add that extra mystery to your look.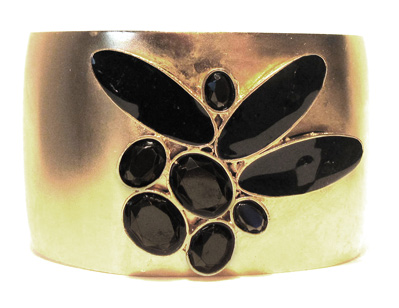 Designer,
 Stacy
 Nolan
 says,
"The 
most 
insightful
 words 
of 
wisdom
 can
 be 
heard 
in
 just 
a 
whisper." 
Part
 of
 the 
charming
 Peace
 Love 
and
 Happiness
 collection,
the 
Whisper
 series featured 
a 
blossoming
 array
 of
 beautiful
 Dixie
 Flower 
icons 
in 
various
 links
 and
 lacework.
 Inspired 
by
 the
 beautiful
 flowers
 of
 Louisiana
 and
 touched
 by 
Southern
 French
 allure,
 pick
 a
 bold
 cuff
 with 
interlaced
 daisies
 or 
think
 crystal 
studded
 bangles 
to 
layer
 on.
New York Fashion Week: WATCH the Yigal Azrouël Fashion Show Fall Winter 2010!
Hair by Teddy Charles. Hair Team: TIGI CATWALK. Makeup by Bobbi Brown. Men's Grooming by AHAVA. Women's Shoes Manolo Blahnik. Men's Shoes FRYE. Jewelry by Pamela Love. Music by Jorge Elbrecht of Violens. Celebrity attendees included: Malin Akerman, Diane Birch, J. Alexander, Poppy Delevigne, Harley Viera Newton, Zani Gugelmann, Lorenzo Martone.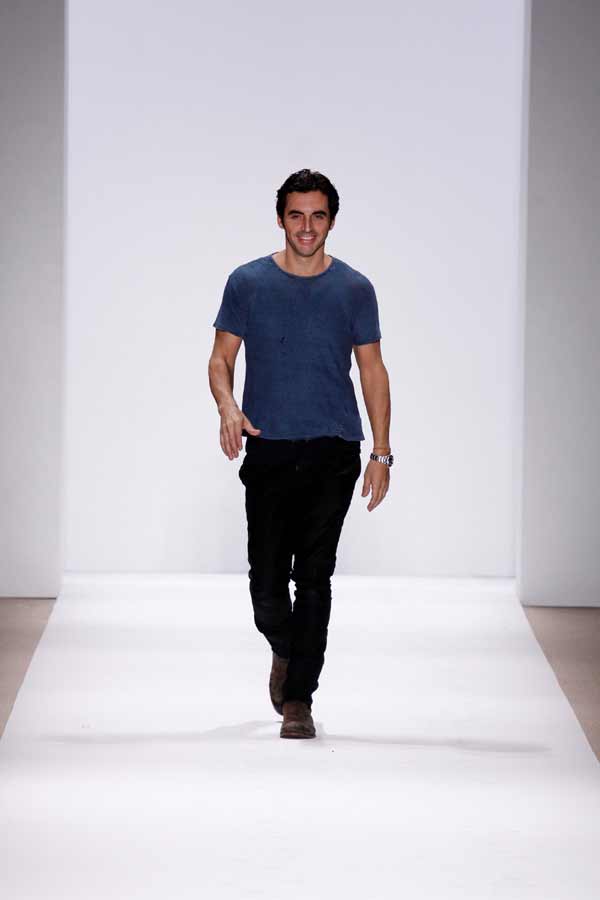 Yigal Azrouël, Fashion Designer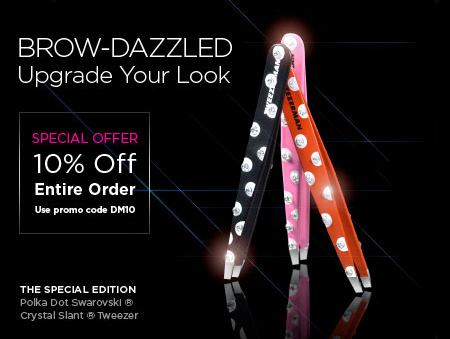 Top makeup artists recommend the award-winning Tweezerman Slant® Tweezer for expert brow shaping. The perfectly aligned, hand-filed slanted tips grab every hair, every time with exact precision. This holiday season, tweezing aficionados and novices alike will adore these festive Tweezerman stocking stuffers at a range of prices:
The Petite Tweeze® Set ($25) contains smaller versions of the Slant® and Point® Tweezers, which are ideal for grooming on the go.
The Special Edition Polka Dot Swarovski® Crystal Slant® Tweezers ($40) are adorned with delicate Swarovski crystals to add a hint of glamour to the everyday. Available in Midnight Sky, Signature Red or Neon Pink.
The new Winter Print Mini Slant® Holiday Tweezers ($15) are the perfect holiday beauty treats, are petite enough to fit in the palm of your hand and come decorated with either a snowflake or star motif in shades of red, blue or green.
Special Offer! Get 10% off your entire order at tweezerman.com. Get free shipping when you spend $40, and a free gift when you spend $75.
*Please note this blog is an affiliate of DailyMakeover.com.
Nina Ricci Precious Edition Fall Limited Edition 2009: Nina introduces this winter's new object of desire, the Precious Edition jewel fragrance. This new limited edition of Nina's famous apple was crafted in metallic pink and CRYSTALLIZED– Swarovski Elements. A unique Nina Ricci limited edition created in celebration of winter 2009. Precious Edition by Nina, the jewel you were waiting for.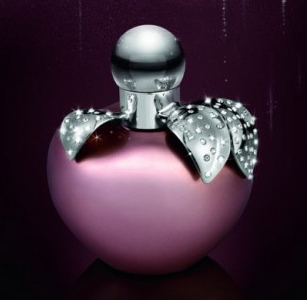 This rich and fresh fruity-floral scent will take you to paradise with the magic of fruit and the colour of a love potion. Composed with fruit essences, the fragrance opens up with the brilliant notes of Calabrian lemon and Caipirinha lime.