Nina Ricci Precious Edition Fall Limited Edition 2009: Nina introduces this winter's new object of desire, the Precious Edition jewel fragrance. This new limited edition of Nina's famous apple was crafted in metallic pink and CRYSTALLIZED– Swarovski Elements. A unique Nina Ricci limited edition created in celebration of winter 2009. Precious Edition by Nina, the jewel you were waiting for.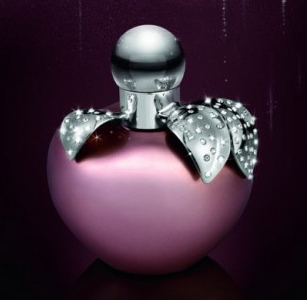 This rich and fresh fruity-floral scent will take you to paradise with the magic of fruit and the colour of a love potion. Composed with fruit essences, the fragrance opens up with the brilliant notes of Calabrian lemon and Caipirinha lime.
The heart note captures the magic of Toffee Apple, accompanied by floral notes of peony and moonflower, in addition to a suave hint of praline announcing the apple wood and musk base. A fragrance created by the talented perfumers Olivier Cresp, Jacques Cavallier of Firmenich, Nina Ricci's own wizards of essence. A woman's perfectall, made to be worn day and night.
Available at leading department stores Macys, Sephora, Ulta, Dillards. Macys.com and Sephora.com. Nina Precious Eau de Toilette Spray 2.7 oz/ 80ml $72.00
About the Author
I am one of the top fashion and beauty bloggers in the world also a Luxury Paradise Valley and Scottsdale REALTOR with Russ Lyon Sotheby's International Realty.