All Posts Tagged With: "AnnaLynne McCord"
Get AnnaLynne McCord's Style: Miss McCord was spotted in Santa Monica, California, July 27, 2010, wearing the Curations With Stefani Greefield Safari Clutch with Chain Handle. $79.90. Loving it? The clutch is available on: hsn.com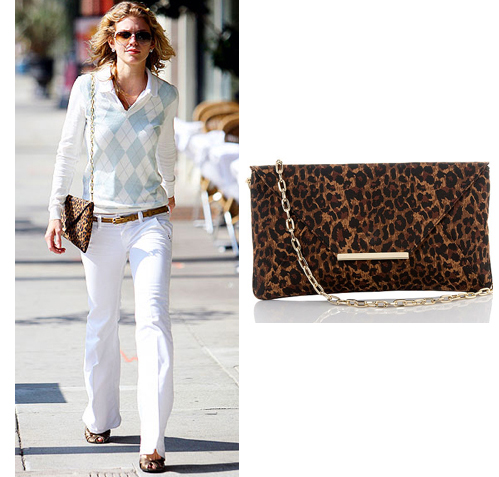 Actress AnnaLynne McCord wears Nicole Miller Signature to the Twilight Eclipse premiere last night, June 24th, 2010, in Los Angeles. McCord wore a custom Nicole Miller Signature nude silk organza ruffled gown on the red carpet. Do you love?

AnnaLynne McCord Wears Nicole Miller Signature To The Twilight Eclipse Premiere
Nicole Miller is a celebrated American runway designer. Her creative signature has a strong appeal to modern women around the world. Her celebrity clientele incorporating film, music and television talent include Angelina Jolie, Beyonce, Alicia Keys, Blake Lively and Eva Longoria. Nicole Miller Signature is the most luxurious expression of the Nicole Miller aesthetic. Through custom designs, construction, fabrics and finishes often at the level of couture, it offers many of the most unique and modern looks worn on the red carpet today.
Fan Nicole Miller on facebook: Nicole Miller Fanpage
For further information on Nicole Miller Signature visit www.nicolemiller.com
Sally Hansen and DKMS, the world's largest bone marrow donor center, have partnered for the Color that Cares campaign and offered complimentary Sally Hansen manicures in LA yesterday, June 10th, 2010, to raise awareness for DKMS. Actresses, AnnaLynne McCord and Michelle Trachtenberg stopped by and received a Sally Hansen manicure in support of DKMS. AnnaLynne's shade of choice was Sally Hansen Complete Salon Manicure in Grass Slipper and Michelle chose Complete Salon Manicure in Fairy Teal.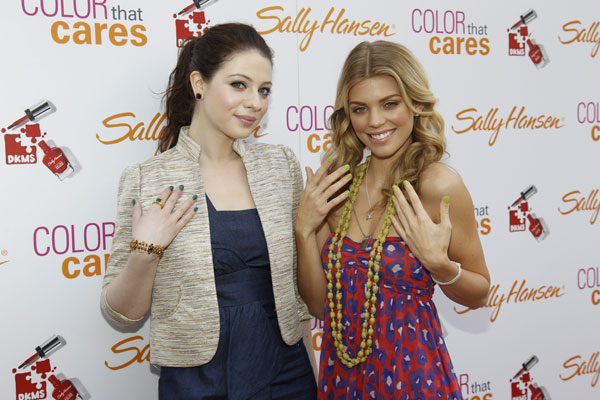 AnnaLynne McCord's evening look was smashing at the Express 30th Anniversary Event. McCord wore a little blush dress paired with a multi-tasking bold white blazer – perfect for a night out. Get the look with the Cotton Sateen Strong Shoulder Jacket ($98) and Escalating Ruffle Strapless Dress both from EXPRESS ($69.90).

L to R: Cotton Sateen Strong Shoulder Jacket from ($98) and Escalating Ruffle Strapless by EXPRESS ($69.90)
Available at Express.com and EXPRESS stores.
New York Fashion Week Fall Winter 2010: These are the fabulous celebrities spotted in the Mercedes-Benz Star Lounge or backstage at Mercedes-Benz Fashion Week.

AnnaLynne McCord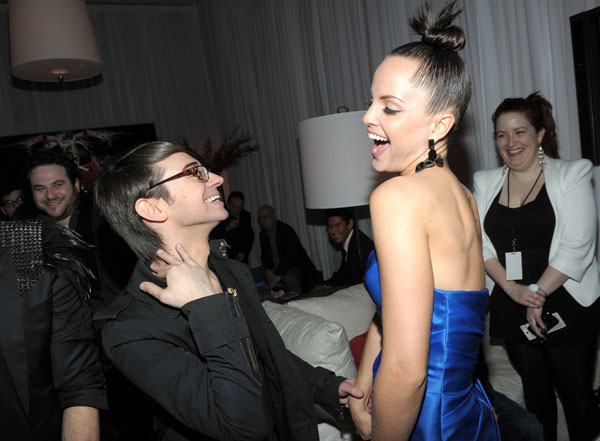 Christian Siriano and Mena Suvari
Annalynne McCord is featured Cosmopolitan Magazine January 2010. The photo spread seems to be inspired by old Hollywood and Marilyn Monroe and Miss McCord pulls off this look pretty well.
Love AnnaLynne McCord's hairstyle at the 11th Young Hollywood Awards?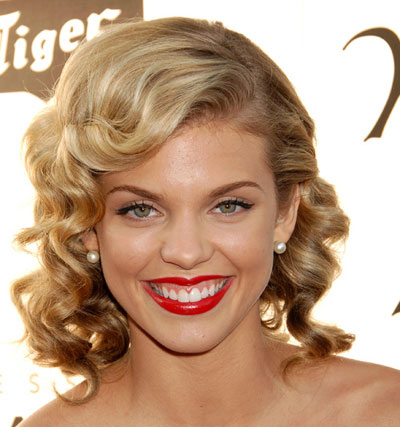 Here is how to get your own award-winning look with the following Sebastian Professional products!
• For a look that shines, spritz Sebastian Professional Trilliant on hair before styling for thermal heat protection and light-body and soft conditioning

Marisa Miller, Shannen Doherty and AnnaLynne McCord unite to launch Naturally Victoria's Secret.
Introducing Naturally Victoria's Secret! Natuaral Ingredients. Powerful Pairs. Beautiful Skin.