All Posts Tagged With: "Cosmopolitan Magazine"
Annalynne McCord is featured Cosmopolitan Magazine January 2010. The photo spread seems to be inspired by old Hollywood and Marilyn Monroe and Miss McCord pulls off this look pretty well.
Megan Fox is gracing the cover of Cosmopolitan Magazine October 2009. Wait, it's not October yet! Nonetheless, I don't mind the sneak peek to Megan's cover. I approve Megan's hairstyle. You can never go wrong with straight smooth hair parted in the middle. I do it all the time, lol:)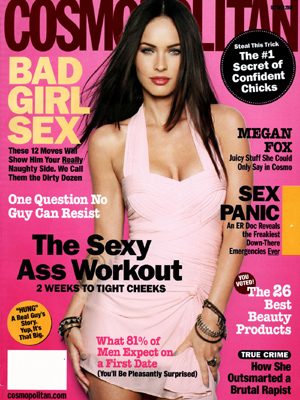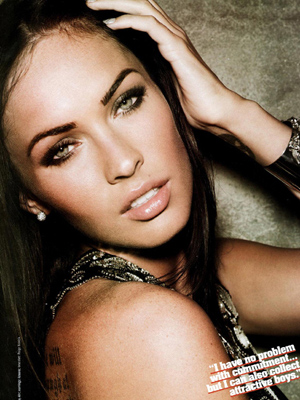 Wonder how to get Megan Fox's look on the cover of Cosmopolitan Magazine October 2009? Here are some tips! 
I detect grey nail polish. To get Megan Fox's grey nails try MAC Hello Kitty Nail Polish in On The Prowl.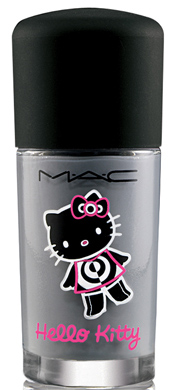 To get Megan Fox's sexy long eye lashes try ÔSCILLATION POWERBOOSTER by Lancôme: A two-in-one vibrating lash primer and conditioner that boosts the appearance of lash growth. HYPNÔSE DRAMA Instant Full Body Volume Mascara by Lancôme: The ultimate instant-volume mascara for lash drama. I use both the lash primer and mascara by Lancôme and they work amazing in getting my lashes super long, full, and Hollywood worthy.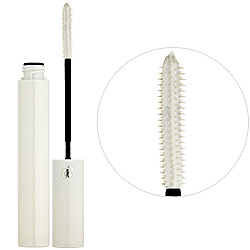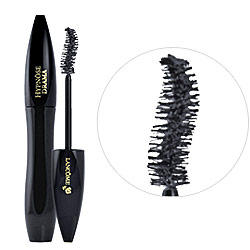 To add more drama and difintion to eyes use a black eye liner to upper lash line, and the corner of eyes try: Prescriptives NEW Longwear Kohl Liner in black hohl. Or, Givenchy Magic Kajal Eye Pencil in magic black.
The editors of Cosmopolitan Magazine bring to you a must-have book for beauty addicts: Cosmo's Sexiest Beauty Secrets:The Ultimate Guide to Looking Gorgeous.
Cosmo's Sexiest Beauty Secrets:The Ultimate Guide to Looking Gorgeous is Published by Hearst Books, a division of Sterling Publishing Co., Inc November 4th, 2008.
Each month, millions of young women turn to the pages of Cosmopolitan magazine for advice on how to look and feel their absolute hottest.
Now Cosmo is coming out with the definitive get-gorgeous bible-Cosmo's Sexiest Beauty Secrets. This stunning 192 page book serves up hundreds of insider tips and tricks on everything from scoring a flawless luminous complexion to creating sex-kitten hairstyles to working the latest make-up trends. Packed with beautiful images, the how-to instruction is presented in a fun, fresh, and visually-engaging way.