All Posts Tagged With: "Prescriptives Comfort Cream"
Prescriptives NEW Comfort Cream has been re-formulated and is more soothing and calming than ever before. Comfort Cream is suitable for all sensitive skin types – including those with Rosacea – and immediately soothes and calms skin while providing intensive moisture. Skin moisturizers and naturally soothing plant and algae extracts help immediately relieve irritated skin that tends to be red and dehydrated. Over time, skin is less irritated and repaired so it always looks and feels its best.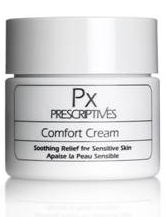 Prescriptives NEW Comfort Night Repair Cream for Sensitive Skin: Prescriptives NEW Comfort Night works with skin's night repair rhythms to help correct the appearance of skin damage and reduce the look of lines and wrinkles. Comfort Night hydrates skin with a luxurious, non-greasy treatment that infuses moisture into the skin while calming and soothing to decrease sensitivity and irritation. Skin wakes up nourished, hydrated, healthy… ready to face the day's aggressors!