All Posts Tagged With: "LAVANILA"
Summer is finally here and now it's more important than ever to keep our skin looking its best. The summer sun and heat can be damaging to our skin, but Lavanila Laboratories Healthy collection is loaded with skin-soothing botanicals and powerful anti-oxidants to keep us looking smooth and strong! Pack your bag with these summer essentials from Lavanila and hit the beach in style!
Shield your lips from the sun with Lavanila's Pure Vanilla Healthy Lip Butter SPF 15 ($16)! It's packed full of powerful antioxidants, essential oils, and nourishing vitamins that help relieve and hydrate dry lips. Protect your lips from UV-damage with 100% natural SPF 15 while four exotic butters moisturize and soften.
For years, choosing a natural deodorant has meant sacrificing efficacy and luxury. Between the wet, sticky texture and limited odor protection, natural deodorants rarely live up to their name. Now, Lavanila Laboratories introduces The Healthy Deodorant, a powerful natural deodorant that delivers superior odor protection and vitamin-rich nourishment without the use of commonly feared harsh chemicals.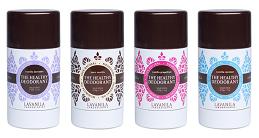 Freshly scented with Lavanila's signature essential oil blends, The Healthy Deodorant uses a breakthrough, clinical strength formula that's as safe as it is effective.
WHY IT'S HEALTHY: Medical reports document the accumulation of commonly used chemicals in the body. Traditional deodorants may contain ingredients including Aluminum, Propylene Glycol and Parabens that could potentially absorb into the delicate underarm area, a gateway to the infection-fighting lymphatic system. The Healthy Deodorant is a 100% Healthy solution. Completely free of Aluminum, Parabens, Propylene Glycol, Talc, Phthalates and Triclosan, it's a safe and effective way to fight odor.