For years, choosing a natural deodorant has meant sacrificing efficacy and luxury. Between the wet, sticky texture and limited odor protection, natural deodorants rarely live up to their name. Now, Lavanila Laboratories introduces The Healthy Deodorant, a powerful natural deodorant that delivers superior odor protection and vitamin-rich nourishment without the use of commonly feared harsh chemicals.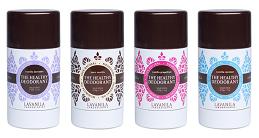 Freshly scented with Lavanila's signature essential oil blends, The Healthy Deodorant uses a breakthrough, clinical strength formula that's as safe as it is effective.
WHY IT'S HEALTHY: Medical reports document the accumulation of commonly used chemicals in the body. Traditional deodorants may contain ingredients including Aluminum, Propylene Glycol and Parabens that could potentially absorb into the delicate underarm area, a gateway to the infection-fighting lymphatic system. The Healthy Deodorant is a 100% Healthy solution. Completely free of Aluminum, Parabens, Propylene Glycol, Talc, Phthalates and Triclosan, it's a safe and effective way to fight odor.
The multi-tasking formula uses a health-promoting beta-glucan technology packed with anti-oxidants, active botanicals and essential oils to not only fight odor, but condition, soothe and nourish the skin.
HEALTHY INGREDIENTS: The Healthy Deodorant is safe, effective and healthy thanks to the many key ingredients, such as Beta Glucan Technology (nourishes & protects), Goji Berry (nourishes & calms), Japanese Honeysuckle (preserves & soothes), Propanediol (luxurious texture & feel), Aloe Vera (calms & soothes) and Lichen, Lemon and Tea Tree Oils (anti-bacterial).
Visit Sephora.com today to try this summer must-have which will be available in Lavanila's four signature scents: Vanilla Lavender, Pure Vanilla, Vanilla Grapefruit and Vanilla Coconut. SRP: $18.