All Posts Tagged With: "Lavanila Laboratories"
Committed to creating the world's healthiest baby care products, LAVANILA Laboratories proudly announces the birth of its newest addition: The Healthy Baby Collection. Launching exclusively in Sephora stores nationwide, this luxurious line will be the only in-store baby collection carried by the prestige beauty leader.
To celebrate the launch of the Healthy Baby collection, LAVANILA is teaming up with Sephora on a nationwide search to find the new face of their healthy baby collection. The Happy, Healthy Baby Search will run from May 11th, 201, to June 1st, 2010, and will be open to children 6 months to 4 years old.
For years, choosing a natural deodorant has meant sacrificing efficacy and luxury. Between the wet, sticky texture and limited odor protection, natural deodorants rarely live up to their name. Now, Lavanila Laboratories introduces The Healthy Deodorant, a powerful natural deodorant that delivers superior odor protection and vitamin-rich nourishment without the use of commonly feared harsh chemicals.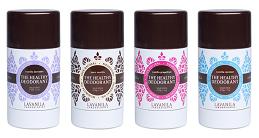 Freshly scented with Lavanila's signature essential oil blends, The Healthy Deodorant uses a breakthrough, clinical strength formula that's as safe as it is effective.
WHY IT'S HEALTHY: Medical reports document the accumulation of commonly used chemicals in the body. Traditional deodorants may contain ingredients including Aluminum, Propylene Glycol and Parabens that could potentially absorb into the delicate underarm area, a gateway to the infection-fighting lymphatic system. The Healthy Deodorant is a 100% Healthy solution. Completely free of Aluminum, Parabens, Propylene Glycol, Talc, Phthalates and Triclosan, it's a safe and effective way to fight odor.
The Healthy Body Wash from Lavanila Laboratories: are 100% Natural, Sulfate-Free body washes from Lavanila that are freshly scented, exceptionally moisturizing and packed with skin-nourishing anti-oxidants to leave skin sparkling clean, hydrated and healthy. A luxuriously rich lather is infused with gorgeously scented pure essential oils for a softly scented and silky smooth finish that creates an instant spa-like experience.
Key Ingredients Include: Coconut Oil has gentle cleansing properties to purify skin. Oat Protein moisturizes, conditions and soothes skin as it adjusts skin's pH. Pomegranate gently exfoliates by removing the outer layer of dead skin cells that traps bacteria and sebum. Goji Berries provide potent anti-oxidant protection and nourishment. Willow Bark Extract gently eliminates bacteria that causes acne and other skin irritations and acts as an astringent to tone skin during the cleansing process. Vanilla Planifolia Fruit Extract is a source of polyphenols, which exhibit anti-oxidant activity and serve as anti-inflammatory agents.