Introducing Peter Lamas the hairdresser to the stars. Peter was Jackie O's hairdresser for years and has worked with everyone from Diana Ross to Kate Winslet. Needless to say, I was very curious to try some products of his from his hair care line. And of course, because I'm a beauty addict.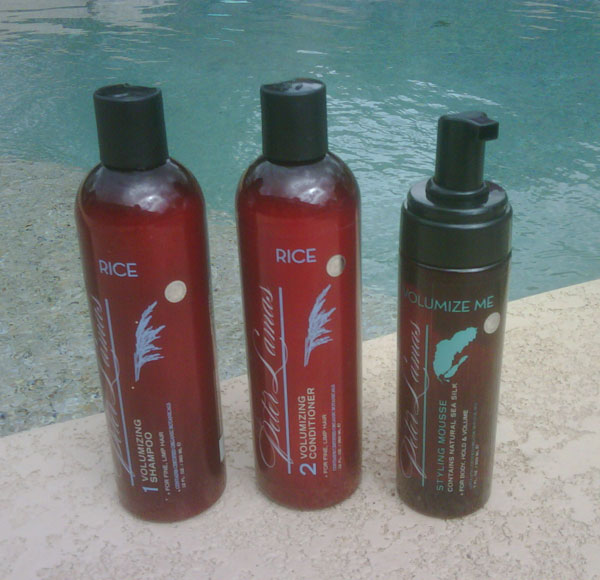 I put the Peter Lamas RICE Volumizing Shampoo and conditioner (formulated with rice protein nature's thickening and volumzing agen and with certifed organic botanicals, vitamins and amino acids) to the test this morning. I love the packaging. Kind of an understated feature, I know, but sometime products can be great but when they are not user friendly or attractive to the eye it can be a deal breaker. The packaging was straight forward yet it had a quality feel to it. Then I really loved the smell. Not too sweet and not too fresh and poky. A smell that will make you want to smell your hair all day. I was a bit nervous to try the volumizing shampoo and conditioner because I was expecting to get super huge, dry, and tough to control hair which I sometimes get from volumizing hair products. In addition I already have naturally super voluminous hair (I know, tough life LOL).
To my great surprise the Peter Lamas shampoo & conditioner left my hair soft in the shower. Now that was a good start. I get easily disappointed when a shampoo or a conditioner (especially conditioner) leaves my hair dry like a broom stick already in the shower. On towel dried hair (BTW I tend to not rub my hair too vigorously with a towel, it just makes my hair more frizzy) I rubbed a small amount of Peter Lamas Volumize Me Styling Mousse which contains natural sea silk (ooh I love the sound of it) and blow dried section by section. The blow drying was easy, my hair was keeping volume but also looking and feeling smooth, soft, and frizz-free. The result: voluminous hair and also frizz-fee hair (the best of both worlds and how I like it:). Thumbs up for Lamas!
On my list of beauty obsession is to try the Peter Lamas Avocado Olive Ultra Smoothing Shampoo and Conditioner. And, the Peter Lamas Chinese Herbs hair care collection which, so I hear, actually grows hair! Kiefer Sutherland and Michael Madsen have been using it for a while. I also hear that Peter Lamas Chinese Herbs is the official product of the show "24". Marta will keep you posted. Stay tuned!:)
Available at select Whole Foods store and from The Peter Lamas Website www.lamasbeauty.com