Summer Hair: Living Proof Hold Hairspray is now available just in time for summer! say goodbye to frizzy hair.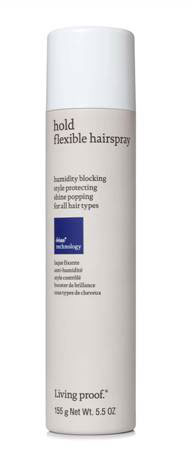 Hold Hairspray is a reinvention of traditional hairspray with flexible hold and ultimate control, plus exclusive humidity-blocking technology PolyfluoroEster.
Unlike most hairspray formulas that feel like glue, flake in the hair, dry to a dull finish and fail to withstand the elements, Hold is a blend of new polymers that combine to form a flexible "web" that join the strands of hair but never freeze them into place. Hair holds its style beautifully and completely, yet moves naturally and never looks too stiff or shellacked. Hair retains its shape, incredible shine and flexibility, making the use of Hold virtually foolproof and a must-have beauty product!
Living Proof's Hold Hairspray is available at Sephora, QVC and Livingproof.com beginning in May 2010; $24, travel $14.