All Posts Tagged With: "No Frizz"
Living Proof introduces the latest innovation in the battle against frizz: No Frizz Restyling Spray. A new style reviver that detangles, reduces static and adds shine, No Frizz Restyling Spray helps restyle hair with light conditioning and hold. Instead of rewashing and styling from scratch each day, this one weightless formula helps to refresh and reclaim gorgeous hair.

No Frizz Restyling Spray is available exclusively at QVC.com.
Actress Mila Kunis looked stunning at last night's LA premiere of 'The Book of Eli' in a sexy one-shoulder black dress paired with an ultra sleek ponytail.
Thanks to TRESemmé Celebrity Stylist Mara Roszak who created Mila Kunis' gorgeous look…for under $10 Talking Makeup has the scoop on how to get Mila's hairdo at home!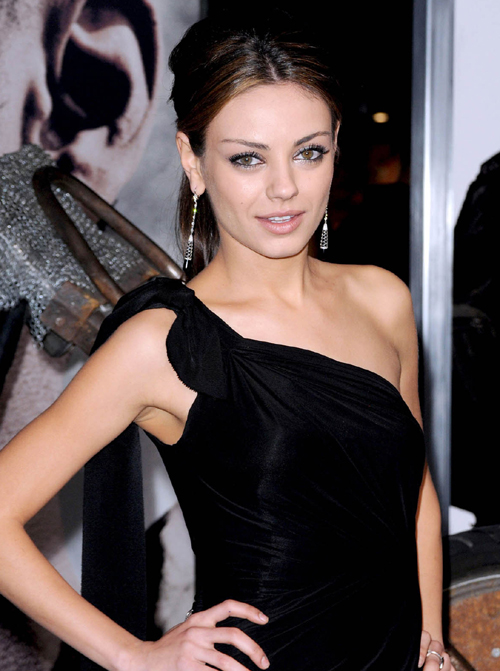 1. Apply TRESemmé 24 Hour Body Foaming Mousse to towel-dried hair, and blow dry using a medium-sized boar bristle round brush.
To get my hair silky smooth and frizz free is sometimes a mission. So many times I spend up to 1 hour blow drying my hair and my hair keeps frizzy. Sounds familiar? Not this weekend though. Thanks to Living Proof Shampoo and Conditioner. Wow. My hair not only was straight and silky after blow drying, but it is still frizz free 2 days later!! (I try not to wash my hair everyday). I haven't tried the Living Proof styling products, now I'm very tempted. I think I've seen Living Proof hair care products in Sephora and Sephora.com
Introducing: No Frizz Shampoo and Conditioners!
No Frizz, the amazing frizz solution that has become one of the hottest launches of the year, is adding shampoo and conditioners to its line of frizz-fighting products. Sephora stores across the country will be decked out in honor of No Frizz from July 16th through August 6th (check out the amazing windows in  photo below).
While you're there, stay for a consultation and snag a free sample of the No Frizz new shampoo and conditioner (supplies are extremely limited so don't wait).
No Frizz by Living Proof the first anti-frizz technology developed in over 30 years launches on the QVC Beauty Newsmakers Special.
WHEN: Sunday October 12th
TIME: 4PM-7PM
WHERE: QVC
No Frizz is a revolutionary new hair care product containing a brand new molecule that does what silicones can't: eliminate frizz by blocking out humidity.
No Frizz by Living Proof is the winner of Allure Magazine's most coveted beauty honor: the 'beauty breakthrough' of 2008. Already an insider favorite to stylists and celebrities, No Frizz has not been available to the general public until now.