All Posts Tagged With: "Badgley Mischka"
New York Fashion Week: Backstage Hair Update. Badgley Mischka Fall/Winter 2013. Hair by Peter Gray for Moroccanoil. Inspiration: Fall 2013 was inspired by Hitchcock's femme fatales – Kim Novak, Eva Marie Saint and Grace Kelly – the paradox of their cool surface and inner fire.
The Look
Badgley Mischka FW 2011. Hair by Moroccanoil.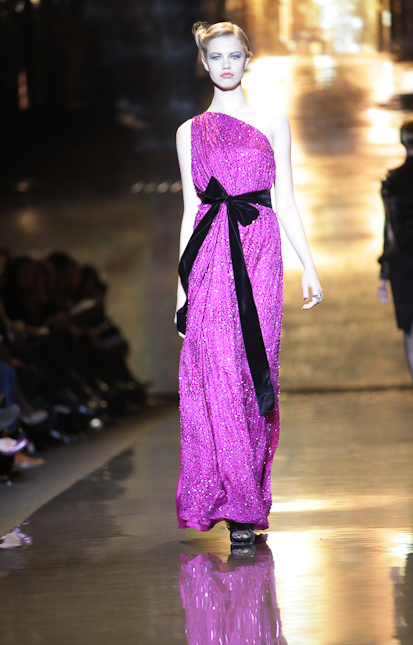 New York Fashion Week SS 2011. Designer: Badgley Mischka. Hair by Peter Gray for Moroccanoil.
"For spring 2011, we were inspired by the stylish film, 'White Mischief'. We were fascinated by the idea of a woman with a very languid, proper veneer with a smoldering sensuality just beneath the surface." –Mark Badgley and James Mischka
Just slightly bigger than a tube of lip gloss, the Badgley Mischka Couture Parfum Elixir won't interfere with your sunscreen and can be easily taken anywhere – just toss it in your beach bag or purse for a day in the sun. No need to go back home for touch ups – after a quick pump you'll be ready to take on the night. Badgley Mischka Couture is available at Neiman Marcus; their Parfum Elixir retails for just $48 and comes in a cute velvet sachet! Fragrance notes: purple plum, blackberry, pear nectar, jasmine, gardenia, violet, white patchouli, black vetiver and sensual musk.
Allen Edwards styled the hair for this shoot of 5 of the top talent from E ! Catt Sadler, Ashlan Gorse, Debbie Matenopoulous, Samantha Harris and Giuliana Rancic. I'm huge fan of the E! beautiful presenters and always wondered who did their hair. Now I know! Mr. Allen Edwards Marta would like to meet you!:)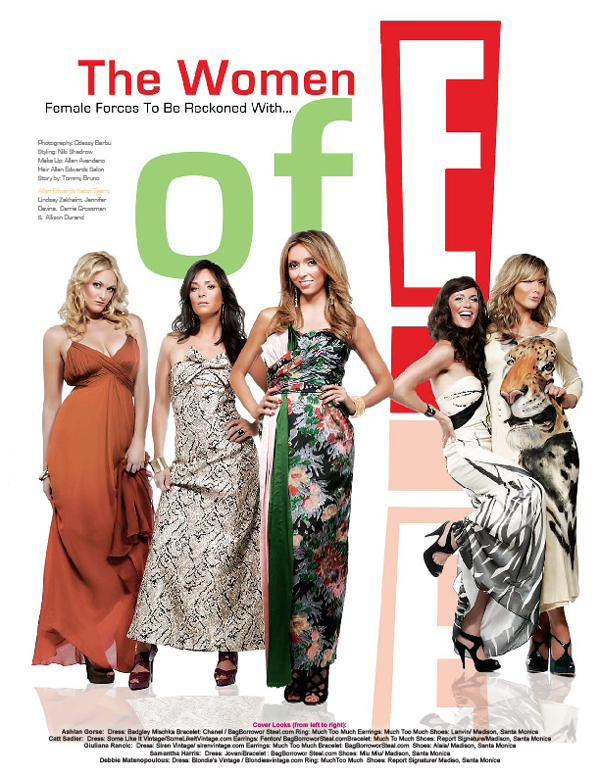 Cover Looks (from left to right):
Sharon Stone is the new face of Badgley Mischka fashion house.   We will see Sharon Stone wearing a high-glamour gowns in Badgley Mischka's ad campaign that will feature in October issues of Vogue, Elle and InStyle.  They follow last season's campaign featuring actresses Ashley Olsen and her twin Mary-Kate.   Sharon Stone was chosen because she is perfect for Badgley Mischka image of Hollywood glamour with a modern twist.  Behind Badgley Mischka  are Mark Badgley and James Mischka.  Gilles Bensimon photographed Miss Stone at the former estate of philanthropist Dorothy Chandler in Hancock Park in Los Angeles.  Sharon Stone has a role in the Emilio Estevez-directed "Bobby,"  for release November  17.  Sharon Stone is also known for her roles in movies such as:  Basic Instinct 1, Basic Instinct 2, and Casino.
The legendary design house Badgley Mischka is introducing their first exclusive fragrance called:  Badgley Mischka.  The new spicy-floral perfume is all about elegance ans sophistication.  Main notes include: jasmine, amber, patchouli, and sueded musks.  Badgley Mischka comes in a linear glass bottle with classic lines and a unique stopper.  Cost: $65 for 1.7 oz, $90 for 3.4 oz, $ 225 for 1 oz. 
The Badgley Mischka collection also includes:  Badgley Mischka Lotion for $42 and Badgley Mischka Body Cream for $80.