Natalie Portman's hair. Natalie Portman looked like a classic Hollywood star tonight at the New York Premiere of her new film "Black Swan." Wearing a glamorous black Dior off the shoulder dress and gorgeous, full-bodied wavy hair, she dazzled the red carpet.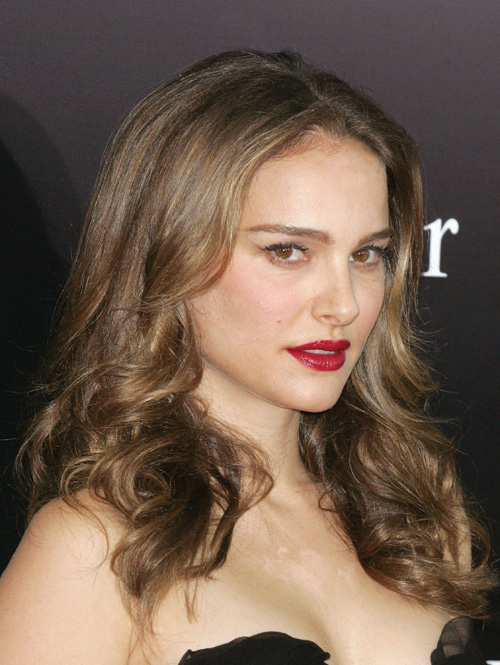 Natalie Portman. Photo credit: Jim Spellman for Getty Images®
The look was designed by her stylist John D., who, though tempted to do an elegant updo, succumbed to the glamour of the dress and created a look that accented the its sense of drama and sensuous silhouette.
"The hair was beautiful, and helped balance the total look," said John D.,
"especially since the bottom of the dress was so full. I started with argan oil-infused Moroccanoil Hydrating Styling Cream then blow dried the hair smooth using a round brush to give it 'oomph' at the root. I used Moroccanoil Hydrating Styling Cream for its soft hold and hydration. Natalie has naturally curly hair and it needs extra moisture to look its best. Since she's constantly getting her hair done forevents.it can easily dry out. Hydrating Styling Cream helps protect her hair, adds moisture, and smoothes the cuticle. It also gets rid of any frizz and static.
"I then used a 1″ curling iron, and starting at the back of her head, I curled round sections all over her head to set the volume in, curling back from the face in the front. I finished her hair with Moroccanoil Luminous Hairspray to give it extra hold that looked soft. It was raining in New York tonight and I wanted to make absolutely sure the body stayed. After her hair cooled, I used one of my tricks: I sprayed a paddle brush with hairspray and used it to separate and loosen the hair. This also tames the curls at the same time. I completed the lookwith a touch of hairspray to give it extra hold. With Moroccanoil Luminous Hairspray, I find that I can brush through the hair several times and it gives no residue. It looks naturally shiny and still moves. Finally, I gave used a light mist of Moroccanoil Glimmer Shine Spray to finish."
The originator and industry leader of luxury, professional argan oil-infused styling, finishing and conditioning products for the hair, the Moroccanoil brand is world renowned for its proprietary lightweight, instantly absorbed formulas and unparalleled results.
Moroccanoil's argan oil is harvested under a free trade program, which provides substantial socio-economic support to thousands of families in the Southwest region of Morocco. Moroccanoil products are sold exclusively in fine salons. Consumers can find the nearest salon by visiting www.moroccanoil.com.