All Posts Tagged With: "Moroccanoil"
New York Fashion Week SS 2011. Designer: Erin Fetherston. Hair by Odile Gilbert for Moroccanoil.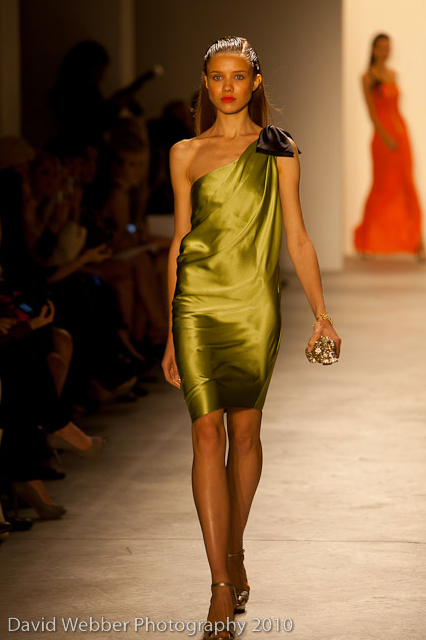 The Designs: Erin Fetherston's Spring 2011 collection is a celebration of wanderlust. Inspired by the woman who seeks the exotic and unique, Fetherston channels the passion of the tropics and the romance of the desert in a modern eclectic mix for spring.
New York Fashion Week SS 2011. Designer: Badgley Mischka. Hair by Peter Gray for Moroccanoil.
"For spring 2011, we were inspired by the stylish film, 'White Mischief'. We were fascinated by the idea of a woman with a very languid, proper veneer with a smoldering sensuality just beneath the surface." –Mark Badgley and James Mischka
New York Fashion Week SS 2011. Designer: Carolina Herrera. Hairstyle by Orlando Pita for Moroccanoil.
For Spring 2011 colors, prints, and floral appliqués were taken from botanical plates collected in the 18th Century. The cut and details of this collection were inspired by traditional clothes from Korea. The hat, customarily worn by men, and the wrapped belts complete the silhouette.
The Hair Look:
Emily Blunt's Hairstyle. Newlywed Emily Blunt, walking the red carpet at the 62nd Annual Primetime Emmy Awards with John Krasinski, glowed in a beautiful lavender-colored design by Dior and hair designed by her long-time stylist, London-born Laini Reeves, co-owner of the hot new Essensuals London Salon on Melrose Avenue in L.A.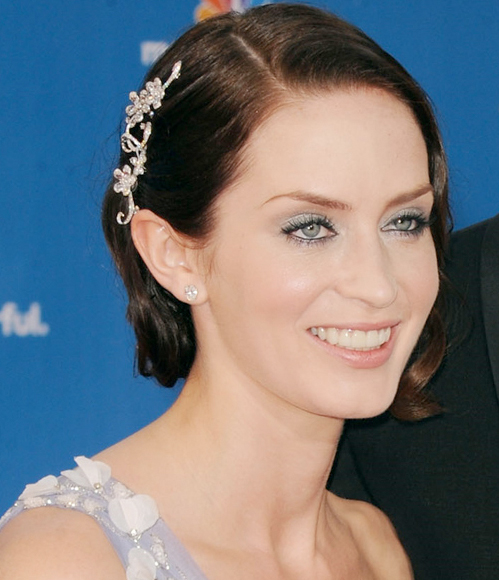 Moroccanoil products used to create Emily Blunt's hairstyle at the 2010 Emmy Awards
The Hairstyle & Inspiration: Laini Reeves, who also styled the hair for Emily Blunt's recent wedding, created a fresh yet sophisticated look inspired by the iconic finger waves of the 20s. She used lightweight, instantly-absorbed argan oil-infused Moroccanoil products to style Emily's shoulder length layered hair into a beautiful waved design that fell slightly below the jawline on the sides, and with shorter, pincurled accents at the nape of the neck.
Moroccanoil, the leader in luxury professional argan oil-infused styling, finishing and conditioning products for hair, will present the official Moroccanoil Celebrity Retreat by Backstage Creations at Teen Choice 2010.
The Backstage Retreat will also serve as a giving opportunity for celebrities. Moroccanoil will donate $10,000.00 among World Wildlife Fund (www.worldwildlife.org), Los Angeles-based Much Love Animal Rescue (www.muchlove.org), and Farm Sanctuary (www.farmsanctuary.org) with celebrities attending the event choosing how the donation will be allocated, according to the number of votes each charity receives.
Naomi Watts seems to keep getting more beautiful. At the premiere of Salt last night she looked beyond fabulous as she wore a shorter, dramatic new blunt bob with layered side-swept bangs.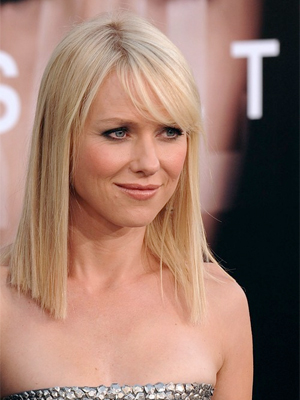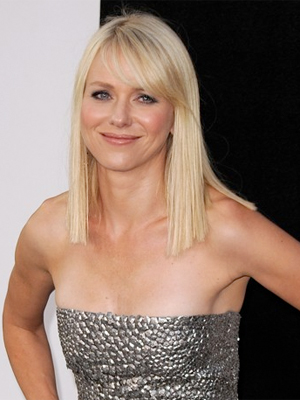 Hair care products used on Naomi Watts for the Salt premiere by Moroccanoil
The hairstyle & Inspiration: Inspired by the lines of the metallic strapless Gucci mini-dress that Naomi wore, stylist Robert Vetica created a sleek look that referenced 60's British pop and a Studio 54 vibe refined by a soft, natural mood.
How Naomi Watts got her hairdo: According to Vetica, "It was quite a change for Naomi. I cut 2 inches off , kept her hair blunt and collarbone length, and created bangs that swooped to the side. The length is a bit longer in front and slightly higher in back. The bangs were first cut long and blunt, then razered and texturized to about the bridge of the nose so they looked lighter around the face and were easily swept to the side.
Angelina Jolie's hair at the international press junket for Salt. All eyes were on Angelina Jolie at the international press junket for her highly-anticipated film, "Salt," in Cancun, Mexico, July 1st, 2010.
Truly breathtaking, Jolie wore an elegant, white strapless dress with hair that was smooth, sleek and natural-looking. It was styled by David Babaii, who created her beautiful new style with bangs.
Here's how to get Angelina Jolie's hairstyle at the international press junket for Salt:
Bryce Dallas Howard looked amazing at the premiere of The Twilight Saga: Eclipse tonight. For her winning red carpet look, star stylist David Babaii created a relaxed, Bridget Bardot inspired hairstyle. Luminous waves highlighted her luxurious titian-colored hair as it was pulled back on each side, accented with a subtle beehive with shiny, healthy beautiful hair cascading sensually down her back. Babaii released several strands to strategically fall forward and frame Bryce's face for a modern 60's effect.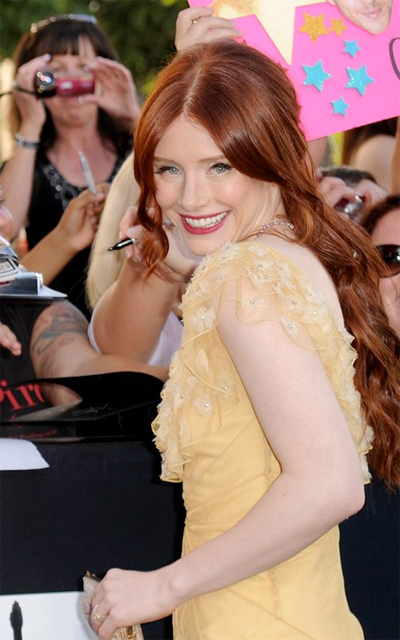 Bryce Dallas Howard's hair by Moroccanoil at The Twilight Saga: Eclipse Premiere
David Babaii Explains How To Get Bryce Dallas Howard's Hairstyle: The Hair Tutorial
I prepared Bryce's hair by applying a small amount of argan oil-infused original Moroccanoil Treatment on damp hair before blow-drying to condition, strengthen and protect strands from the heat of the curling iron as well as to eliminate any sign of frizz or static.

Emily Blunt looked dazzling at the amFAR benefit at Cannes, wearing a fiery red George Chakra gown, bright red lips, and hair in soft, natural, shiny waves Laini Reeves (her famed UK born hair stylist will be opening the much-anticipated EssensualsLondon Salon in Los Angeles next month) created the beautiful look.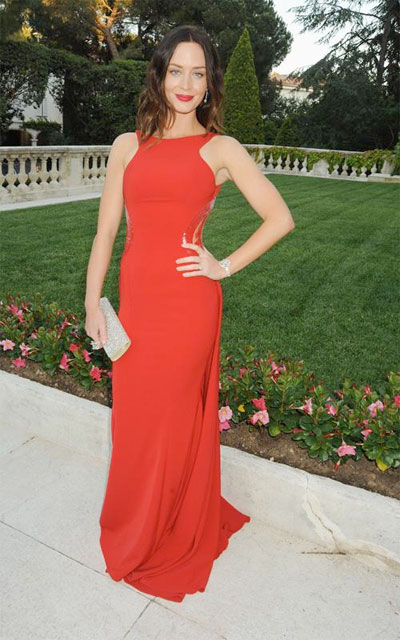 The Hairstyle & Inspiration: "I wanted Emily to be beautiful and sophisticated but to look her age, with hair down and flowing in soft waves that framed her face," she explained. "Since Emily was not only an event chair at the amFAR Cinema Against AIDS 2010 benefit, but was going to the party directly afterward, it was important to create a look that lasted long into the night. Emily has a lot of hair but it's very fine and doesn't always hold a wave, so I layered several Moroccanoil argan-oil infused products to give the hair a really nice healthy shine but to hold the style as well."
Rachel Bilson looked stunning at the 2010 Costume Institute Gala. Her Louis Vuitton gown inspired her look: elegantly fresh with a modern asymmetrical edge. Master hairstylist Marco Santini for Moroccanoil created a virtuosic design emphasizing a playful counterpoint of smooth and wavy textures.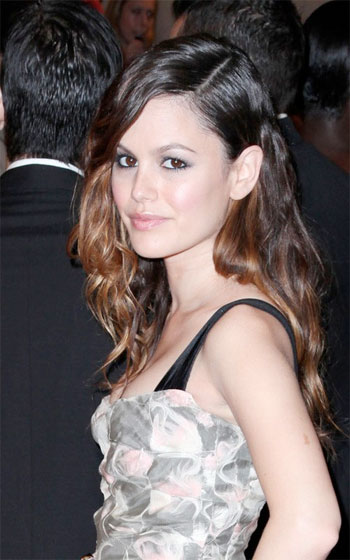 "It was very humid tonight and Rachel's hair is fine so we had to layer products into her hair in a different way to make sure the style not only looked beautiful, shiny and natural, but held up throughout the evening."
How To: Hair Tutorial
While her makeup was being applied Marco created a low part then finger-set the hair with Moroccanoil Hydrating Styling Cream, "I used the product to hydrate and smooth her curly texture. Afterwards, I shaped the core texture using my hands and the blow dryer.